2 Photos of Fancy Tombstones Leave Netizens Divided, Peeps Debate Their Purpose, Call It Waste of Money
Someone on Twitter had a burning question about the way a lot of South Africans build tombstones
The Twitter user shared pictures of some headstones that looked like little cottages on a grave, wondering why they were popular
Online users discussed the various reasons why many people choose this specific style of tombstone
South Africans were discussing tombstones after a netizen asked why a certain style was common The pictures of the tombstones went viral as people shared their thoughts.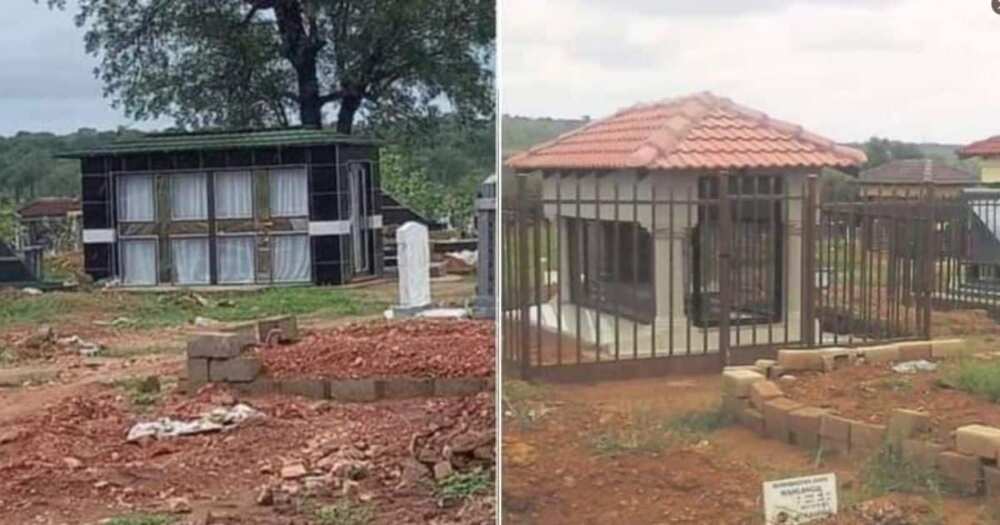 Online users were divided about the type of tombstones they have seen. People gave many reasons why some people choose to put mini houses on graves.
South Africans discuss popular tombstone structures
A Twitter user @KeletsoMss showed tombstones that were built to look like cottages. The tweep posted two pictures of house-like tombstones and asked people to explain.
Mzansi Twitter users discuss tombstones
South African peeps often discuss various topics. People were divided as some thought it was a waste of money. Others argued that it was a way for people to flex that they have plenty of resources to do it.
@Bandz_Wodumo22 commented:
"Because niyaloya nina [You people are witches]. The things y'all do at people's graves? This makes it hard I guess."
@Terrencemaponya commented:
"Overcompensating for how they treated them when they were alive, a dump status symbol and some kind of complex at play."
@Silk_Loon commented:
"Just a way of showing they are monied. There could never be a valid reason."
@Legendary_Thato commented:
"People don't know what to do with their money."
@_reekee commented:
"It is a waste of money that could be used for the future."
Waffler 69: TikTok star dies from heart attack at 33
Waffler69, a famous TikToker, has died from a suspected heart attack aged 33.
Mail Online reports that his brother Clayton confirmed that the social media star who boasted 1.7 million followers died on Wednesday, January 11.
The social media star, whose real name is Taylor, posted a series of clips of himself trying bizarre foods and this made many people throng to his page.
Source: Briefly.co.za