Plus-Size Bride Looks Regal In Indian-Inspired Shiny Corseted Kente And Afro Hair For Her Wedding
Plus-size Ghanaian bride Princess' fashion designers deserve applause for their creativity and unique designs
The gorgeous bride looked elegant in perfect-fit outfits for her lovely multi-day wedding ceremony in the Ashanti Region
Ghanaian bride Princess wore different hairstyles and makeup to match each of her stunning outfits
Ghanaian couple Jonathan Ortis and his beautiful bride Princess' inspiring love journey has made social media users believe in love again.
The fair-skinned couple has great chemistry, and the bride couldn't stop smiling in all her wedding photos.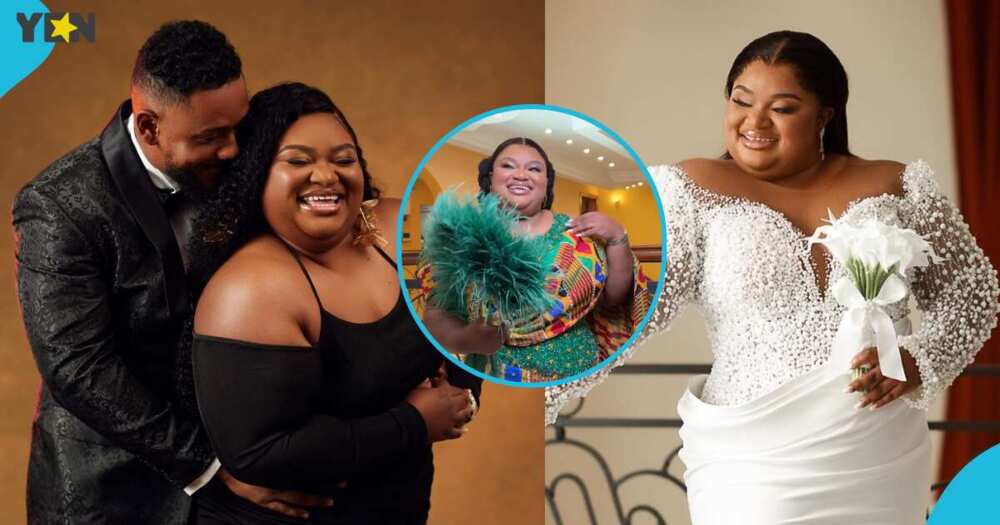 Plus-size Ghanaian bride flaunted her smooth skin in a black off-shoulder bodycon dress and curly hairstyle, and the groom rocked a black custom-made suit for the pre-wedding photoshoot.
Plus-size Ghanaian bride looks ethereal in a beautiful kente dress
The plus-size bride Princess looked regal in a colourful beaded kente dress designed with a shawl for the traditional wedding. She looked ravishing in an afro ponytail hairstyle and flawless makeup for this video shoot.
Plus-size Ghanaian bride Princess slays in a cutout dress
The gorgeous plus-size bride turned heads in a custom-made halterneck dress for the traditional wedding reception party.
Plus-size Ghanaian bride looks classy in a beaded white silky gown
Plus-size Ghanaian bride Princess snatched her waist in a hand-beaded long-sleeve corseted white gown for her luxurious white wedding.
The fashion designer Anna's Thread Couture used the right measurements to design a perfect-fit dress.
Some social media users have commented on the trending wedding videos
YEN.com.gh has compiled some reactions below;
heyhey_grace stated:
So classy ❤️
Itselliaaah stated:
I love this! So different
chichi0881 stated:
Aww, congratulations, princess!!
Princessyayra1 stated:
Decent, gorgeous, all the acceptable words
Delicakesbynayak stated:
This is breathtaking
nikkibellino1 stated:
And who said the plus-size ladies are not beautiful? ❤️❤️❤️
Seuleangee stated:
She is the most gorgeous bride ever
Tillydevon stated:
This is so gorgeous
nana_asantewaa180 stated:
Lovely dress, this suits a perfect body❤️
glam__maa stated:
Love it. Simple, classy, elegant. Congratulations
Ghanaian Bride Stuns Without Makeup As She Rocks A Fringe Kente Dress To Marry Her "Brother" In Lavish Wedding
Earlier, Legit.ng wrote about Ghanaian bride and midwife Barbara, who married her "brother" in a lavish wedding ceremony.
The bride was radiant without makeup for her traditional wedding this past weekend. She had an endearing grin.
In a trending video, the couple revealed how they had to keep their relationship a secret from their relatives until they could support themselves.
Source: YEN.com.gh