Michael Gah: Ghana-Based Artist Is Turning Clothing Waste Into Beautiful Artworks, Photos Emerge
Michael Gah is a Ghana-based artist who is converting discarded clothing waste into beautiful artworks
Some of his designs include children playing with toy trucks, women singing, men wearing matching trousers, and many more
In an interview, he disclosed that besides designing his art pieces with cheap materials, he is also addressing Ghana's textile waste problem
Ghana-based artist Michael Gah is expertly turning colourful clothing waste from tailoring shops and Kantamanto in the Greater Accra Region into beautiful artworks.
From children playing with toy trucks to women singing to men wearing matching trousers, he's addressing environmental problems caused by waste products such as fashion off-cuts or fabrics.
Michael Gah's newest art piece
The Accra-resident artist designed his newest textile art piece, the large piece of five men wearing coordinating trousers, from clothing waste.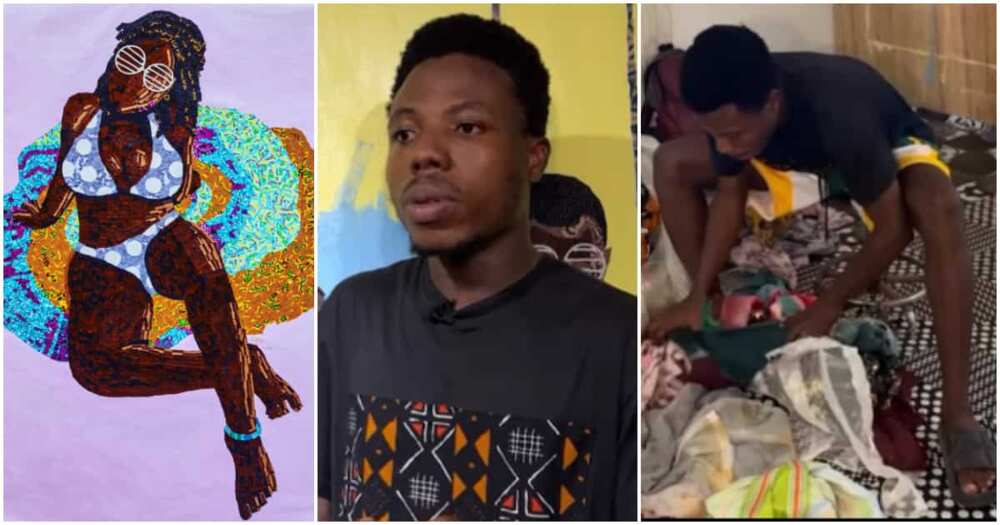 ''I got them from Kantamanto, and from a buddy who sews, and Woodin,'' he said, Africanews reports.
For Gah, using textile waste is not just about finding cheap materials; he also has environmental reasons.
"I don't want them to end up in the seas, in the gutters, to choke them,'' the talented creative said.
Textile waste problem
Accra is a second-hand apparel hotspot in West Africa. Clothing from Western countries is delivered to Kantamanto Market. However, Ghana requires assistance in dealing with textile waste.
According to Yaw Akwaa Lartey, an environmental health expert, two million pieces of second-hand garments are brought into the country weekly.
Per investigations, 40 per cent of these things become rubbish and are dumped at landfill sites and other crude or unofficial refuse dumps across the country.
Gah collects several large bags of textiles every week and transforms them into magnificent showpieces. The creative's works have been exhibited and sold in local and foreign markets.
Man turns pure water sachets into umbrella
A hardworking Ghanaian creative only identified as Wahab designed an umbrella with pure water sachets, an innovation that could help address the plastic pollution menace.
The young fashion designer in Takoradi in the Western Region of Ghana has garnered attention after impressive photos of his work emerged on social media.
BASE AFRICA TV shared photos of the umbrella made from plastic water sachets on its feed, gaining the attention of users of the app.
Source: YEN.com.gh