Meet Ghanaian Pharmacist And Fashion Designer Creating Clothes From Waste, Employs Disabled People
Ghanaian pharmacist Clara Pinkrah-Sam is one of the few fashion designers who create ethical and sustainable clothes in Ghana
The award-winning designer started her designing in 2016 as a hobby and employs lots of Ghanaian women, including people with disability
In an exclusive interview, the beautiful mother shares why she decided to protect the environment through her luxurious clothing brand
In an era where the world faces many environmental issues, sustainable fashion tackles air pollution, solid waste management and flooding, which is predominant in some parts of Ghana during the rainy season.
Sustainable fashion sells. Sustainable fashion is healthy.
In this background, a successful practising Ghanaian pharmacist Clara Pinkrah-Sam uses her spare time to convert fashion waste into wearable clothes for clients worldwide.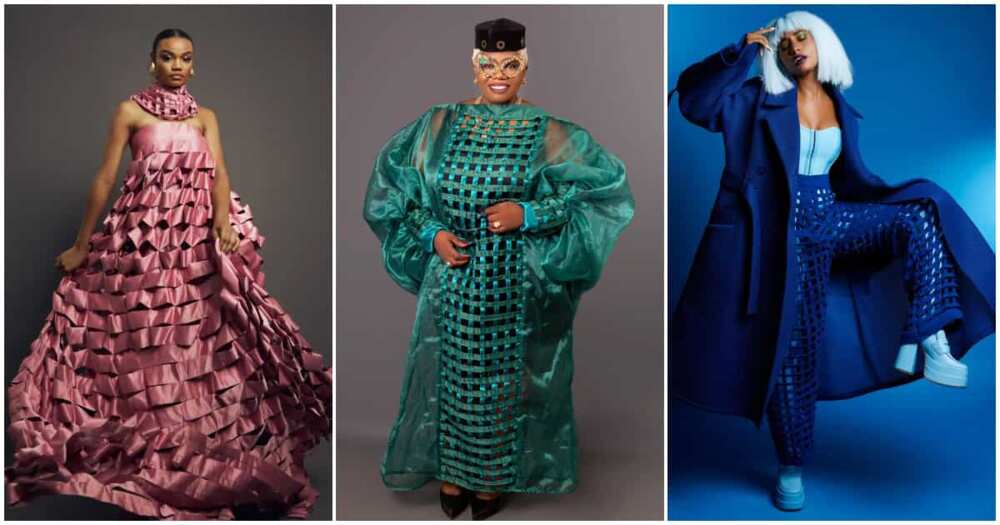 In an exclusive interview with YEN.com.gh, the former United Nations Development Programme ( UNDP) and World Bank employee reveals how her team, including persons with disabilities, work assiduously to create unique designs that promote the well-being of people and also protect the environment.
Clara Pinkrah-Sam reveals the inspiration behind her brand
The Charter President of the Rotary Club of Accra Morning Tide disclosed that she wanted a name that resonates with her brand.
I named the brand after myself because of my immense confidence in the quality, comfortability and uniqueness of the pieces we craft.
Clautural creates authentic African designs infused with modernism to create unique, rich and vibrant statements of ethical and sustainable wearable art pieces for all occasions.
Clara Pinkrah-Sam talks about her first design
The talented female entrepreneur, who describes herself as a multipotentialite, said she never intended to venture into fashion design. Clatural was born entirely out of nurturing her hobby of creating unique and exciting designs from fabrics.
I Officially launched my first design in December 2016. It was well received by Ghanaians and beyond. It was in a form of a dress and most people requested the design in a form of a blouse or skirt.
Clara Prinkrah-Sam talks about sourcing fabrics
The fashion industry is the second largest pollution cause on the earth. Fabric waste from the fashion industry in Ghana contributes to the annual flooding in Ghana by blocking sewage when disposed of improperly.
I work closely with other fashion designers who package their cutout fabrics for us. I have Ghanaian women who sell second-hand clothes that also select quality fabrics to work. My brand is into other aspects of fashion design aside from the womenswear brand such as creating floormats and tables clothes among others.
Once we received the materials, it goes through a series of in-house sorting, sanitizing and cleaning and drying before our talented seamstresses start designing.
Clara Pinkrah-Sam explains the costs involved in creating clothes with recycled materials
The award-winning fashion designer shares the factors involved in working with fashion waste.
It does depend on what you create as a fashion designer from recycled or new fabrics. Whiles the cost of recycled materials may be cheaper than new fabrics, the process of sourcing, sorting, storage and recycling process can be very expensive.
Take my brand Clatural as an example; we do not just make clothes. We have distinct signature designs and our pieces are wearable art pieces which are also 80% handcrafted and so the time invested in each piece is a lot which reflects in our pricing.
Clara Pinkrah-Sam shares details about her luxury brand
The IT consultant with over a decade of working experience created Clatural, a luxuriously stylish couture brand, to avoid fabric waste in the fashion industry and create wearable brands representing African culture and its rich heritage.
Fashion lovers across the globe can easily identify brands like Gucci, Louis Vuitton, and Balenciaga among others.
Sadly, Ghanaian fashion designers don't have that brand identity both locally and internationally. You can either check for the tags inside the outfit or ask the person the type of brand that is wearing.
For Clatural, we provide sustainable and ethical wearable pieces of art for both men and women globally. We create our signature designs the MESH and the SHEM from cut-off pieces of fabric and also by using a unique pattern-cutting skill that allows for zero waste of fabric.
Clara Pinkrah-Sam shares her entrepreneurial and empowerment projects
As part of its mission, the Ghanaian-owned fashion brand has regular training sessions to educate the public about how the fashion industry can avoid environmental issues. She added that unwanted fabrics are burnt, and they cause air pollution, which depletes the ozone layer. Likewise, if they are not disposed off properly, it causes flooding in our communities.
My talented team provide skills in sustainable fashion and entrepreneurship to empower needy and marginalized youth and women in our communities.
Our operation is built on our core belief of creating wealth from waste based on our zero-waste tolerance policy.
Clara Pinkrah-Sam opens up about working with persons with disabilities
Most of the employees at Clatural are women passionate about promoting ethical, sustainable clothes. Currently, she works with three women with disability. One was trained on the job, and the other two were masters of their craft.
At Clatural, about 75% of our total workforce are females and 2% of our employment space is reserved for persons with disability.
We are totally committed to the SDGs while remaining socially responsible. Currently, we have 3 women with disabilities who are excelling in their fields of work. One was trained on the job and the other two women were masters of their craft before joining the team.
Clara Pinkrah-Sam reveals why she opted for sustainable fashion
Globally there is a conscious effort, as agreed by all countries under the 17 United Nations Sustainable Development Goals (SDGs), to be environmentally conscious in everything you do.
Fashion is now young "beautiful", serious buyers especially in developed countries are equally concerned about how and under what conditions an outfit is made.
My decision to do sustainable fashion is a conscious effort to help save the earth and so any time you buy Clatural remember you have invested in a timeless, unique, handcrafted piece of wearable art consciously created with the safety of the earth in mind and our beloved client at the heart
Clara Pinkrah-Sam adivces young entrepreneurs
There are many young people entering the entrepreneurship zone because they cannot find employment.
What I will like to share with them is to be very prepared not only financially but also psychologically because it is a very long, lonely and difficult journey, especially in our part of the world where most employees are not committed to working hard or smart.
Meet The Ghanaian Illustrator Redefining Wedding Invitations Through Detailed Artworks
With fashion and style, creativity continues to abound, some more peculiar than others.
TikToker Abdulwahabmisbahuchampi0 posted a video of a man reportedly spotted in Kumasi, Ghana, wearing a rather interesting ensemble.
In the video, the man is seen dressed in a muddy brown fury ensemble. However, on a closer look and as stated in the caption, the outfit is actually made from wood shavings, including the sandals on his feet.
Source: YEN.com.gh