Internet Users Howl Over Woman's Post Showing What She Ordered vs What She Got: "Like a Deflated Balloon"
A poor woman got done dirty as she received a dress that looked nothing like what she had ordered
Twitter user @Thembi_Bal1 shared the side-by-side pictures of what she ordered versus what she got
Some people couldn't help but laugh and throw out hilarious suggestions for fixing the disaster
Shopping for an item before you have seen it is a real gamble. One woman thought she was getting a beautiful white puffy dress but that is not what she received.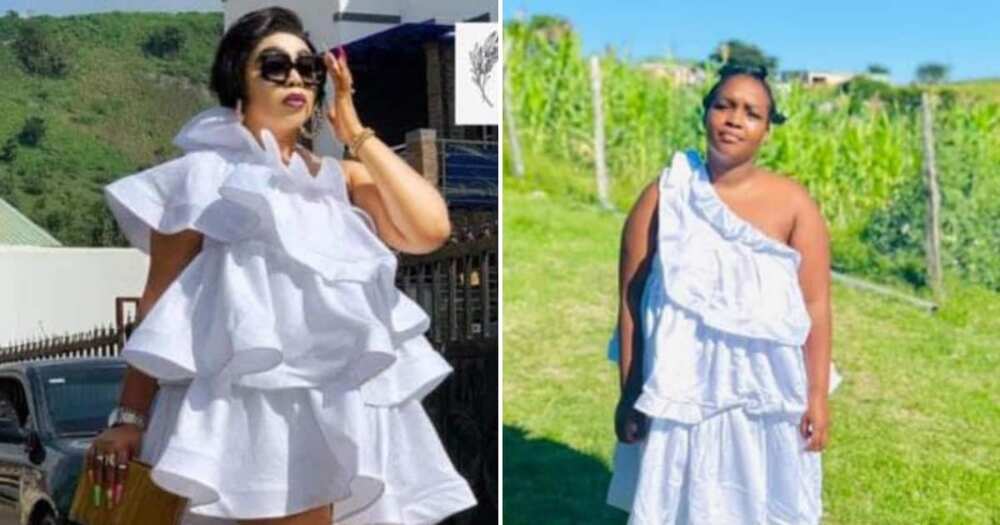 While online shopping is convenient, it is also risky. One woman found that out the hard way when her dreams were crushed.
Twitter user @Thembi_Bal1 shared a picture of the dress a woman thought she was getting alongside a snap of her wearing the dress that she got.
Shame, sis, this is something!
Take a look at the disaster:
Internet users react to lady's dress order
The post went viral on social media and had several people reacting with mixed feelings. Some felt it looked like a deflated balloon while others had no words.
See some of the hilarious comments:
@nonimots said:
" this is so bad."
@Mbilu_Yanga said:
"She needs to stand near a car maybe kuzoba right"
@ClaireZDuri said:
"If she does the pose it will come out the same "
@Love_Y0urz said:
"She must try to hairdryer it and use a straightener as well "
@collenscolly said:
"The second frame it's a fitted sheet bathong "
Disastrous blue dress blunder stirs hilarious reactions from netizens: "I did not want to laugh, but yoh"
A designer has taken to social media to post a video showing the dress her client ordered, presumably online, and what she received instead.
In a classic case of, 'what I ordered versus what I got', in the snap of what the lady ordered, a gorgeous, silky, skinned-tight dress could be seen.
However, what the lady got instead was a blue bunder that looked nothing like the garment she had ordered. The designer, who shared the video on TikTok, has been tasked with salvaging the gown as best she can.
Source: Briefly.co.za