TikTok Video of Woman With Wild Lash Extensions Has People Dropping Jokes: "Ready for Take-Off"
TikTok users had no words for some wild lash extensions that were shared on social media
TikTok user @bernadettkovcs6 shared a clip of lashes she did for a client, showing the transformation
Some people had no choice but to drop jokes in response to what their eyes had just witnessed
The beauty industry can get a little over the top these days. One woman decided to get her lashes done and went for that extreme volume look. So extreme that people couldn't take them seriously.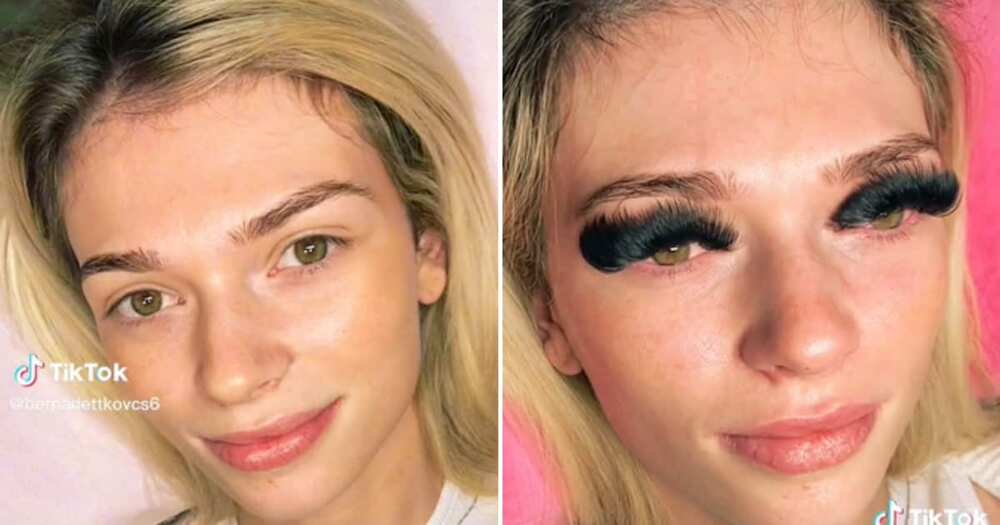 When you post something on social media you are accepting that there will be backlash and some shade. This lady learnt that quickly when she dropped a lash transformation clip on TikTok.
TikTok user @bernadettkovcs6 shared a clip of lashes she did for a client. The beautiful woman got boujee lashes that were so full you couldn't tell if it was a solid strip or individual lashes.
See the lash transformation:
TikTok users can't hold their nervous laughter back
These lashes made no sense to a lot of people, and they, therefore, turned to humour to process. Sis went big, and people had bigger jokes.
Check out some of the hilarious comments by netizens below:
@danajakøb said:
"I'm still waiting for someone to tell me it's a joke ♀️"
@Jacklyn said:
"Wow! They look so natural."
@Drikkmelk1 said:
"When the flight tickets are too expensive, so you decided to get wings yourself."
@Bri Hines said:
"Without lashes *doesn't blink* with lashes *helicopter noises*."
@Michelle and Juke the pug said:
"The natural look I love it."
"What is wrong with people?" Reactions to video of lady getting brow extensions
A video left online users surprised at the lengths people will go to make their eyebrows thicker and how the procedure was done.
Peeps in the comments discussed the way the eyebrows looked. TikTok users admitted that they were surprised to see the final result.
A TikTok by @salihsworld shows how a lady got eyebrow extensions. In the video, the woman's eyebrows were done by glueing weave hairs and trimming them.
Source: Briefly.co.za