Steve Harvey in Tears as Stepson Thanks Him for Adopting Him: "You Saved Me"
Jason Harvey praised his father, Steve Harvey, for taking them in and giving him his last name, making him cry in public
The rest of the Harvey children and wife were also present as they celebrated him with old photos and memories, leaving him teary and speechless
Harvey got emotional as his step-children thanked him for his love and guidance; his biological children shared their favourite moments with him
Jason Harvey made his father, Steve Harvey, cry in public after praising him for giving him a name and taking them in with their mother, Majorie.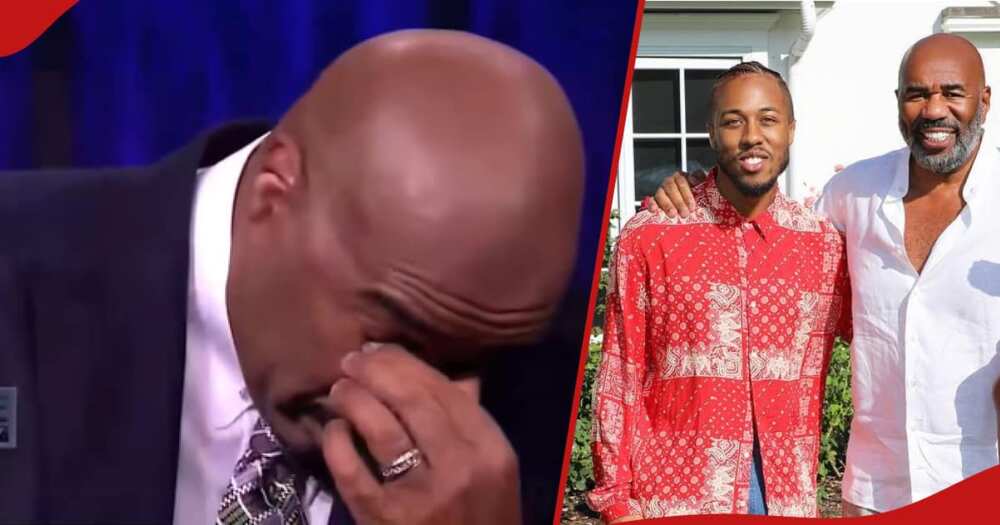 Jason declares love for Steve Harvey
"As a man you gave me your last name; not many men can do that and yet to did that, my father did what he could but he just wasn't there; you stepped in and gave me that," said the emotional Jason.
"If only you knew the true amount of love I have for you, I need for you to know that now. It doesn't get any better than you dad, you are it," he told Steve who was already bowed down crying.
Jason was speaking during an occasion when the Harvey kids and his wife, Majorie, had gathered to celebrate him and show him how much they loved him.
Morgan Harvey speaks out
"My favourite moment with you is obviously last year when you walked me down the aisle and during our father-daughter dance. When I thought about it as a young child, it was never going to be a special moment, it wasn't something that I was looking forward to, but you coming into our lives and having that relationship made it extra special," said Morgan another step-child.
The first child, Carlie, said she celebrated her father because he was hands-on when they were kids.
"Christmas, when I was five years old, you got us identical bikes; it was the best Christmas ever since it was snowing outside and we rode them around the dining room table since we couldn't go outside," she said.
"It was testament of your love. devotion and being an awesome father to us," she added.
His daughter, Brandy, remembered him taking them to Disney World one time when he had to work in Orlando, Cleaveland. The moment defined their future vacations.
Old photos stun Steve
The teary and stunned Steve was touched by the photos they unleashed and wondered where they got the old pictures from since there were no phone cameras back then.
Broderick remembered stepping into manhood, and Harvey gave him and his brother cigar sticks.
"I almost lost a lung trying to keep up with you and you sat there laughing at us for an hour. But it felt so good to sit like this and feel men I am doing something with my dad and I love that," he said.
Lori loves their date nights
Lori talked about the period when she had started dating and he took her for dinner and gave her the talk about dating.
The last born, Wynton, praised his dad for showing up at his first art show when he was only 13 years old.
"It was a big moment for because you guys are always travelling and working. That was a pretty big moment for men," he said.
Meet Jason Harvey
Another story revealed that Jason is a designer, artist, and creative director. He founded Yevrah Shoes, which has made a name for itself by creating luxury shoes.
The fashion designer was born in 1991 in Memphis, Tennessee. His birth father is rumoured to be Jim Townsend, Marjorie's ex-husband, and a drug dealer in prison until 2017.
Morgan, Lori, and Jason are Marjorie Harvey's biological children, whom Steve adopted in 2007 after marrying Marjorie.
Steve Harvey's lovey-dovey pic with wife Marjorie gets criticism
Legit.ng earlier reported that the comedian posted a picture of his wife of 16 years where they wore matching outfits and were driven around in a Bentley.
Social media users could not keep calm and went straight to sarcastically comment on Harvey's post, condemning his decision to reunite with Marjorie after she was accused of cheating with their bodyguard.
They mocked the TV show host's affection for his wife.
Source: TUKO.co.ke