Taylor Swift Reportedly Dating NFL Star Travis Kelce as Couple Spotted Together Several Times
Taylor Swift and Travis Kelce have reportedly been seen together multiple times over the past few months
The pop superstar attended the Kansas City Chiefs star's NFL game to support him, marking her first introduction to his parents
The two were seen holding hands and spending time together at a private restaurant event after the game
Taylor Swift and Kansas City Chiefs tight end Travis Kelce have sparked dating rumours.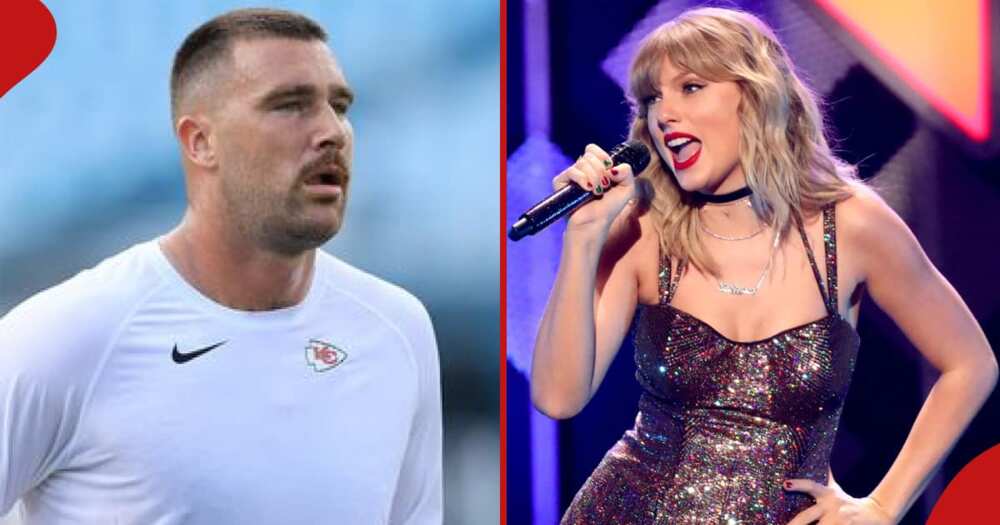 While they're not officially confirmed as a couple just yet, their recent interactions have certainly sparked curiosity and speculation.
Budding romance between Swift and Kelce's
According to TMZ, sources with insider knowledge said Swift's appearance at Kelce's NFL game on Sunday was not their first rendezvous.
In fact, they've spent time together "several times" over the past few months.
However, these encounters were kept under wraps in very private settings.
Swift, known for her hit songs and world tours, is no stranger to the public eye.
But when it comes to her personal life, she's been relatively discreet in recent years.
On the other hand, Kelce is a prominent figure in the NFL, known for his exceptional talent as a tight end for the Kansas City Chiefs.
Sunday's NFL game provided a glimpse into their relationship as Swift watched Kelce score a touchdown from a suite alongside his family.
Cameras captured the moment of excitement, and fans couldn't help but wonder about the nature of their connection.
Meeting the parents
What makes this budding romance even more interesting is Swift's introduction to Kelce's parents, Donna and Ed.
Sources revealed that Swift's time with Donna, in particular, went exceptionally well, with Donna describing her as a lovely person.
Private moments at restaurant
While their public appearances have been mostly platonic, sources revealed that they held hands at the restaurant Kelce rented out for his family, friends, and teammates after the game.
At one point, Swift even sat on Travis Kelce's lap, indicating a certain level of closeness.
Despite the chemistry between them, there are potential challenges on the horizon.
Taylor Swift is gearing up for her upcoming tour, which begins in a few weeks, followed by an international leg in November.
So, are Swift and Kelce officially an item? The answer is still unclear.
However, it's evident that they enjoy each other's company and are gradually growing closer.
As the saying goes, only time will tell if this celebrity connection blossoms into something more.
For now, fans will continue to watch their interactions with keen interest, speculating about the possibility of a full-blown romance between the pop star and the NFL star.
Why is Nick Cannon dreaming of having child with Swift?
Not long ago, Nick Cannon expressed his desire to have more children, but with Swift, who broke up with actor Joe Alwyn.
According to Page Six, Nick Cannon made these sentiments during an interview on The Howard Stern Show on Monday, April 10.
Howard Stern started the conversation by asking if The Masked Singer host would be interested in fathering a 13th child with the pop star.
The father of 12 said he is "all in" because the Bad Blood singer is a great songwriter.
Source: TUKO.co.ke