Burna Boy Breaks Silence on SA Stadium Concert Failure by Allegedly Throwing Shade on AKA's Death
The African Giant, Burna Boy, has left a sour taste in some people's mouths after he wrote a cryptic note after his attempt at filling Soccer City fell flat
He posted on his Instagram Stories his unfazed feelings and then hinted at AKA's death and their beef
Tweeps found the message to be insensitive and disrespectful, making plans to teach him a lesson, the South African way
Nigerian superstar Burna Boy has found himself out of some people's good graces after he took a suspected jab at assassinated rap sensation, AKA, following his Johannesburg concert flop.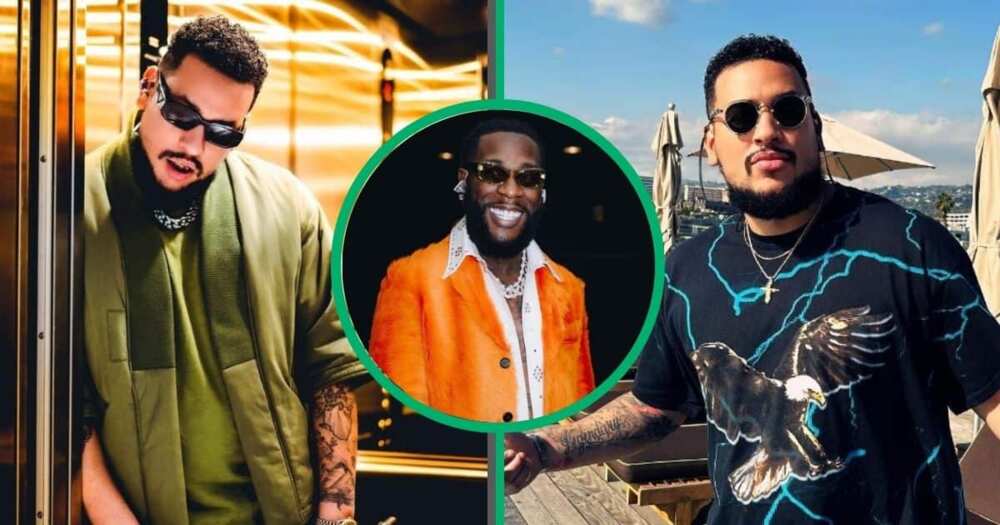 Burna Boy hints at his beef with AKA after his FNB Stadium failure
The Last Last hitmaker took to his Instagram Stories to talk about his thoughts after he was left with an egg on his face for trying to fill up Soccer City on short notice.
He posted a cryptic message about how South Africans loved him as he had scores attending the 9th DStv Delicious Festival to see him perform.
Twitter user, now known as X, @Thee_Cherri posted a screenshot of his post asking if he was speaking about the slain rapper.
Check out the post below:
Burna Boy and AKA's love-hate relationship
Damini, who regrets not ending his beef with AKA before he died, was once featured in Mega's hit, All Eyes On Me.
He performed the hit song at the DStv festival, attended by over 100K people after the pair fought on Twitter during the 2020 xenophobic attacks.
Tweeps react to Burna Boy's suspected shade at AKA
Some South Africans were disgusted by the African Giant's comment, which they believed was directed at Bhova, and this is what was said:
@leendiwe cut ties:
"I think he is and that is such a low blow. Yuh, hai he can miss me. Doesn't need me anyway cause he has 100k isn't it?"
@KnownAs_Teetee pointed out:
"I blame DSTV Delicious, gave him a false impression about South Africans now tickets are not ticketing."
@Mawose_ predicted:
"I'm glad he said this with his chest. His local following will most likely act shocked, disgusted and all - but will buy those tickets STILL."
@BarbPlug weighed in:
"Personally, I feel like it was because of what he did after AKA passed on, genuinely speaking, its too early for people to host someone after he made our loss a small thing."
@BelindaMac9973 explained:
"Who else? Apparently those tickets are not selling."
@Madithame said:
"He is out of his mind now."
@Ah_kim__ commented:
"He's a fool mehn. Disgracing himself."
Burna Boy becomes first African artist to top the UK Album Chart
The singer recently became the first and only African artist to top the UK album chart with I Told Them.
The UK official chart confirmed the news on Friday, September 1, 2023.
He came close to winning the award with last year's "Love, Damini," which peaked at number two in the UK album charts.
Source: Briefly.co.za