Cardi B Sparks Heated Debate About Healthy Eating After Sharing Pictures of Daughter Kulture's School Lunch
Award-winning rapper Cardi B loves sharing details about her family and beautiful children with her followers
The star recently headed to her social media pages and shared a glimpse of what she prepares for her daughter Kulture's school lunch
However, the posts received mixed reactions from fans, with some saying it was too much while others noted that it was not healthy
Cardi B came under fire from social media users after she posted pictures of what she prepares for her daughter Kulture's school lunch.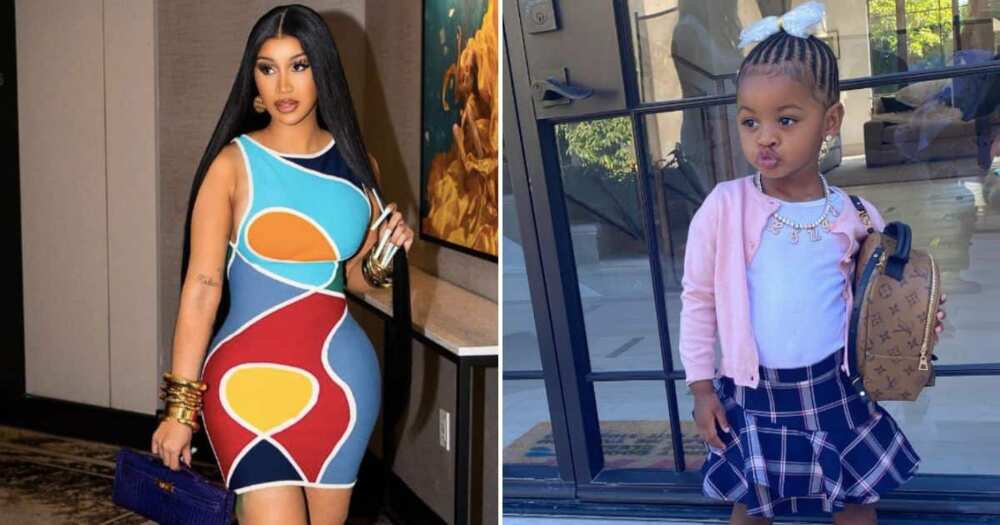 The doting mother showed that she goes all out to make sure that Kulture's lunch is nutritious and fun.
Cardi B gives her Twitter followers a glimpse of her daughter Kulture's stunning school lunch
As expected, the internet had truckloads of opinions on the WAP rapper's post. Some noted that it was a bit too much for a little girl while others pointed out that it was not nutritious.
According to CapitalXtra, some of Cardi B's fans also asked what Kulture's other meals like breakfast and dinner would look like if her school lunch looked like a full-course meal. She tweeted:
"Kulture school lunch be everything."
Cardi B's followers share mixed reactions to star's post of Kulture's lunch
Peeps have raised concerns over Kulture's school lunch. Some said the rapper should try considering healthier food options for her daughter.
However, not all fans had bad things to say about the post. Some were even begging Cardi to adopt them because the food looked yummy.
@arianaunext commented:
"Girl, idk what school Kulture going to, but American school lunches be 25 minutes nowadays. she is not eating all that in 25 minutes ."
@LikeIsNas noted:
"I'm afraid of all those sugary drinks. I didn't know a little girl could eat that much. ☺️"
@22dbrit said:
"I'm not judging cause this looks yummy but…is she eating all of this as one meal? Some of these are snacks throughout the day right?"
Nigerian lady recreates Cardi B's pics
A Nigerian lady with the Twitter handle @iamfisayo_ stylishly recreated popular Cardi B's photo as a way to celebrate her birthday.
Many people on Twitter could not separate the celebrity from the recreation, which goes to show how well she nailed the pose with the same costume.
However, in place of a yellow wig, the Nigerian lady wore a brown one. The recreation was really perfect.
Source: Briefly.co.za