Will Smith Astounded As He Shares Video Of His Experience Visiting Unusual Buildings In The World Like Hegra
Famous Hollywood actor Will Smith thanked his stars for an experience of a lifetime as he visited some unusual buildings in the world
He visited the ruins of the ancient city of Hegra and the world's largest mirrored building in Saudi Arabia
The famous American celebrity shared photos and videos of his excursion on his Instagram page, which attracted several positive responses from netizens
American Hollywood actor Will Smith had the time of his life when he visited Saudi Arabia and explored some of their out-of-the-ordinary buildings.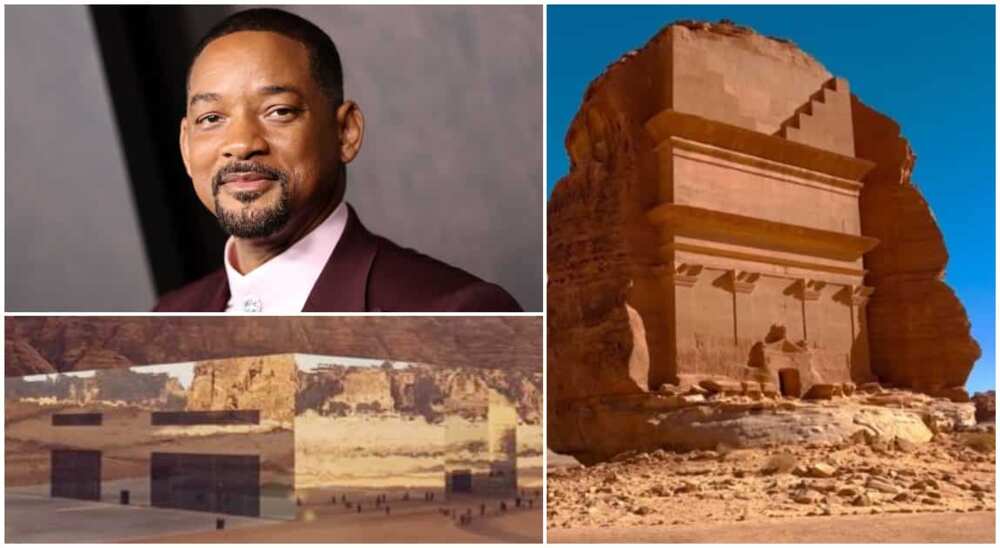 The celebrity took to his Instagram page to post photos and videos of his visit to the ancient city of Hegra and the world's largest mirrored building in Saudi Arabia. He captioned the Instagram post with the following:
WOW. This was a whirlwind trip of 1sts. My first time to a camel race, my first time seeing the ancient remains of Hegra, my first time to the world's largest mirrored building, and then topping it off at F1!
Will Smith confessed that many of his experiences on the trip to Saudi Arabia were his first and mentioned some entities he was grateful for.
Watch the video below.
The largest mirrored building in the world that Will Smith visited is called the Maraya Concert Hall and has been recognised by the Guinness World Records as such. The mirrored glass building covers about 9,740 square metres of space.
Netizens react to Will Smith's Instagram post.
Several netizens were happy that the actor was having a good time in Saudi Arabia and took to the post's comments to share their thoughts. Legit.ng compiles some responses below.
Jatmme said:
Will you take me to travel with you? Amazing
ilariasachini commented:
You seem happy and relaxed, and I love that! Enjoy yourself and move on. I can't wait for Bad Boys 4
jetlbrown2016 remarked:
Fan for life. Wishing you the very best! I will be there for your next book, next movie - anything you do, really
Will Smith, Martin Lawrence announce Bad Boys 4
Will Smith and Martin Lawrence sent their fans into a frenzy when they announced that Bad Boys 4 is on the way.
The Hollywood superstars took to their official social media accounts to make the announcement and the whole world is here for it.
Thousands of people said they can't wait to watch the fourth instalment of the action film featuring a bit of comedy. Taking to Instagram, Martin captioned the clip of the official announcement:
"IT'S ABOUT THAT TIME @willsmith"
Source: YEN.com.gh