Kim Kardashian: Soccer Fans Convinced Kardashian Curse Exists After PSG Loses While Kim Attends
Paris Saint-Germain (PSG) supporters believe Kim Kardashian is the reason why their team lost to Rennes
Kim attended the game with her son Saint and sister Kendall Jenner, and she immediately trended on Twitter after PSG lost
Social media users concluded that the Kardashian curse was not a myth but rather a reality after comparing all the games Kim recently physically attended
Sports fans are torn between treasuring and lashing out at Kim Kardashian after learning that their favourite soccer teams lose every time she attends their games.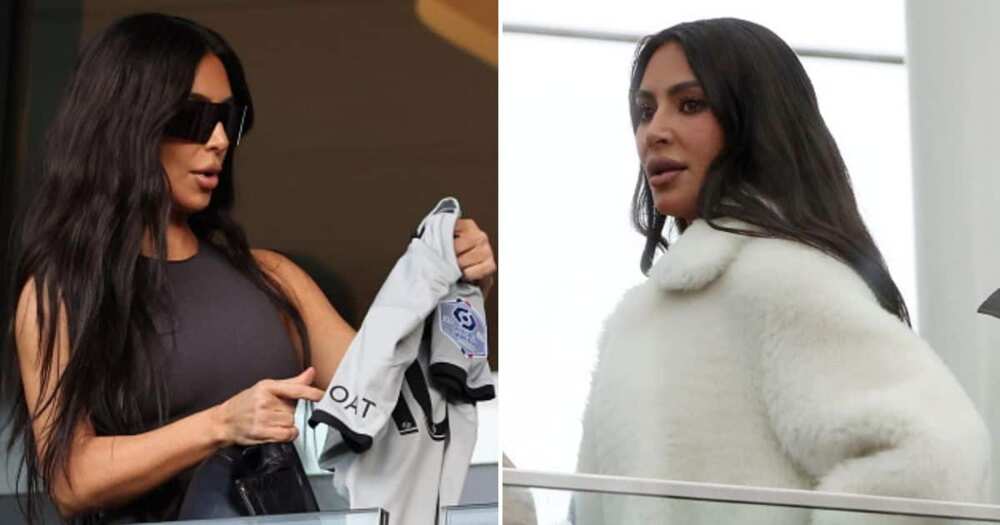 ESPN reports that Kim recently attended a Paris Saint-Germain versus Rennes game with her 7-year-old son, Saint, Kendall Jenner, and some of her friends.
PSG fans blame their loss on Kim Kardashian
On Twitter, @brfootball, a soccer-related account, made a shocking observation about the matches the Keeping Up With the Kardashians star recently attended. After seeing the viral tweet, peeps were convinced that the Kardashian curse exists.
What is the Kardashian curse?
According to Elle Australia, the Kardashian curse is a conspiracy theory that states that anything the Kardashians touch goes downhill.
The conspiracy was sparked by the "messed up" lives of the famous sisters' ex-boyfriends and husbands, with Kanye West's viral public tantrums being the most notable example.
The Kardashian sisters reportedly know about the rumour and have publicly condemned it on their popular reality show Keeping Up With The Kardashians, but viewers weren't persuaded.
European football fans want Kim Kardashian to attend soccer games against teams they want to lose
@nataleof said:
"Please watch the Miami Grand Prix with a Redbull shirt on."
@mubvrick shared:
"I hope she returns to the Emirates."
@Bibamby posted:
"I heard Juventus would love to have @KimKardashian for the next Europe league game‍."
@NapoliSansone replied:
'The next fan that Naples should ban."
@rafaeIeao93 commented:
"Kimberly, have you considered paying a visit to the beautiful Estadio Santiago Bernabeu on the 12th of April? @KimKardashian"
@MirabelIa_ wrote:
"Please avoid my club."
@_treacherous_13 also said:
"Lyon is a fantastic city with an incredible stadium. You should visit on March 22 at 18:45. Don't forget the Lyon kit! @KimKardashian"
@Joshua_9320 added:
"I'm glad my soccer team is irrelevant and no one famous wants to come and watch us."
Kylie Jenner and Travis Scott reportedly trying to legally change their son's name from Wolf to Aire due to regret
In other stories, Legit.ng reported that Kylie Jenner and Travis Scott are reportedly on a legal journey to change their son's name from Wolf Webster to Aire Webster.
TMZ reported that they obtained the legal documents stating that the parents agreed that it was time to have Wolf recognised as Aire legally. Wolf has always been referred to as Aire since Kylie gave birth to him on February 2.
The legal documents TMZ got their hands on said Kylie and Travis regret the name "Wolf" because they found the name unsuitable for him after spending some time with their child. Wolf's parents said Aire sounds better and fits him the most. For the couple, Aire reportedly means "Lion of God," despite popular belief that it's a slang word for male genitalia, reported Page Six.
Source: Briefly.co.za