Ibadan Has a Waste Problem: This Firm Shows How to Make Money, Create Jobs and Fashion Out of It
Ibadan, Oyo state - In the Ibadan community where Adejoke Lasisi lives, there is a severe environmental crisis as a result of many residents dumping waste (pure water sachets, PET bottles, etc.) on the street and through drainages.
PAY ATTENTION: Сheck out news that is picked exactly for YOU ➡️ click on "Recommended for you" and enjoy!
This practice, consequently, leads to flooding whenever it rains as the debris clogs the drainage channels, forcing residents of the community out of their day-to-day activities until the floods subside.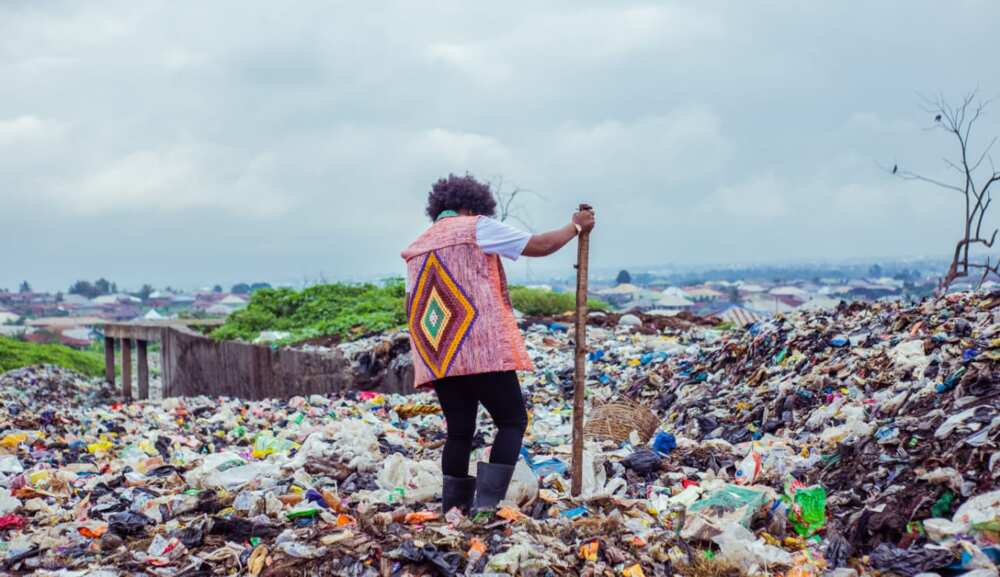 "If it rains in the afternoon/evening, you will not be able to enter the community. You will see people calling their friends to go and sleep over at their (friends') places," Adejoke told Legit.ng.
Constantly faced with this sad reality, the young Nigerian lady thought something must be done to address this crisis. At first, she suggested that the community should seek the services of a waste management company to regularly evacuate the waste to avoid flooding and other associated negative impacts.
This sounds good, but it involves money. The refuse collectors have to be paid, and this is where the problem lies: getting people to pay will be nearly impossible.
PAY ATTENTION: Share your outstanding story with our editors! Please reach us through info@corp.legit.ng!
Environmental crisis in Ibadan
The solid waste management crisis is not limited to Adejoke's community. It has been a major challenge in Ibadan, the third-largest city by population in Nigeria, for several decades.
According to World Bank, the waste collection rate in the city is estimated at around 40%. A large portion of the solid waste generated in the Oyo state capital is dumped on available plots of land, sidewalks, roads, streams, channels and drains.
This causes the clogging of drainage systems, thereby exposing the ancient city to flooding.
Ibadan has a history of deaths from floods caused by water channels being blocked with waste. In 2011, a heavy downpour which lasted about 5 hours resulted in the overflow of the Eleyele reservoir, causing the death of more than 120 people.
In response to the flood disaster, the state government developed the Ibadan Urban Flood Management Project (IUFMP), a World Bank-supported project aimed at creating a long-term flood risk management framework.
The Oyo State Solid Waste Management Authority (OYOWMA), under the Ministry of Environment and Habitat, was responsible for managing waste generated within the state.
Its responsibilities include storage, collection, transportation and disposal at designated dump sites. However, realising it could not handle the solid waste management challenge in Ibadan alone, the agency engaged the Private Sector Participants (PSP).
Citing 2016 data from OYOWMA, the World Bank stated that 317 registered private contractors were collecting waste in the 11 Local Government Areas of the Ibadan metropolis.
Nevertheless, the efforts of the refuse collectors have been largely ineffective due to some identifiable challenges. World Bank identified operational capacity problems.
According to the international financial institution, many of the private contractors are small. The biggest contractors have up to five trucks with about five staff per truck. Some do not even own operational trucks but rent them from other contractors who have more than one.
Trying to fix these challenges, the Oyo state government barred some private collectors in 2022 and introduced a door-to-door waste collection initiative in partnership with Mottainai Recycling Ltd.
The firm conducted a verification exercise and found that only 123 waste collectors had some capacity to collect waste.
The firm concluded that the operational capacity is far below what is required to keep the state clean.
However, beyond the highlighted operational capacity problems, there is a bigger problem: the citizens' financial capacity and willingness to pay the refuse collectors.
Just like Adejoke noted, World Bank pointed out that "Ibadan has a firmly entrenched culture of resistance to paying for the waste management."
Many residents have an "entrenched attitude of not willing to pay for waste disposal", the bank added.
Adejoke Lasisi's solution: Planet 3R
Having ruled out the possibility of engaging private refuse collectors because of the cost of their services, Adejoke continues to ponder how best to tackle the waste challenges in her community.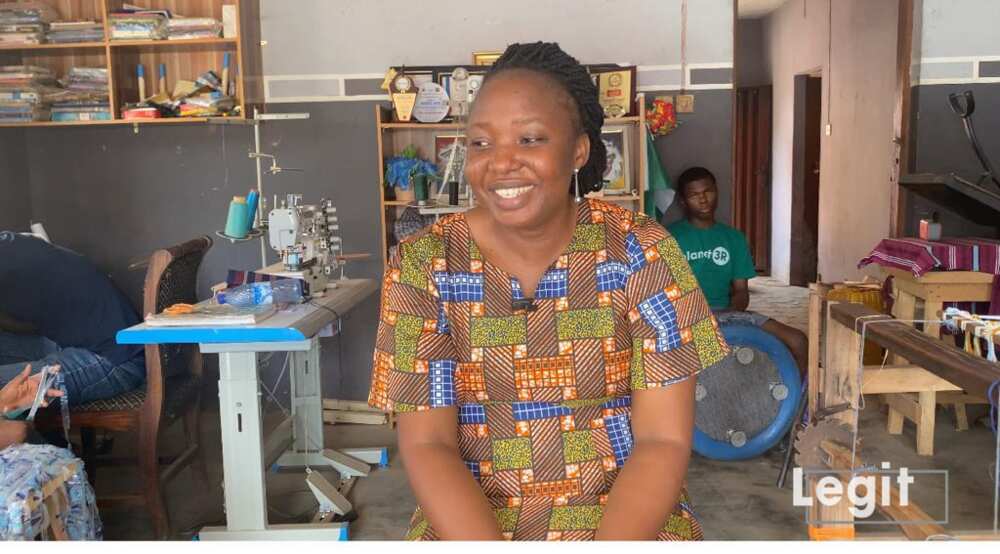 Then, sometime in 2020, at the height of the COVID-19 pandemic when her Aso Oke weaving, her primary business, suffered low patronage, Adejoke struck the golden idea. She thought of using her weaving skills to convert the waste, especially the pure water sachets, into usable products.
This idea sounds good, or even too good, to be true: get rid of the waste to avoid flood, create fashion and employment, and make money out of it. This is how Planet 3R started.
While the Oyo state government has been mainly approaching the challenge by improving waste collection and transportation/disposal, Planet 3R offers another unique solution.
How's Planet 3R addressing the environmental challenges?
Planet 3R converts textile and plastic wastes into eco-friendly products. The 3Rs represent Adejoke's goal of reducing, reusing, and recycling waste by weaving them into innovative items and, in the process, saving the planet Earth.
At Planet 3R, Adejoke, who started weaving at the age of nine, uses the skill to turn waste into wealth through fashionable and durable products.
The company has about 50 eco-friendly products and a staff of about 16 people.
It collects used nylons (especially pure water sachets) from various communities in Ibadan and weaves them by converting them into finished products.
These finished products include fashion wear, home decor, bags, accessories etc.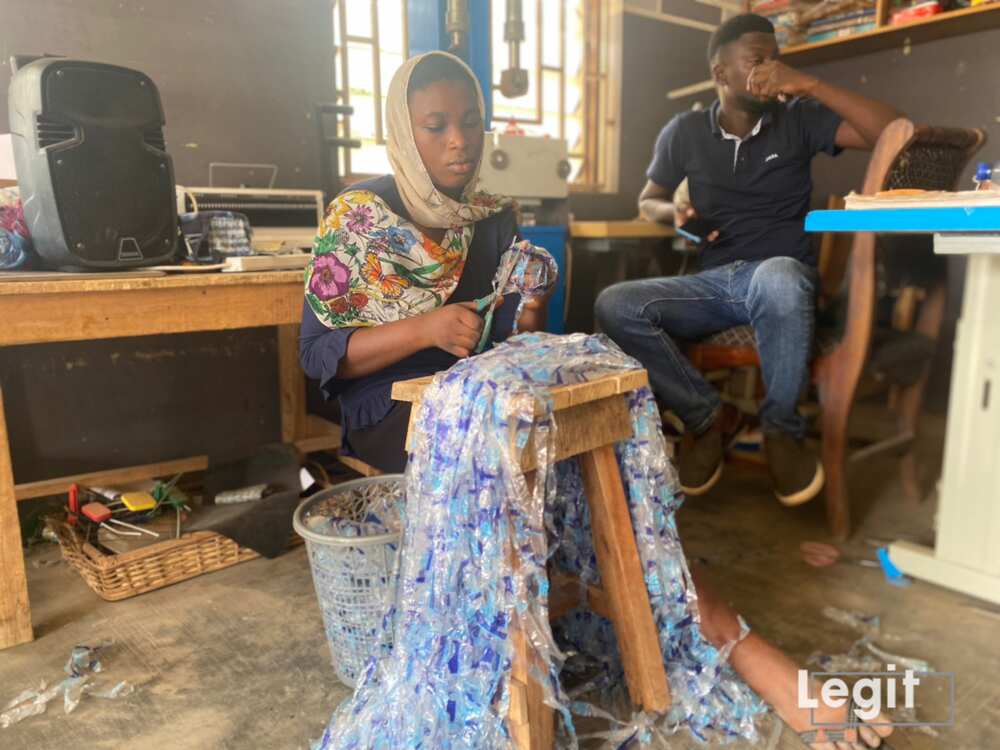 Adebayo Yetunde, the head weaver at Planet 3R, explained the process: it starts with sourcing the raw material, that is, pure water sachets and others. Next is sorting the wastes into different types, especially the colours of nylons.
The following process is washing and sun-drying for three days. After that is the shredding of the nylons. Weaving with 10% thread to become fabric comes next.
The last step is to make them into beautiful products such as dresses, table mats, table runners, Shoes, shopping bags, clothes, backpacks, laptop bags, etc.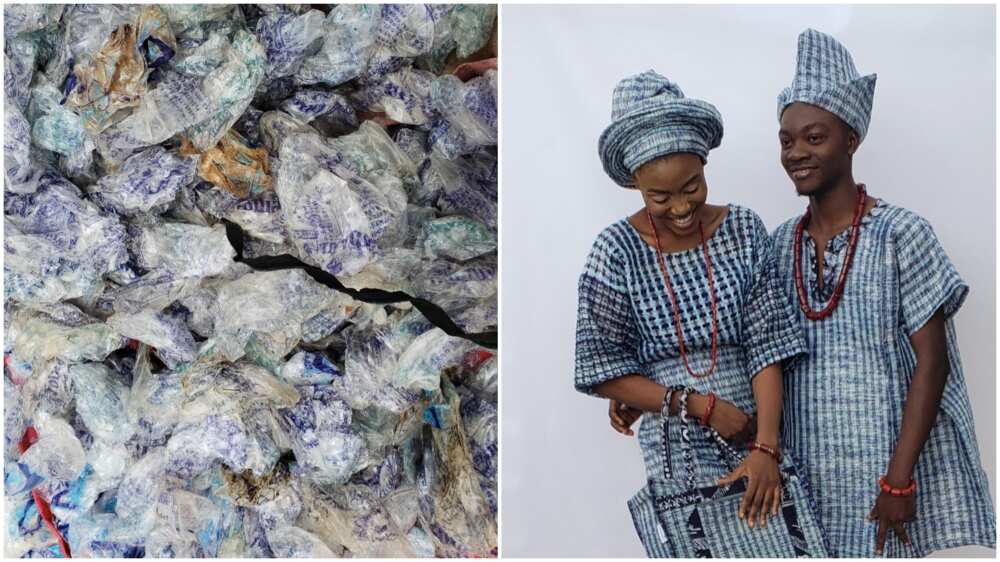 Adejoke told Legit.ng that the nylons are washed with disinfectants to eliminate harmful bacteria.
"We use 90% waste and 10% thread," the founder of Planet 3R emphasised, adding that pure water sachets are mostly used because they are the most common waste dumped around the Ibadan metropolis.
She added that the products are durable as the nylons used to make them are strong. They (the nylons) are not biodegradable.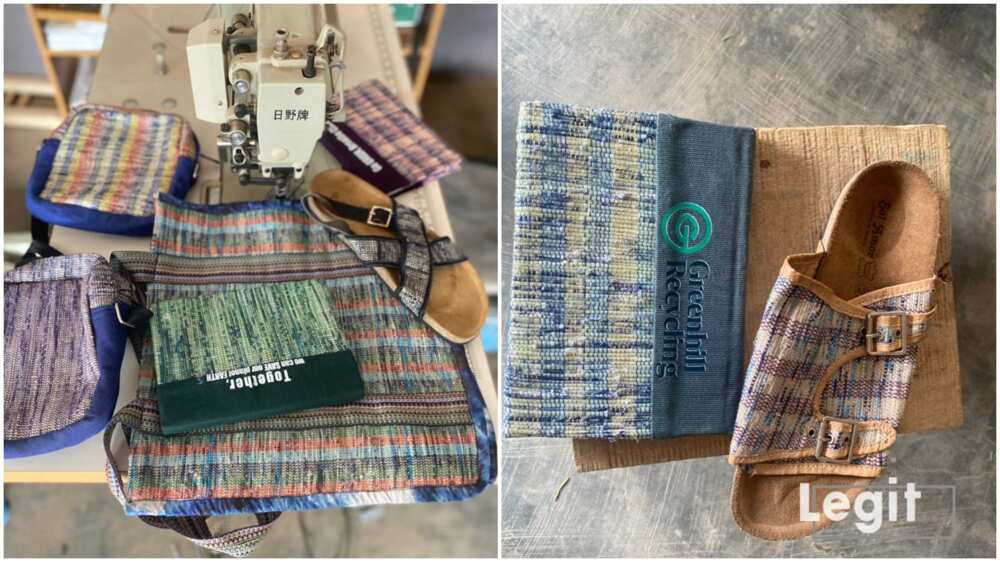 Three years on: How is Planet 3R faring?
Making money from the products and weaving equipment is very important, but there are other ways Planet 3R is measuring its successes/impacts, according to Adejoke.
Since it began operation in January 2020, the firm has collected over 700,000 KG of waste from the landfills in Ibadan.
Planet 3R has also empowered over 180 women and youths, not only in Nigeria but also in Togo, a neighbouring country, by training them on converting waste into wealth.
To make its training accessible to many while also making money from it, Planet 3R partners with willing organisations that pay it to train more people.
Recently, the firm partnered with the British Council to train young people in Lagos on how to make fashion and money out of waste.
Yetunde, the head weaver at Planet 3R, is one of Adejoke's former trainees.
She learned about Planet 3R when Adejoke visited her school for sensitisation on waste management and what the company does.
Yetunde, who enrolled in training, rose to become the head weaver at the firm and is now training others.
"I have trained up to 10 people. And it's been nice working together with them. We have hubs. Some of the people I train are working in our hubs. We have different hubs in communities. And in schools also, we go to schools to train students," Yetunde told Legit.ng.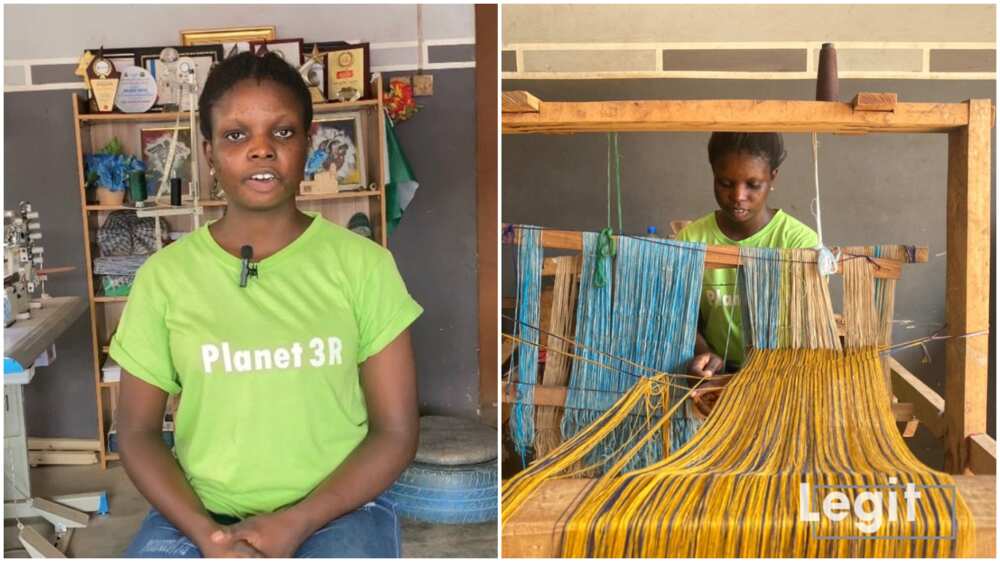 Another trainee is Adesesun Omowumi. She got to know about Planet 3R through a friend. Omowumi was into sowing but recently joined the weaving department and is being trained by Yetunde, the head weaver.
Though she is still undergoing training, Omowumi is being paid for her work and hopes to start a similar firm in the future.
Adeniyi Ayomide is also a weaver at Planet 3R. Ayomide's plan was to make some cash by helping Planet 3R shred the nylons. However, from just cutting nylons, he was convinced to acquire the weaving skill and has become a weaver.
He hopes to master the weaving skill before proceeding to a tertiary institution.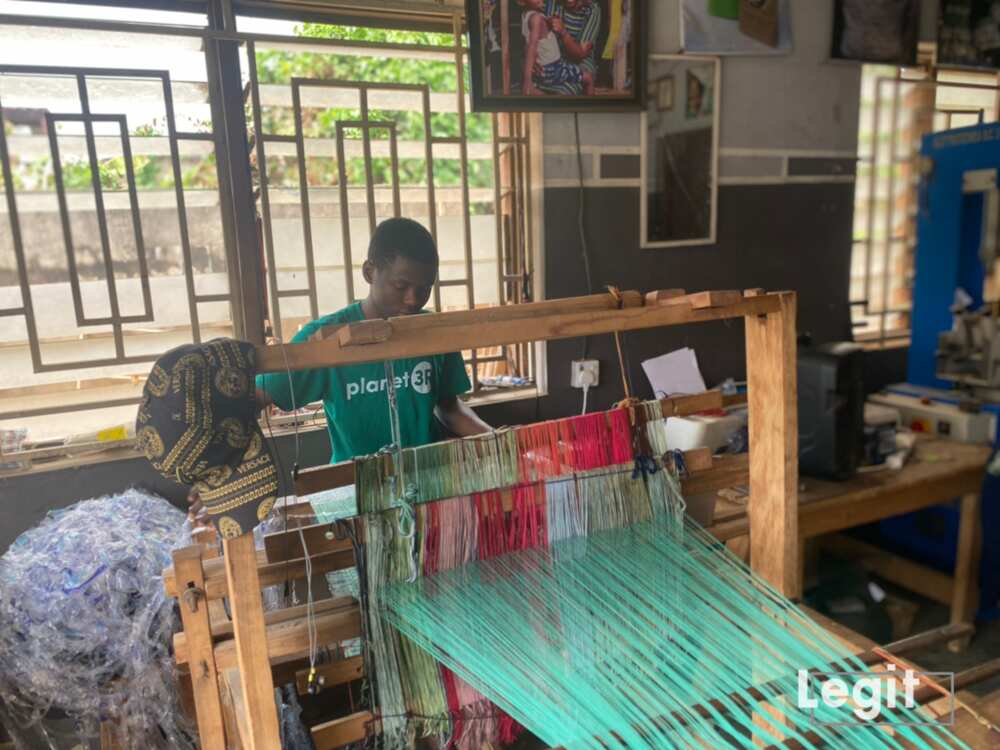 The firm has also engaged in mass sensitisation programmes to educate Ibadan residents and young students on the importance of having a clean environment.
The sensitisation helps Planet 3R to collect the waste directly from the people before it ends up in landfills.
"Some people donate their waste to us, some people sell. So it's a win-win for us because we don't have to go and pick them up (in the landfills). They bring them to us.
"So far, we have been able to at least sensitise over 8,000 students and people in the community since we started," Adejoke told Legit.ng.
To make waste collection easier around several communities in Ibadan and even employ more people in the process, Planet 3R decided to create hubs.
The hubs serve as waste-collecting points. The collected waste is also processed at the hubs before being transferred to the head office, where it will be used to make products.
The making of Planet 3R: The rough road
When Planet 3R started making products, its first major challenge was acceptability.
Adejoke recalled:
"When we first started, people did not believe in us. Even I was scared: will people accept these (products)? Will people buy waste?"
She said even her mum, who believes in her so much, was not impressed by the products then.
"But later on, we did a customer survey where we called up to 20 potential customers to understand what they want, why they would buy (or not) our products, what they are looking out for, etc.
"They told me that if it's attractive, they will buy it. They don't want a product that will look like waste itself. They want something appealing.
"And the feedback I got helped us improve our products, making sure that they meet the standard people want. Many people now want your products," Adejoke told Legit.ng.
And her mum, who was not impressed with the initial products, has now become her biggest advocate.
"Don't throw pure water sachets away, Joke will need it," her mum now tells people around her.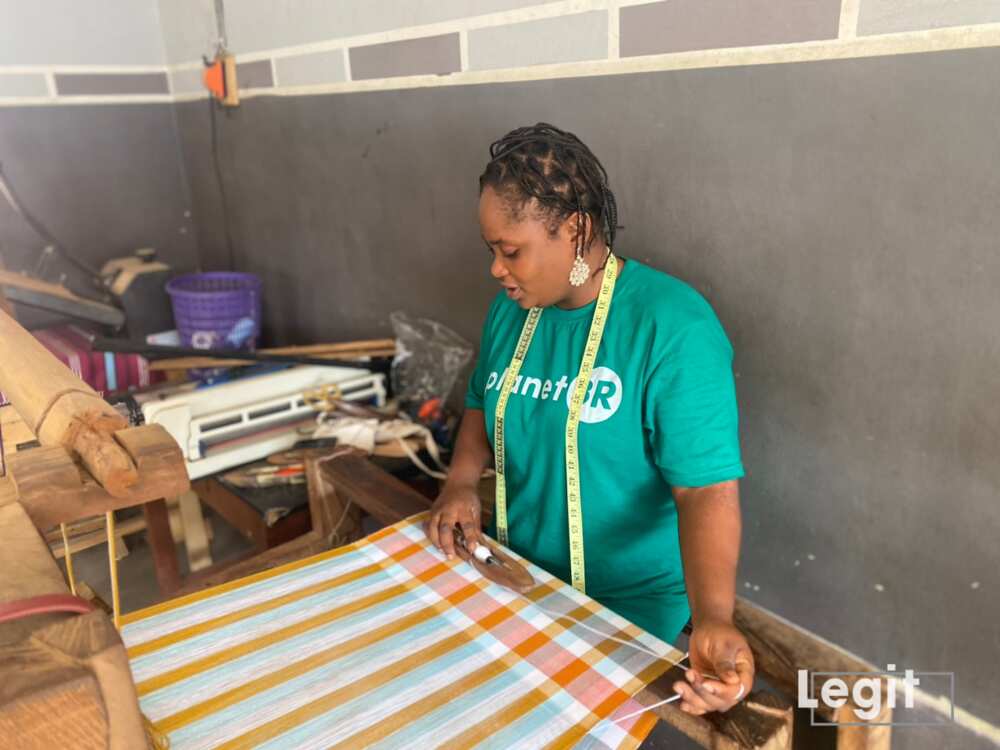 But there is still a persisting challenge: logistics.
Following Planet 3R's sensitisation, many residents keep their waste, especially pure water sachets, to sell to the firm.
However, the cost of transporting the waste to Planet 3R is usually higher than how much the firm can afford to pay.
An instance is a situation where someone uses N1000 to transport a 3KG of waste which is only valued at N150 (that is, N50 per KG).
Another challenge Planet 3R is facing, according to Adejoke, is getting competent workers.
"Although we do training for employees, we still need experts, especially when it comes to bag making and shoemaking," she said.
Meanwhile, Planet 3R said one of its goals is to train N50,000 women across different parts of Nigeria.
It hopes to train women in the Internally Displaced Persons (IDPs) camps to make school bags from pure water sachets and sell them to make ends meet rather than depending on the government.
However, this goal is yet to be achieved because of limited funding and human resources.
Thus, as part of its efforts to tackle the waste crisis in Ibadan, the Oyo state government may consider bringing waste-to-wealth companies on board by empowering them to do more.
***
This story was produced by Legit.ng in partnership with Nigeria Health Watch through the Solutions Journalism Network, a nonprofit organisation. dedicated to rigorous and compelling reporting about responses to social problems.
Source: Legit.ng