Thor movies in order: how and where to watch the superhero films?
Thor movies should not be missing from your watchlist if you like action-fantasy films. The franchise has released multiple movies since 2011. Which film should you watch first, and in which order should you watch the films? To understand the plot better, it helps to watch the Thor movies in the order.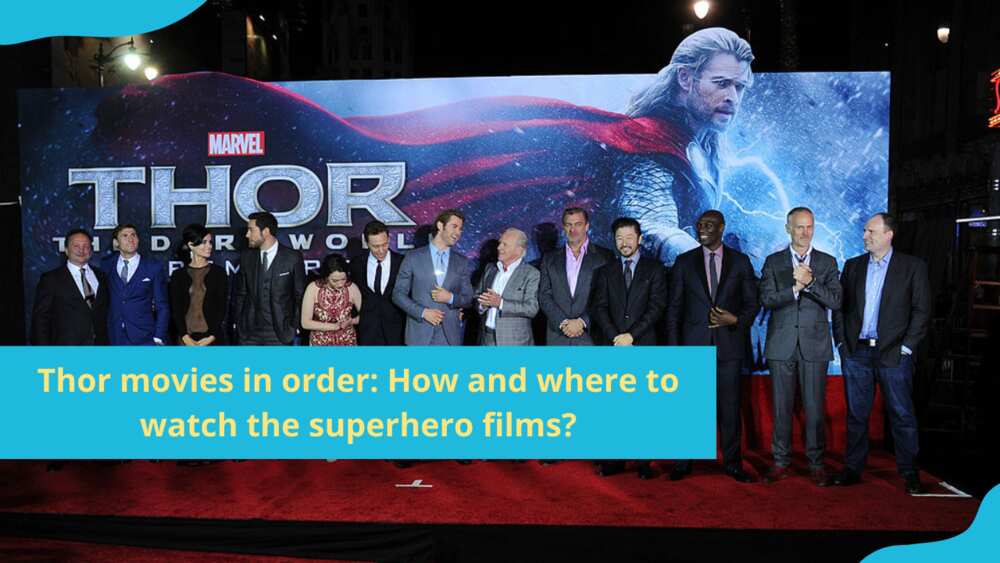 The first Thor movie came out in 2011, and after that, there have been other releases until 2022. If you want to start watching the films, it is advisable to watch them in chronological order to avoid missing out on crucial events. Here is how to watch Thor movies in order of their release dates.
All Thor movies in order
Wondering how to watch Thor in order? With multiple films and different release dates, knowing where to start watching the series of films can be confusing. Here is a list of Thor movies in their chronological order.
1. Thor (2011)
Frost giants are ready to take over Thor's homeland, Asgard. Meanwhile, his brother, Loki, is fighting to take the throne. Due to Thor's arrogance and disobedience, his father, Odin, sends him to Midgard as punishment. He does not have the hammer's power but later regains it after pulling it from the ground.
While battling for freedom on Midgard, he finds love with scientist Dr. Jane Foster. With the help of the scientist, he has to fight and defend his homeland, Asgard, from destruction by his brother Loki and a robotic giant destroyer.
2. The Avengers (2012)
Along with the Chitauri Army, Loki uses the Tesseract's power to move from Asgard to Midgard to attack and conquer the Earth. To protect the Earth from invasion, Nick Fury, the director of the S.H.I.E.L.D. agency, assembles a team of superheroes known as the Avengers.
The Avengers consists of six members. They are Ironman (Tony Stark), Thor, The Hulk (Bruce Banner), Captain America (Steve Rogers), Hawkeye (Clint Barton), and Black Widow (Natasha Romanoff).
3. Thor: The Dark World (2013)
The Nine Realms are threatened after Thor's girlfriend, Jane Foster, mistakenly awakens the evil Malekith and Dark Elf army. With Malekith determined to destroy the Nine Realms and cause chaos in Asgard, Thor has to stop them. The god of thunder teams up with his friends Lady Sif and Warriors Three and his nemesis Loki to save the Nine Realms and Jane Foster.
4. Avengers: Age of Ultron (2015)
Tony Stark and Bruce Banner successfully raid a HYDRA base and create Ultron, an artificial intelligence protocol. Its purpose is to help the Avengers in their peacekeeping missions, but unfortunately, it turns hostile against them and human beings. Iron Man, Thor, Captain America, the Hulk, Black Widow, and Hawkeye must group and stop Ultron.
The Avengers also have an uphill task of fighting powerful Quicksilver and Scarlet Witch, which have formed Vision. They also realise that things are worsening after discovering something beyond their comprehension.
5. Thor: Ragnarok (2017)
Thor is without his mighty hammer, Mjolnir and must escape the other side of the universe, the planet Sakaar. However, he faces one major obstacle: fighting and defeating his former friend and member of the Avengers, Hulk.
His home, Asgard, faces a threat from Hela, the goddess of death, who wants to take over it and conquer the universe. To save Asgard and the universe, the god of thunder must take on Hulk and assemble other Avengers to defeat Hela before the worst happens.
6. Avengers: Infinity War (2018)
Having worked together to protect the universe from threats too big for any of them to defeat, the Avengers face another enormous threat: Thanos. Thanos intends to get hold of the Infinity Stones, artefacts regarded as the most powerful in the universe.
The Avengers realise they cannot face Thanos alone and join hands with the Guardians, Doctor Strange, Black Panther, and Spider-Man. The earth's fate and human lives lie in the hands.
7. Avengers: Endgame (2019)
After Thanos wreaks havoc on the universe, the Avengers disintegrate, and all hopes seem lost. Determined to reverse the damages caused by Thanos, the Avengers must first put aside their differences and unite. It is not a simple task, as they must prepare to make sacrifices. The Avengers also realise that a final showdown with the powerful Thanos is looming, and they must do all they can to win.
8. Thor: Love and Thunder (2022)
Thor is on a personal journey to discover his inner peace and who he is in his retirement. However, his peace is short-lived, as he is called back to action after a new enemy, Gorr, the God Butcher, emerges. Gorr's evil intention is to eradicate all the gods, and Thor comes to their rescue by joining forces with King Valkyrie, Korg and ex-girlfriend Jane Foster.
Where to watch Thor movies
There are multiple streaming platforms where you can enjoy watching Thor movies. You can opt for the following platforms:
Disney Plus
Amazon Prime Video
Hotstar
Alternatively, you can stream Thor movies by renting or buying on Google Play, iTunes, and Vudu. Note that the availability of the films on the platforms may depend on your location.
FAQs
How many Thor movies are there? There are four feature-length Thor movies and four Avengers movies in the franchise.
What is the order of the Thor movies? Thor movies are in the order of their release dates.
Must I watch Thor movies in chronological order? It is recommended to watch the films in chronological order to follow the logical flow of events.
Which film is the last in the order of Thor movies? Thor: Love and Thunder is the franchise's last film, released in July 2022.
Where can you watch Thor movies in order? You watch the films on Disney Plus.
When was the first Thor movie released? The first film in the franchise, Thor, was released on 6 May 2011.
Which is the longest Thor movie? The longest film, Thor: Love and Thunder, has a runtime of 130 minutes.
If you want to watch Thor movies in order, follow their release dates. Even though you can watch the films randomly, following their chronological order helps you not to lose the plot. You can watch the franchise on Disney Plus, Amazon Prime Video, and Hotstar.
Legit.ng recently published a list of Pokemon movies in order. Pokemon movies are interesting to watch if you love anime series. However, knowing where to start watching it can be quite confusing.
Follow the storyline of Pokemon movies by watching them in chronological order. Read this article to find out how and where to watch Pokemon movies.
Source: Legit.ng