How tall is Peppa Pig? The heights of all family members
Peppa Pig is the main character of the popular children's animated series, titled Peppa Pig, which originally aired on 31 May 2004. The little piglet has captured the hearts of many kids with a charming personality and amusing adventures alongside her family and friends. Despite being a fictional character, the height of Peppa Pig has been a major topic of discussion among fans. How tall is Peppa Pig?
Peppa Pig is a pig who loves to play and have fun with her friends and family. She has been in the Peppa Pig animated TV series since 2004 and has become a global sensation, with her adorable antics and sweet personality captivating children and adults alike. Do you know that she is taller than she appears?
Who is Peppa Pig?
Peppa Pig is a cute and cheeky anthropomorphic pig. She is four years old and lives with Mummy Pig, Daddy Pig and her little brother George. Peppa spends a lot of time at home looking after her little brother George, out on adventures, visiting Granny and Grandpa Pig or playing with her friends, including Suzy Sheep.
Created by Neville Astley and Mark Baker, Peppa made her debut on the big screens in 2004. Her hobbies include playing with her teddy bear, playing computer games, attending playgroups and jumping in muddy puddles.
How tall is Peppa Pig?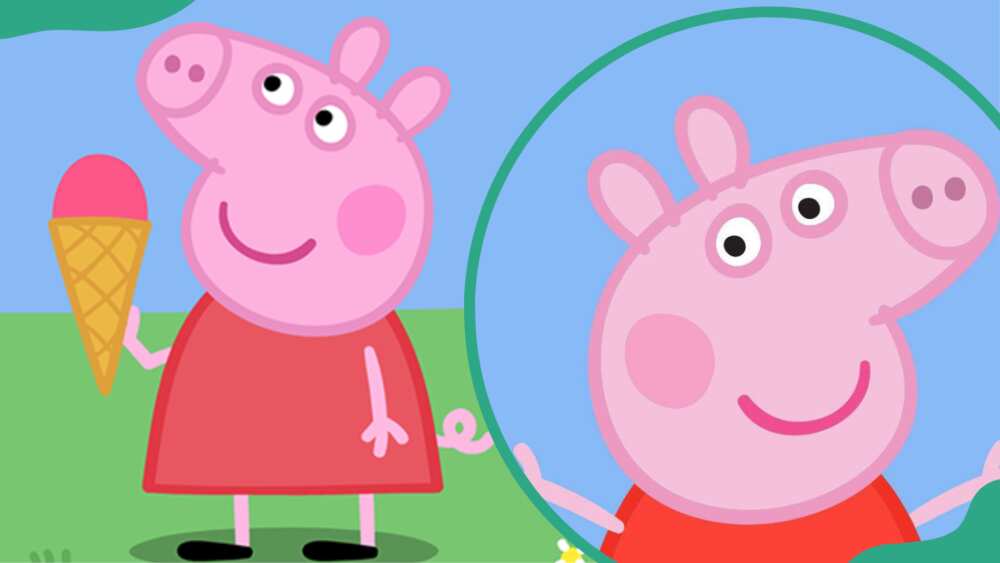 In 2019, a viral tweet about Peppa Pig's height made the internet go wild. Twitter user @Memeulous shared a Tweet, with the caption, "this is terrifying," and featured a screenshot showing Google declaring Peppa to be 7 feet and 1 inch tall. However, this towering height was quite surprising given that she is only a 4-year-old piglet in the show.
Later, the Peppa Pig World website disclosed that the animated cartoon's height is 3 feet 9 inches or 114 centimetres tall, making her much shorter than average human adults.
How tall are Peppa Pig's family members
The family comprises her father, mother, and brother. Their heights are also discussed below. Find out who is the tallest in the family.
How tall is Peppa Pig's dad?
Daddy Pig is the father of Peppa Pig and George Pig. He is the husband of Mummy Pig and the son-in-law of Granny and Grandpa Pig. Daddy Pig loves his family and frequently joins in with games, activities and adventures. He is always jolly and never lets anything get him down.
After speculating about Peppa's height, internet users got curious more about the height of her father, Daddy Pig. How tall is Daddy Pig? The internet users calculated his height to be 14 feet 2 inches. However, according to Peppapigworld.co.uk, Daddy Pig's height is estimated to be around 6 feet 6 inches or 198 centimetres tall.
How tall is Mummy Pig?
Mummy, also known as Rachel, is identifiable through her orange dress. She is Daddy Pig's wife and Peppa and George's mother. Her parents are Grandpa Pig and Granny Pig, while her in-laws are Auntie and Uncle Pig. She is home-employed, works on a computer, and volunteers as a firefighter with the Mummies' Fire Service.
Like Peppa, Mummy Pig may also have an overblown height that was estimated to be 12 feet 2 inches based on her daughter's listed height. But according to Peppa Pig World, Mummy Pig stands 5 feet and 9 inches or 175 centimetres tall.
How tall is George Pig?
George is Peppa's younger brother, only sibling and Mummy and Daddy Pig's son. He is also one of the main characters of the series. He is often seen in possession of his toy dinosaur, Mr. Dinosaur. He cries in numerous episodes with his trademark showers of tears and very loud crying sounds. George Pig's height is 2 feet 5 inches or 74 centimetres tall.
How tall is Peppa Pig? Peppa Pig is a popular animated character who often appears in the popular children's animated series Peppa Pig. From television shows to merchandise, Peppa Pig has captured the hearts of young fans everywhere. According to Peppa Pig World Online, the little pig stands at 3 feet 9 inches or 114 centimetres tall.
Legit.ng published an article about 90s cartoon characters. The 90s cartoon shows gave fans characters that resonated with the audience. Some of the most well-known characters have come from shows like The Simpsons and South Park. These are the top male and female 90s cartoon characters who are still remembered today.
Cartoon characters from the 1990s were so popular that they became part of popular culture. Adults and children alike adored them because of their distinct and accessible personalities. They were not only amusing but also insightful. These characters have captivated the hearts of people all over the world.
Source: Legit.ng