33 dark anime shows and movies you should add to your watchlist
Numerous dark anime shows and movies will give you chills while watching them. They explore disturbing or more serious themes. If you are looking forward to spending a good time with family or friends, consider picking a cool anime film to watch. Here are some of the best you can consider.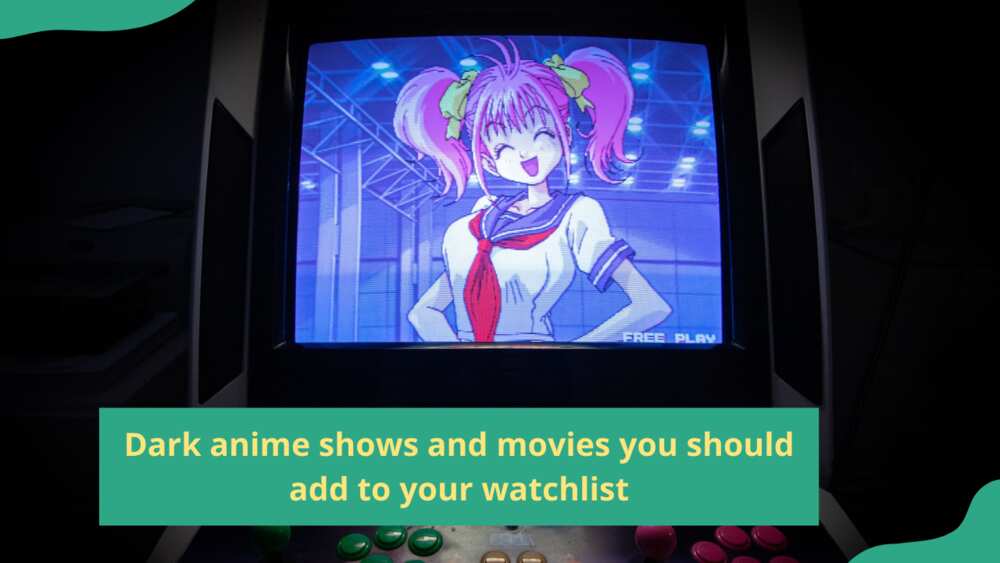 Anime can be both motivating and deeply depressing. Often, the darkest anime films and series are known for intricate storytelling and feature sophisticated characters. To many, the most intriguing shows are those that don't shy away from dark impulses.
Top list of dark anime shows and movies
The content of the best dark anime varies from trauma, death, and explicit mature content to supernatural elements. Here are some of the top dark anime films and shows to watch.
1. Terror In Resonance
Terror in Residence, also known as Terror in Tokyo, is a Japanese anime television series. It is an alternative iteration of two teenage boys who go by the names Nine and Twelve who steal a prototype atomic bomb in an apparent terrorist attack.
2. Chainsaw Man
Chainsaw Man follows the story of Denji, an impoverished young man who makes a contract that fuses his body with that of a dog-like devil named Pochita.
3. Deadman Wonderland
Deadman Wonderland is Japan's only privately operated prison, built after the great Tokyo Earthquake on ground Zero. It's an anime and manga series written by Jinsei Kataoka and illustrated by Kazuma Kondou in 2007.
4. Made In Abyss
Made in Abyss is one of the best darkest anime shows written and illustrated by Akihito Tsukushi. It entails an orphaned girl named Riko, who lives in the Belchero Orphanage in Orth.
5. Attack on Titan
It is a Japanese dark fantasy anime television series adapted from the manga series of the same name by Hajime Isayama. It is set in a world where humanity lives inside cities surrounded by enormous walls that protect them from Titans.
6. Black Butler
If you are looking for the best dark anime to watch, then consider Black Butler. It's one of the best gothic anime series for adult viewers who love dark, sophisticated humour and anime stories. The plot of the story is about a 12-year-old Earl Ciel Phantomhive who lives in Victorian-era London.
7. Another
Another is a tragic physiological horror anime with supernatural elements and a storyline filled with twists and turns. This terrifying story follows a young boy, Koichi, who transfers into the mysterious Yomiyama Middle School.
8. The Promised Neverland
The Promised Neverland is one of the most surprisingly dark and heartbreaking anime series with some of the strongest anime children ever. These kids are not physically strong but somewhat mentally since, despite their young age, they stay brave and work hard to finally escape their impending doom.
9. Monster
The Monster anime is one of the most engaging dark action anime about a serial killer and a Japanese surgeon whose life suddenly gets filled with mystery, deaths and heartbreaks. He finds out that his former patient, Johan is the dangerous serial killer the police can't seem to catch.
10. Erased
Erased is one of the most disturbing and painful stories in anime history. It follows Satoru Fujinuma, 29, who goes back in time 18 years to avoid the events that led to his mother's death.
11. Death Parade
This series follows Decim, the lone bartender of the bar where people who died at the same time are sent to, known as Quindecim bar. After death, either heaven or hell awaits most humans, but for a select view, death brings the Quindecim.
12. Psycho-Pass
The series follows the character Akane Tsunemori, a young woman who joins the Public Safety Bureau's Criminal Investigation Division (CID) as an Inspector. It revolves around a society where advanced technology is used to maintain law and order by monitoring and managing the mental state of its citizens.
13. School Days
It is based on the visual novel of the same name and was produced by TNK as a 12-episode television series. The animated series is based on the H-game, where the player can work towards different relationships with other females
14. Future Diary
It is a Japanese dark anime series that follows the story of a young man who competes with people worldwide for a chance to become a successor of God, with a diary that can tell the future.
15. Vampire Knight
The Vampire Knight is a supernatural romance and mystery series set in a prestigious boarding school where vampires and humans coexist. The story is primarily set in Cross Academy, a school divided into two classes: the Day and Night Class, consisting of vampires.
16. Claymore
It is a Japanese good dark anime that follows Clare, a young silver-eyed woman. She works for an organization that trains female Youma halfbreeds to be fighters capable of destroying monstrous creatures called "Yoma."
17. Dororo
This is a story about an orphan thief named Dororo who joins Hyakkimaru in his travels and adventures. Dororo became nearly invincible against any mortal blow as a result of the prostheses and healing magic.
18. Paranoia Agent
This psychological thriller anime series follows the story of detective Keiichi Ikari, who is assigned to investigate the Lil' Slugger case. As he delves deeper into the mystery, he discovers that the victims are connected by their own psychological troubles and anxieties.
19. Hell Girl
The Hell Girl series revolves around a mysterious website that allows users to send someone they hold a grudge against to Hell. If the user unties the string, their target will be sent to Hell, but in exchange, they will also be condemned to Hell when they die.
20. B: The Beginning
It is an original net animation ONA anime series created by Kazuto Nakazawa. Scientists hope new humans will create universal peace, but evil groups kidnap them with very different plans.
21. Black Bullet
Black Bullet is among the popular anime with dark themes. This Japanese light novel series was written by Shiden Kanzaki. It revolves around the team of Enju Aihara, an initiator, and Satomi Rentaro, a promoter, as they go on missions
22. Vinland Saga
Young Thorfinn longs for an adventure far from his home in Iceland. One day, his father saves the life of a runaway slave buried in the snow.
23. Shiki
Shiki is a Japanese anime and manga series created by Fuyumi Ono. It falls into the horror and supernatural genres and revolves around a mysterious outbreak of deaths in a remote rural village.
24. Taboo Tattoo
A young man saves a stranger from street thugs in exchange for an artefact that imprints a tattoo on his hand, which turns out to be a devastating weapon.
25. Happy Sugar Life
It is a Japanese manga series illustrated by Tomiyaki Kagisora. This is a shivering, pure love psycho horror story of a girl named Satou Matsuzuka, who has someone she likes. She is a beautiful high schooler with a reputation for being permissive with men.
26. Elfen Lied
The series begins with the escape of a Diclonius named Lucy from a high-security research facility. She possesses immense telekinetic powers and is extremely dangerous. During her escape, she sustains a head injury that leaves her with a split personality.
27. Angels of Death
It is a horror anime series adapted from a video game of the same title created by Makoto Sanada. With dead and lifeless eyes, Racheal Gardner wishes only to die. Waking up in the basement building, she has no idea how or why she's there.
29. Perfect Blue
It is a Japanese adult animated physiological thriller film directed by Satoshi Kon. It's the story of a retired pop singer- returned actress, Mima. She gives up her career to become an actress, but she slowly goes insane when she starts being stalked by an obsessed fan.
29. Parasyte
This is a creative anime with lethal creatures that take over humans. Shinichi effectively teams up with Miggy in their fight for survival and revenge.
30. Tokyo Ghoul
Tokyo Ghoul is one of the best dark-action anime that follows Kaneki's journey from an ordinary college student to a conflicted and powerful figure in the ghoul world. Tokyo Ghoul is known for its dark and often gruesome themes.
31. Neon Genesis Evangelion
This Japanese animated cartoon revolves around the organisation NERV, using large merchants called Evangelions to combat monstrous beings called angels.
32. Ergo Proxy
Ergo Proxy is a Japanese cyberpunk anime television series produced by Manglobe and directed by Shuko Murase. It starts as a show about trouble in paradise. It's a series of murders by robots infected with a virus called Cogito that begins to upset the delicate balance in the social order.
33. Hellsing Ultimate
The series revolves around the Hellsing Organization, led by Sir Integra Hellsing. Hellsing's mission is to protect England from supernatural threats, particularly vampires. To aid in this mission, the organization employs powerful vampires, the most notable of whom is Alucard
The above dark anime list explores the intricate workings of the human mind, showcasing characters' psychological struggles, trauma, and inner demons. This psychological depth adds layers of complexity to the storytelling.
Legit.ng recently published a post about Jackass movies. Jackass films have become popular since the MTV shows. Jackass was released over two decades ago. The show is about friends who enjoy crazy stunts and pranks.
Many young people resonated with the show, which attracted a considerable following. Some famous actors featured in the show include Jonny Knoxville, Steve-O, Preston Lacy and Bam Margera.
Source: Legit.ng