Top 10 best mutant movies of all time (not including X-Men)
Looking for the best mutant movies of all time? Such films are entertaining, especially if you want to watch something thrilling and out of your imagination. Often, ordinary beings undergo mutation and become creatures that sometimes save the world from other dangerous creatures.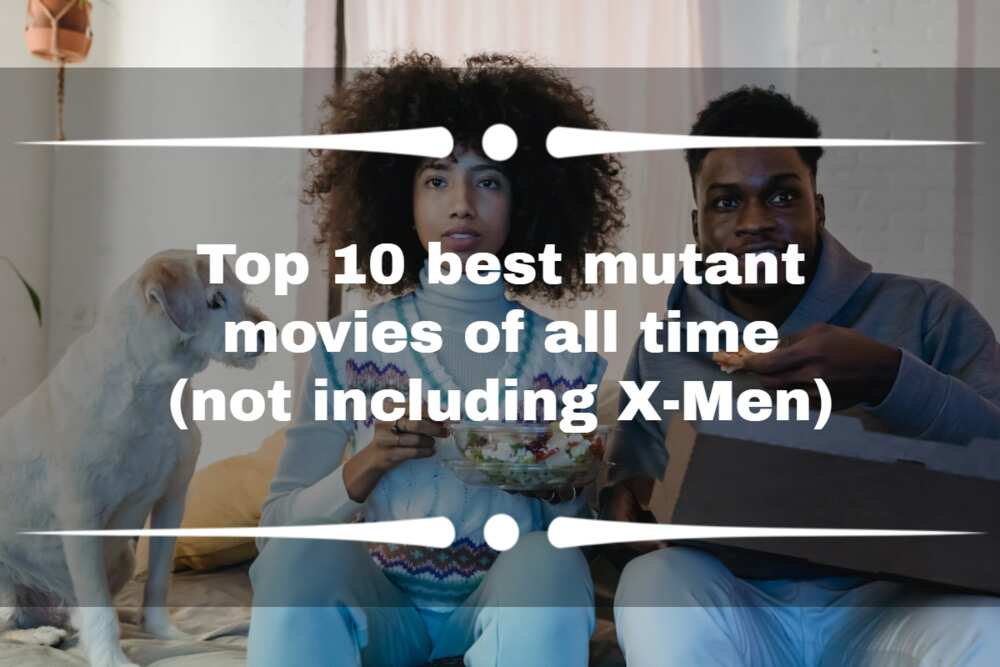 Numerous mutant movies have been released, and even though some might be old, they have been outstanding due to their unique storylines that captivate movie enthusiasts. In this list of mutant movies, you will find suggestions for different genres, including superpower, horror, science fiction, and thriller.
Superpower mutant movies
Most mutant movies have at least a few characters with supernatural abilities. In most cases, they are protagonists and save the world and humanity from catastrophic events or dangerous creatures. If you are thrilled by superpowers characters, here are some films you should watch.
Total Recall
In this iconic 1990 movie, the character of Arnold Schwarzenegger (Douglas Quaid) wants to get away from his everyday life, working as a construction worker in the distant future. To do that, he uses the services of a virtual reality agency, who specialise in virtual trips to Mars.
However, Douglas soon realises that his real life is actually not what it seems. Without totally spoiling the plot of the film, suffice to say, going to work will be the least of Quaid's problems.
Guardians of the Galaxy
It is an American superhero movie that premiered in 2014 and was produced by Marvel Studios. The movie has been nominated twice for Oscars and won numerous coveted awards including Saturn Award (2015) and DFCS Award (2015). It was directed by James Gunn. Some of its cast members include Chris Pratt, Zoe Saldana, Dave Bautista, and Karen Gillan.
Peter Quill is abducted by aliens and taken to their planet Morag. When on the planet, he finds and steals a mysterious Orb which turns out to be powerful. Yondu, the leader of Ravagers discovers the theft and orders Quill's capture and recovery of the Orb. In an interesting twist, Quill is forced to combine forces with criminals such as Drax the destroyer, Rocket, Gamora, and Groot to avoid capture. He later discovers how powerful the Orb is and must collaborate with the ragtag group to protect the universe.
Deadpool
The Tim Miller-directed film was released in 2016. It stars top actors such as Ryan Reynolds who plays the title role, Morena Baccarin portraying Vanessa, T.J. Miller as Weasel, Ed Skrein as Ajax, and Michael Benyaer as Warlord.
In the movie, Wade Wilson, an ex-special forces operative is working as a freelance mercenary and he meets and marries Vanessa. Later, he is diagnosed with terminal cancer and opts to secretly leave his wife so that she does not watch him die. He accepts an experimental cancer treatment offer which ends up disfiguring him and giving him mutative abilities. Disappointed by his new looks, he sets out to track the man behind the experiment.
Ant-Man
This superhero action-comedy movie was directed by Peyton Reed. The film was released in 2015 and some of its cast members include Paul Rudd as Scott Lang, Michael Douglas as Dr. Hank Pym, Corey Stoll as Darren Cross, and Evangeline Lilly as Hope Van Dyne.
Scientist Hank Pym is evicted from his company by partner Darren Cross. The scientist seeks the services of a former convict Scott Lang who becomes Ant-Man and is trained and equipped with a special suit capable of shrinking and giving superhuman powers. Scott Lang must utilise his special abilities with an army of ants to prevent Cross from replicating a similar suit and using it to perpetrate evil.
Horror mutant movies
Horror movies are not for the faint-hearted, especially when some of the characters involved are powerful mutants. However, if you are a fan of such movies and can stand the terrifying scenes, these movies would be a perfect choice for you.
The Hills Have Eyes
Whether you choose to go for the original 1977 release, or the 2006 remake, prepare for the evening of terror. The film tells the story of a family who get stranded in the middle of nowhere, only to be discovered by a bunch of mutated cannibals.
The original movie was directed by the legendary king of horror Wes Craven, also known for A Nightmare on Elm Street and the Scream franchise.
The Descent
The 2005 movie was directed and written by Neil Marshall and according to IMDb, it has received eight awards and 22 nominations. It stars Shauna Macdonald as Sarah, Natalie Mendoza as Juno, Alex Reid as Beth, Saskia Mulder as Rebecca, and Nora-Jane Noone as Holly.
A year after Sarah lost her husband and daughter in a car accident, she goes out with her friends for a caving expedition in North Carolina. The expedition was intended to be fun and adventurous but it turned horrific after they descended into a cave and discovered the existence of human-eating creatures. Trapped in the cave after part of it collapsed, the ladies have to fight for survival and find an exit.
A Quiet Place
This American movie was released in 2018 and was directed by John Krasinski. Some of the movie stars included in the cast are Emily Blunt as Evelyn Abbott and John Krasinski as Lee Abbott. According to IMDb, the movie has won about 35 awards and received 126 nominations, including an Oscar.
A married couple and their two children must live in total silence to evade the mysterious sightless creatures who are highly sensitive to sound. The couple, Lee and Evelyn, is determined to protect their children by any means possible while also looking for ways of killing the creatures.
Sci-fi mutant movies
From experiments gone wrong to unexplainable natural phenomena, science fiction movies are entertaining while also frightening. Here are some sci-fi mutant movies worth watching.
The Fly
The Fly is a 1986 horror-sci-fi movie directed by David Cronenberg. Jeff Goldblum, Geena Davis, John Getz, Joy Boushel, Leslie Carlson, and George Chuvalo are some of the top actors in the cast.
The movie narrates the story of scientist Seth Brundle who decides to test a teleportation device he had just finished making. Unknowingly, in the process of testing it, a fly goes into the device resulting in a combination of human and fly. At first, all seemed okay until later when he starts transforming into a giant fly. His girlfriend Veronica Quaife is scared of him and cannot stand his new appearance.
Rampage
This 2018 movie was directed by Brad Peyton. Among its cast are actors Dwayne Johnson as Davis Okoye, Naomie Harris as Dr. Kate Caldwell, Malin Akerman as Claire Wyden, Jeffrey Dean Morgan as Harvey Russell, and Jake Lacy as Brett Wyden.
A scientific experiment goes wrong at a space station and canisters containing pathogens drop on earth at different places infecting a crocodile, wolf, and silverback gorilla named George. George was under Dr. Davis Okoye's care and they had developed a strong bond. However, after the accident, the infected creatures started to mutate becoming monstrous beasts wreaking havoc and killing people. It takes the efforts of Dr. Okoye, an uncertified genetic engineer, and the military to bring the creatures to order.
Love and Monsters
This action-adventure movie was released on 16 October 2020. It was directed by Michael Matthews. It won the Gold Award in 2021 and has received four nominations, including an Oscar. The movie features top-notch actors such as Dylan O'Brien, Jessica Henwick, Michael Rooker, and Dan Ewing.
In the movie, humans have lived in underground bunkers for almost seven years after the monster's apocalypse. Joel Dawson reconnects through a radio with his ex-girlfriend Aimee who is 80 miles away at a coastal colony. He falls in love again and has to find her, but he has to face monsters prowling the land.
Mutant movies on Netflix
You can watch numerous top mutant movies on Netflix. Suppose you do not know where to start; here is a list of suggestions comprising some of the latest mutant films.
| | |
| --- | --- |
| Movie | Year of release |
| Shin Godzilla | 2016 |
| The Host | 2006 |
| Godzilla vs Kong | 2021 |
| Basket Case | 1982 |
| Tremors | 1990 |
| Watchmen | 2009 |
| Minority Report | 2002 |
| Edge of Tomorrow | 2014 |
| Logan | 2017 |
| I am Mother | 2019 |
If you intend to binge-watch mutant movies, the above list will give you a great experience. The list has different genres of mutant films, including sci-fi, horror, superpowers, thriller, action, and adventure, that you can enjoy watching with mutant movie lovers.
READ ALSO: 50 white-haired anime characters that are absolutely iconic
Legit.ng published an article about white-haired anime characters. If you love anime, you might have noticed how special white-haired anime characters are. Besides standing out in their appearance, some play critical roles in the films.
While some people might consider white hair a symbol of old age, it is a normal appearance in anime. Anime characters with white hair are regarded as noble, and numerous such characters exist. Here is a compilation of white hair anime characters from different films and series.
Source: Legit.ng