Inspirational growing-up quotes to help you express your emotions
It is surprising how time flies fast and before you know it a lot has happened and you are already old. Growing up quotes will help you appreciate the gone old days while also preparing you to face the future. If you are a parent, the quotes will also provide you with some insights on managing your children's growth so that they can make the most of their youthful years.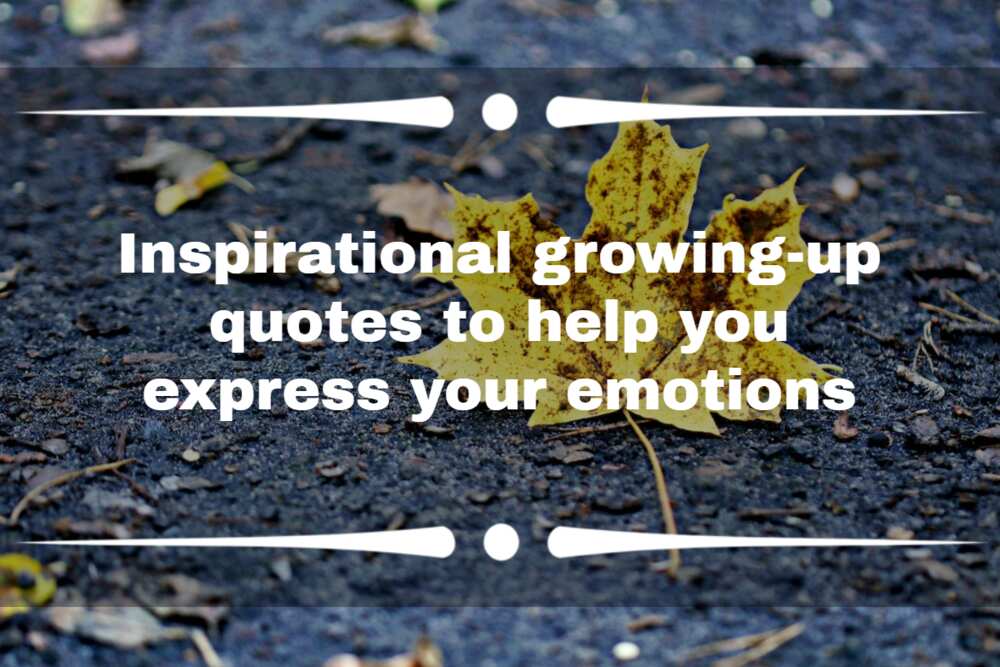 Do you have any regrets growing up? Reflecting on your life, there may have been experiences that didn't unfold as desired, but there were also many moments of joy and happiness. All that is part of life, and as you grow physically, such experiences make you wise with better judgement and decision-making abilities. Growing-up quotes will remind you of your beautiful younger days and make you appreciate the grown-up person you have become.
Quotes about children growing up
Kids grow up fast and before you realise it, they will be old enough to do most things by themselves. As a parent, ideally, you should be around to see them through their childhood. Here are quotes about kids growing up to remind you how quickly they go throw the stage.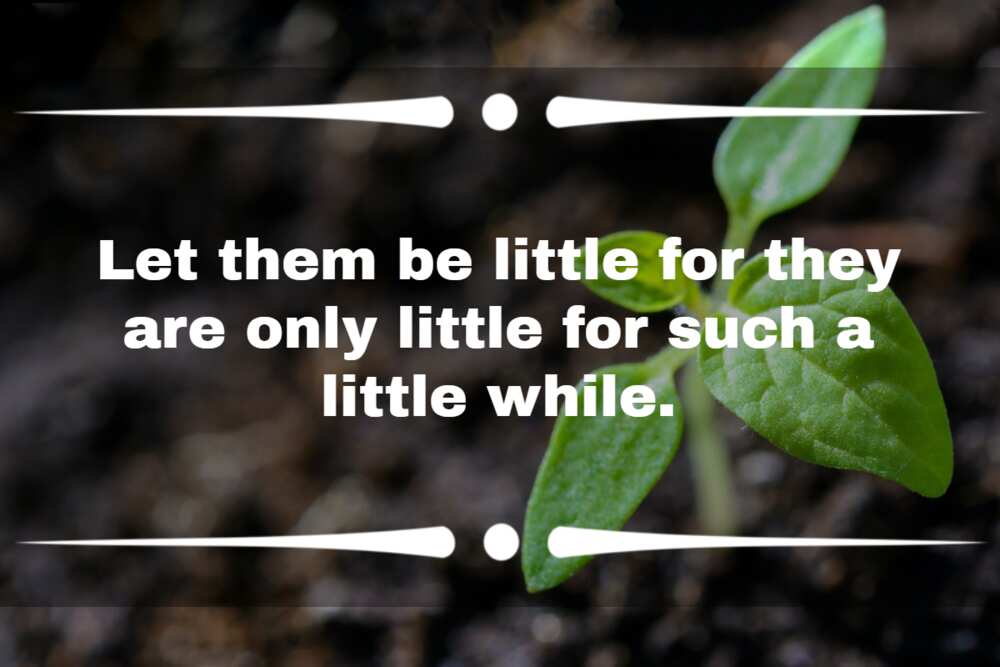 Today's children are growing up in a new reality, one where they are attuning more to machines and less to people than has ever been true in human history. — Daniel Goleman
You know children are growing up when they start asking questions that have answers. — John J. Plomp
Growing up happens in a heartbeat. One day you're in diapers; the next day you're gone. But the memories of childhood stay with you for the long haul.
It's inevitable. Your kids will grow up. Just don't let it happen without you.
I wish I could hit pause and keep you as you are. It seems like I waited forever for you to be mine and now that you're here it feels like it's all going by so fast. — Lauren Tingley
I wish I could go back in time and watch my kids grow up all over again because it is just going by too fast. — Robert Rodriguez
Let them be little for they are only little for such a little while.
The empty nest comes quickly. Do not squander your most precious privilege of participating in the lives of your children. — Alan Hedquist
The day the child realizes that all adults are imperfect, he becomes an adolescent; the day he forgives them, he becomes an adult; the day he forgives himself, he becomes wise. — Alden Nowlan
Enjoy the little things, for one day you may look back and realize they were the big things. — Robert Brault
For me, growing up felt like a roller coaster ride at times, but looking back, I don't think that it was such a bad thing. It was all part of the excitement of being young. — Jameela Jamil
The years went by, and Mary Alice and I grew up, slower than we wanted to, faster than we realized. — Richard Peck
Kids grow really fast, all adults face problems in growing up.
It happens before you know it, the handprints become higher and higher, and then they disappear.
Inspirational quotes about growing up
Growing up comes with its fair share of challenges, some of which most people are not prepared to face. However, since growth is inevitable, you must brace yourself for the challenges and here are inspirational quotes to motivate you.
Maturity is when your world opens up and you realise that you are not the centre of it. — M.J. Croan
It takes courage to grow up and become who you really are. — E. E. Cummings
Growth is the only evidence of life. — John Henry Newman
If growing up is the process of creating ideas and dreams about what life should be, then maturity is letting go again. — Mary Beth Danielson
I constantly go between wanting you to stay my little baby forever, and being excited about all of the amazing things you'll do in this life.
You can learn many things from children. For instance, how much patience you have — Franklin P. Jones
Each day of our lives we make deposits in the memory banks of our children. — Charles R. Swindoll
You know who's going to build that better world? It's the youth. Children will do things that are now considered impossible. — Kacey McCallister
Now I'm growing and I can see my faults. I can look at myself objectively and say I can't blame anyone else; it was my own fault. — Christopher Atkins
If you want to screw up, do it while you're young. The older you get, the harder it is to bounce back. — Winston Groom
Everyone thinks you make mistakes when you're young. But I don't think we make any fewer when we're grown up. — Jodi Picoult
It happens to everyone as they grow up. You find out who you are and what you want, and then you realise that people you've known forever don't see things the way you do. So you keep the wonderful memories, but find yourself moving on. — Nicholas Sparks
Funny quotes about growing up
Some of the experiences people undergo while growing up are hilarious. Despite the challenges that come with growth, it has a humorous side worth recalling and laughing about. Here is a compilation of quotes that will make you laugh.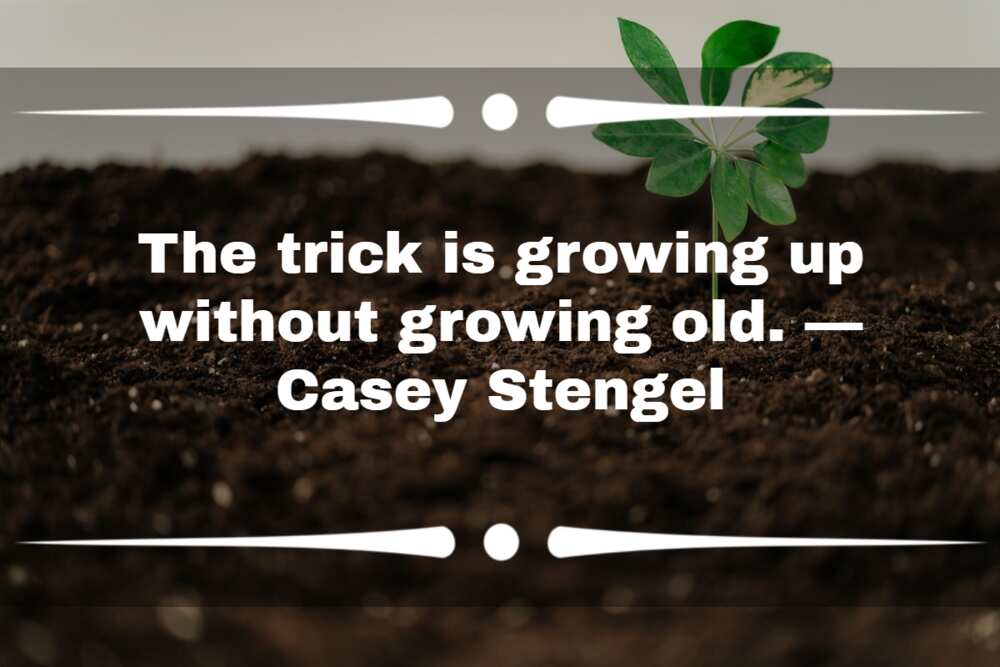 Sometimes you have to grow up before you appreciate how you grew up. — Daniel Black
Growing old is mandatory; growing up is optional. — Chili Davis
You grow up the day you have your first real laugh, at yourself. — Ethel Barrymore
You know your children are growing up when they stop asking you where they came from and refuse to tell you where they're going. — P. J. O'Rourke
Growing up is losing some illusions, in order to acquire others. — Virginia Woolf
Some day you will be old enough to start reading fairy tales again. — C.S. Lewis
I knew that I had reached the end of childhood once I realized that adults in my life didn't know any more than I did. — Matthew Quick
The trick is growing up without growing old. — Casey Stengel
It was a sign of growing up when the dark made no more difference to you than the day. — Roddy Doyle
You've got to do your own growing, no matter how tall your grandfather was.
A grown-up is a child with layers on. — Woody Harrelson
One of the strange things about adulthood is that you are your current self, but you are also all the selves you used to be, the ones you grew out of but can't ever quite get rid of. — John Green
The days are long but the years are short.
Quotes about never growing up
Being an adult comes with duties and responsibilities, challenges some people are not ready to face. As a result, some people wish they never grew up. Below are quotes about never growing up.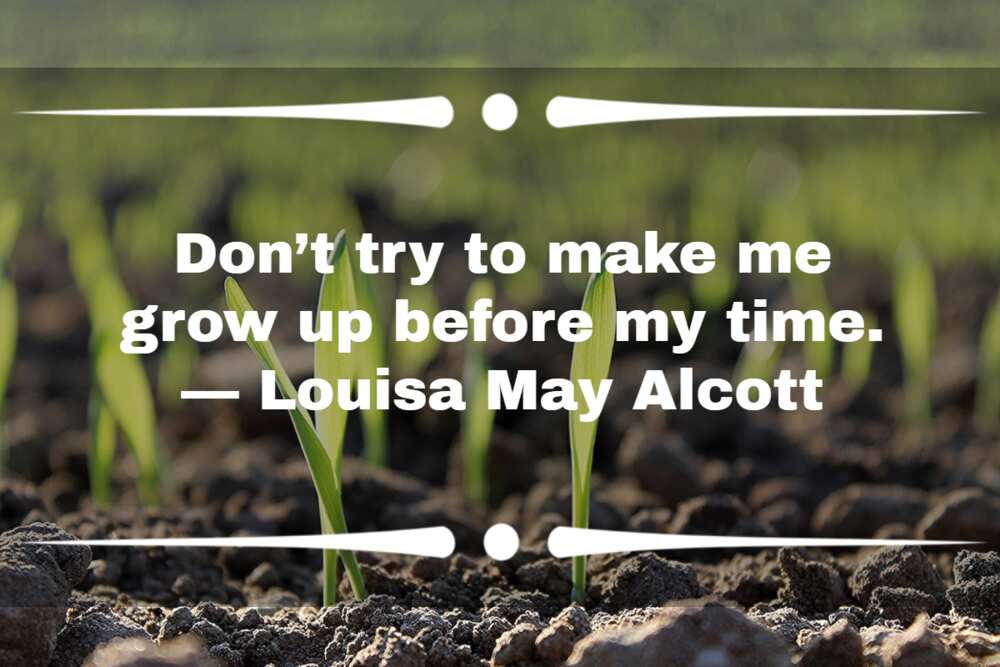 Age is a necessary but insufficient requirement for growing up. There are immature old people, and there are appropriately mature young people. — Henry Cloud
Maturity is a bitter disappointment for which no remedy exists unless laughter could be said to remedy anything. — Kurt Vonnegut
Who rejects change is the architect of decay. The only human institution which rejects progress is the cemetery. — Harold Wilson
The past is the present, and the present is the future, to the non-progressive mind. — James Lendall Basford
The mark of the immature man is that he wants to die nobly for a cause, while the mark of the mature man is that he wants to live humbly for one. — J.D. Salinger
Most people don't grow up. Most people age. They find parking spaces, honour their credit cards, get married, have children, and call that maturity. What that is, is ageing. — Maya Angelou
Maturity is a high price to pay for growing up. — Tom Stoppard
Don't try to make me grow up before my time. — Louisa May Alcott
If I could I would keep you as mine forever, but my job is to let you go. — Lauren Tingley
Growing old is unavoidable, but never growing up is possible. I believe you can retain certain things from your childhood if you protect them – certain traits, certain places where you don't let the world go. — Johnny Depp
If growing up means it would be beneath my dignity to climb a tree, I'll never grow up, never grow up, never grow up! Not me! — James M. Barrie
People and their rituals. They cling to things so hard sometimes. — Garth Stein
Growing up is a process with experiences that prepare you for adulthood. The above growing-up quotes will help you remember your beautiful childhood days while also appreciating adulthood. You can share them with friends and relatives who are at different growth stages.
READ ALSO: 75 lies quotes to help you express your feeling of betrayal
Ask legit.ng recently published lies quotes for expressing betrayal feeling. Lying causes a loss of trust and can adversely affect a relationship. While it is wrong to tell lies, most people at some point in their lives have lied, hurting others. Quotes about lies can help you express your betrayal feeling.
It feels bad whenever someone betrays the trust you had in them. However, it is important to let them know how you feel about it and these lies quotes will help you express your emotions in the best way possible.
Source: Legit.ng