100 inspirational makeup quotes by the historical beauty icons
Over the years, makeup cosmetics have evolved into a radiant tool for beauty and confidence. With its ability to cover imperfections, enhance facial features such as eyebrows and eyelashes, and add a pop of colour, makeup has become a daily source of empowerment and confidence. Undoubtedly, makeup quotes will instill a greater sense of confidence and comfort in you.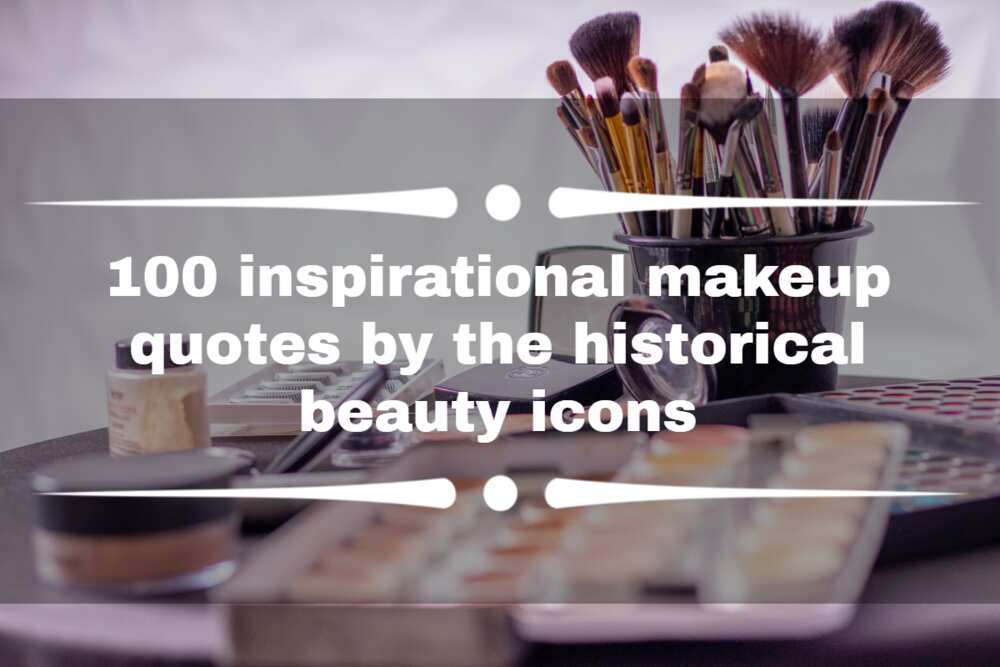 Makeup has been around for several years, but some people still have different views about its use. To many, makeup is mainly used to prevent the skin from sunlight, and help one feel more confident by enhancing their natural beauty. Here is a list of inspirational makeup quotes that showcase the various perspectives of the beauty world, perfect for beauty enthusiasts in search of inspiration.
Inspirational makeup quotes
Check out these makeup quotes to inspire you.
Makeup can only make you look pretty on the outside, but it doesn't help if you're ugly on the inside. Unless you eat the makeup. – Audrey Hepburn
Makeup is an extraordinary tool that allows me to share my inspirations, my fantasies, and my vision with the world. – Pat McGrath
Bronzer is a booster. Choose a shade that's one shade darker than your skin tone. It adds warmth and richness. – Sam Fine
Have a better relationship with your makeup and take the time to learn what your products will do. – Sam Fine
I love natural beauty, and I think it's your best look, but I think makeup as an artist is so transformative. – Marina Diamandis
To me, the essence of truly modern makeup is the freedom to be yourself, to express who you are. – François Nars
That's the mistake women make – you shouldn't see your makeup. We don't want to look like we've made an effort. – Lauren Hutton
I believe that all women are pretty without makeup, but the right makeup can be pretty powerful. – Bobbi Brown
I've always believed that makeup is a form of self-expression, and there is no shame in experimenting with it. – Nikkie Tutorials
Any woman can look her best if she feels good in her skin. It's not a question of clothes or makeup. It's how she sparkles. – Sophia Loren
Color is key to making your makeup pop and have your unique look stand out amongst the rest. – Jeffree Star
Makeup is not a mask that covers up your beauty; it's a weapon that helps you express who you are from the inside. – Michelle Phan
I had never really paid attention to makeup before, it was just mascara and eyeliner. But then I was watching The Hills, and I was really insecure, and they looked amazing, and I wanted to look like that. – Nikkie Tutorials
When I put on makeup, I'm not doing it to pander to antiquated patriarchal ideals of feminine beauty. I'm doing it because it makes me feel good. – Sophia Amoruso
A little makeup, a touch of rouge, a dash of henna - and you are an angel. – Richard Le Gallienne
That's why I began doing makeup in the first place: I was hoping that through helping people see the beauty in themselves, I could try and find it in me. – Kevyn Aucoin
The most beautiful makeup of a woman is passion. But cosmetics are easier to buy. – Yves Saint Laurent
Makeup can be used to express yourself... Those experiences should not be limited to women. Everyone should be free to be as colourful as they want to be. – Ian Thomas Malone
Makeup is an art form for me. It's a form of expression, and it's such a cool way to get my creative juices flowing. –James Charles
The notion that wearing makeup is anti-feminist is silly. Cleopatra pretty much invented the eyeliner, and she ruled a kingdom! – Natasha Scripture
Makeup is malleable and mercurial: The biggest joy I have every day is the opportunity to create, to play, and to invent with something I've loved forever. – Pat McGrath
Make quotes from famous people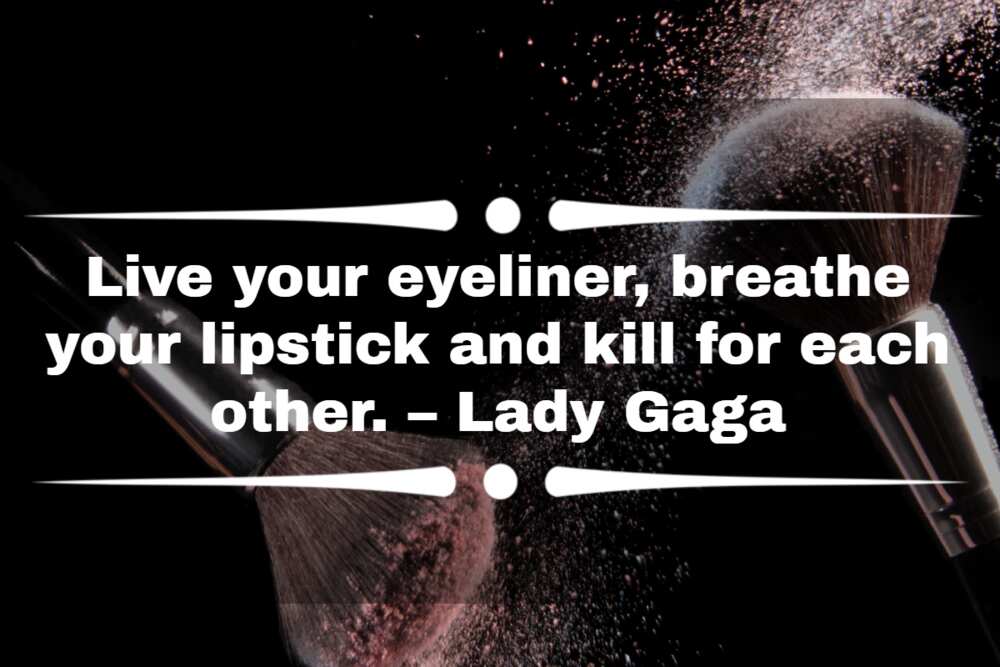 Makeup is a genuinely miraculous thing. It is both powerful and transformational. It transforms you and boosts your confidence.
Girls have always wanted to be pretty, even in Egyptian times. Cleopatra wore all the eyeliner, you know. – Rita Ora
A woman is most beautiful when she smiles. Other than that, the most valuable tip I've learned is always use a skin moisturizer! – Beyoncé
I'm enjoying trying all different shades. Makeup isn't something I've worn a lot of in my life. –Lupita Nyong'o
Beauty is how you feel inside, and it reflects in your eyes. It is not something physical. – Sophia Loren
Makeup can only make you look pretty on the outside, but it doesn't help if you're ugly on the inside. Unless you eat the makeup. – Audrey Hepburn
You can be a woman who wants to look good and still stand up for the equality of women. – Meghan Markle
I feel beautiful without makeup on, but when I do put makeup on, it just gives me this extra pop. – Cardi B
Lipstick in Barbados? Not unless I was a bridesmaid at a friend's wedding. My mom wasn't flexible. I wore no makeup. – Rihanna
That's one of the things I love about makeup. You can change your whole attitude by just doing your eyeliner or lipstick differently. – Beyonce
There is no exquisite beauty without some strangeness in the proportion. – Edgar Allan Poe
Whether I'm wearing lots of makeup or no makeup, I'm always the same person inside. – Lady Gaga
I do put on a little makeup every day because it helps me feel put together. Mascara is essential. – Emma Stone
Pour yourself a drink, put on some lipstick and pull yourself together. – Elizabeth Taylor
I believe in manicures, I believe in overdressing. I believe in primping at leisure and wearing lipstick. – Audrey Hepburn
Imperfection is beauty, madness is genius, and it's better to be absolutely ridiculous than absolutely boring. – Marilyn Monroe
Live your eyeliner, breathe your lipstick and kill for each other. – Lady Gaga
There are more important things than outward appearance. No amount of makeup can cover an ugly personality. – Audrey Hepburn
If I had to teach someone just one thing about lip colour, it would be this: Find a lipstick that looks good on your face when you are wearing absolutely no makeup. – Bobbi Brown
I don't think I could live without hair, makeup, and styling, let alone be the performer I am. I am a glamour girl through and through. I believe in the glamorous life, and I live one. – Lady Gaga
Makeup quotes to make you feel confident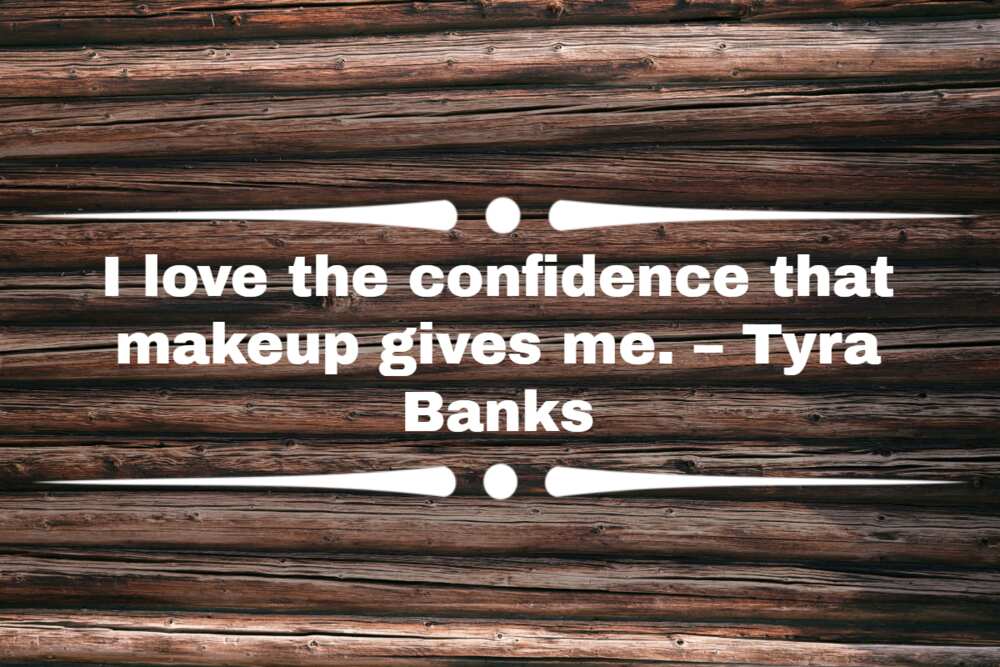 Using makeup improves your self-confidence. Having acne and blemishes on your face can lower your confidence level, but with the use of makeup, all these can be covered, and you can get your confidence back.
I love the confidence that makeup gives me. – Tyra Banks
And who's to say a little mascara doesn't make you feel more confident when you pop it on and look in the mirror? – Christina Aguilera
Just because you want to be glamorous, don't be a sheep about your eye makeup. – Loretta Young
Beneath the makeup and behind the smile, I am just a girl who wishes for the world. – Marilyn Monroe
I hope to inspire others to be confident in their own skin and to love themselves with makeup or without. – James Charles
Makeup does a lot for your confidence. When I put makeup on, I walk taller. I smile more. I feel good. I know I look prettier. Even if I just put day makeup on. – Maye Musk
I want to be a guy, but I want to wear a lot of makeup. – Gwen Stefani
To me, being beautiful is just accepting myself. I feel beautiful when I'm wearing makeup; I feel beautiful when I'm not wearing makeup. – Manny MUA
Makeup is a way for a woman to look and feel like herself, only prettier and more confident.– Bobbi Brown
Makeup quotes for Instagram captions
Take a look at this list of the best beauty quotes from fashion icons and beauty business moguls, to use for your Instagram captions to complement your best makeup looks.
Creativity is your best makeup skill, don't be afraid to experiment. – Pat McGrath
Black eyeliner. It's standard. It's all you need. It just makes the world a better place. – Marilyn Manson
If you're sad, add more lipstick and attack. – Coco Chanel
Treat your makeup like jewellery for the face. Play with colours, shapes, structure – it can transform you. – Francois Nars
A smile is the best makeup any girl can wear. – Marilyn Monroe
Lipstick is really magical. It holds more than a waxy bit of colour – it holds the promise of a brilliant smile, a brilliant day, both literally and figuratively. – Roberta Gately
Makeup can contribute to our success. – Sahara Sanders
Beauty is power, and makeup is something that really enhances that; it's a woman's secret. – Charlotte Tilbury
Beauty is power; a smile is its sword. - John Ray
Makeup is art, the face is the canvas.
The best thing about beauty is that it's democratic.
Beauty is not just a look, it's a feeling.
Makeup is my magic wand, it transforms me into whoever I want to be.
Beauty is a way of being, not just a way of looking.
Beauty begins the moment you decide to be yourself. – Coco Chanel
Short quotes about makeup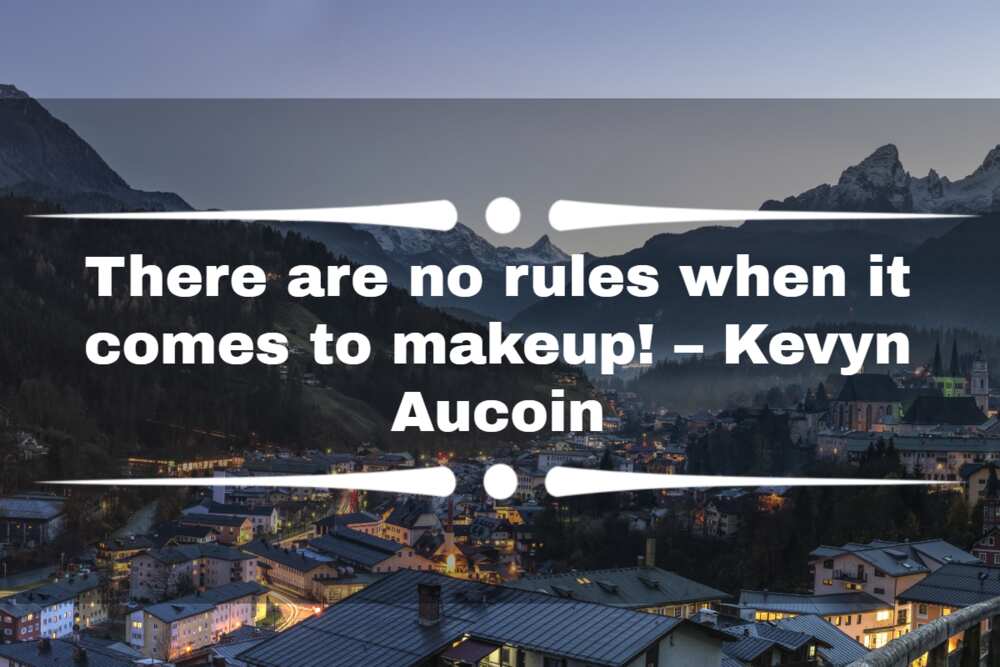 Applying makeup is a great way to express yourself. These short makeup quotes will put a smile on your face, with or without makeup.
The best thing is to look natural, but it takes makeup to look natural. – Calvin Klein
Makeup ignites a psychological transformation of both the wearer and the observer. – Richard Phillips
I feel good in makeup, and it helps create a character. – Josephine Langford
I don't like standard beauty. There is no beauty without strangeness. – Karl Lagerfeld
There are no rules when it comes to makeup! – Kevyn Aucoin
If the magic's in the makeup, then who am I? – Gwen Stefani
Elegance comes from being as beautiful inside as outside. – Coco Chanel
I swear to God, happiness is the best makeup. – Drew Barrymore
Joy is the best makeup. But a little lipstick is a close runner-up. – Anne Lamott
Love of beauty is taste. The creation of beauty is art. – Ralph Waldo Emerson
Makeup can make a woman look more beautiful at every age.– Francois Nars
It's not your makeup but how you are made up. – Tapan Ghosh
Foundation should unify tone, but it shouldn't take away the individuality of the skin. – François Nars
With a good makeup brush, any woman can be an artist.
Makeup can help you capture a moment. – Carine Roitfeld
Every time I get my makeup professionally done, I take a photo. – Kylie Jenner
Makeup is the finishing touch, the final accessory. – Marc Jacobs
I love seeing people being more daring with their makeup. – Huda Kattan
What red can do for the spirit, it can also do for the face. – Sophia Loren
Heels and red lipstick will put the fear of God in people. – Dita Von Teese
The best colour in the world is the one that looks good on you. – Coco Chanel
Fun makeup quotes and sayings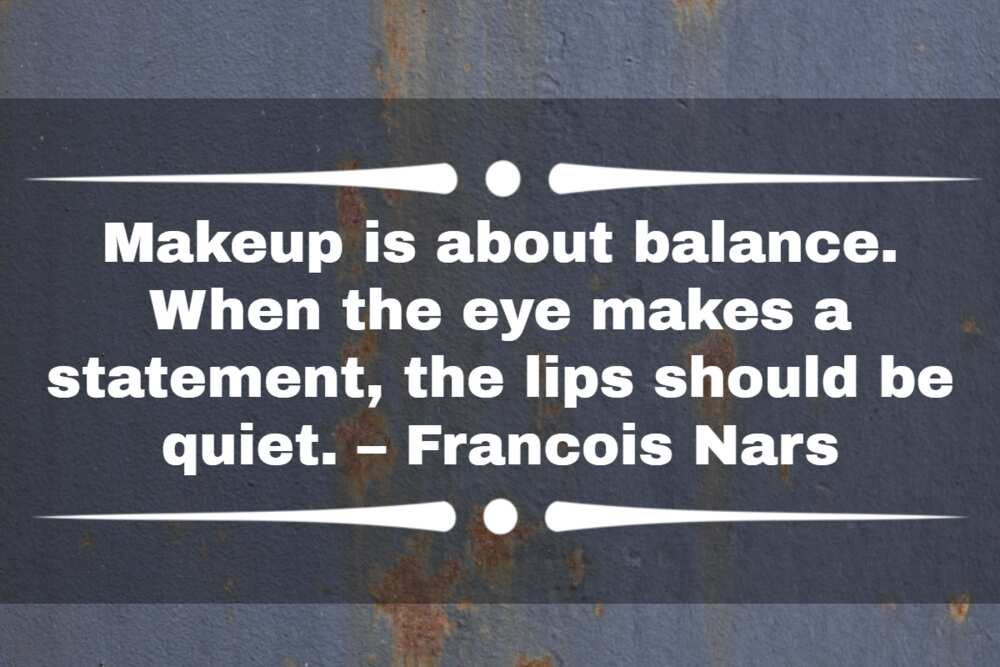 From lipsticks to eyeliners to gloss, there is an extensive number of makeup items that can make you feel better about yourself.
One of the main inspirations behind The Power of Makeup was bullies, and the one thing I believe in is that makeup is not just society, it's for you. – NikkieTutorials
There are no rules in makeup. If there were, I'd break them anyways. – Jaclyn Hill
Whether you are sixteen or over sixty, remember, understatement is the rule of a fine makeup artist. – Helena Rubinstein
Makeup is about balance. When the eye makes a statement, the lips should be quiet. – Francois Nars
When I'm wearing makeup, I choose between doing my eyes or mouth because I don't want to look like a beauty pageant child. – Alexa Chung
If you're not wearing a lot of makeup, you don't have to take a lot of it off. So, my goal is to wear the least amount of makeup possible so I don't have to steam my face and take it all off. – Mariah Carey
There are endless ways to enhance beauty. You never know when you will find your perfect lipstick – unless you keep experimenting. – Pat McGrath
The makeup is simply an extension of the personality and colours, clothing, makeup all express something. – Gene Simmons
If you ask me, I think knowledge is power and being able to do your own makeup or someone else's makeup is power in itself. –Anastasia Soare
Well-done eyelash extensions make you look beautiful and doe-eyed without a lick of makeup. – Faith Salie
I think women should wear whatever makeup they want for themselves. Makeup should be fun. – Emma Stone
Makeup transforms me. I feel like I'm in disguise when I walk my dog without makeup on. – Maye Musk
Sometimes you just have to put on lip gloss and pretend to be psyched. – Mindy Kaling
I love being super–tough, but if I need to put on a dress and do my hair and makeup, I can do that too. – Elizabeth Rodriguez
Have a better relationship with your makeup, and take the time to learn what your products will do. – Sam Fine
The above inspirational makeup quotes serve as a source of motivation and encouragement for individuals who love to look beautiful. They remind them to be confident, creative, and true to themselves, inspiring them to use makeup as a tool for self-expression and empowerment.
READ ALSO: 53 crazy funny best friend quotes to send to your bestie
Legit.ng recently published 53 crazy funny best friend quotes. A best friend is someone who is there for you through thick and thin. Someone who listens, supports, understands, and celebrates you.
Friends can help you see the bright side of life even when you can't see it for yourself. They add a touch of humour and lessen the burdens of life. These funny friendship quotes will help you see the true meaning of friendship.
Source: Legit.ng