50 meaningful grandpa quotes you should send to your pawpaw
Grandparents can play a variety of important roles in the lives of their grandchildren. They can bring a special enthusiasm to their grandchildren, which helps them learn and grow. They assist them in learning by playing, talking, and reading with them. Send your pawpaw some meaningful grandpa quotes to show him how much you love and appreciate him.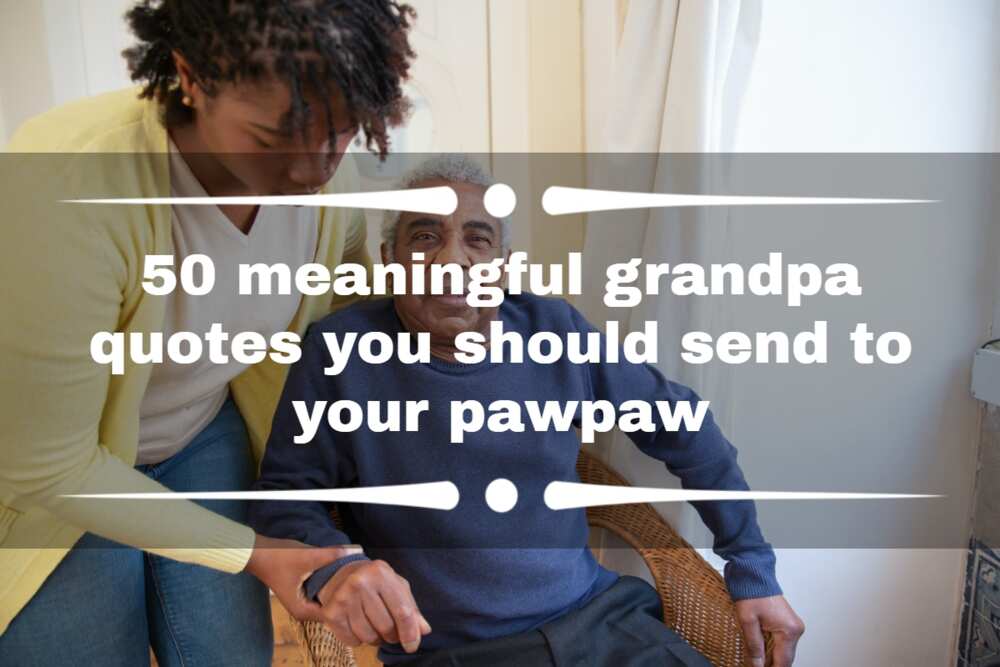 The bond between a grandparent and a grandchild is one of a kind. They can pass on knowledge, traditions, and family stories that you will cherish for the rest of your life. Send one of these beautiful quotes to your grandfather to show him how much you enjoy and love him for being your pawpaw.
Meaningful grandpa quotes
Grandpas are unique figures in the lives of their grandchildren. They are role models and best friends. Quotes about grandpas can help you have a good relationship with your pawpaw and even make you appreciate their efforts in everything.
A baby has a way of making a man out of his father and a boy out of his grandfather.
One of the most powerful handclasps is that of a new grandbaby around the finger of a grandfather.
I'm proud of many things in my life, but nothing beats my pride in my grandpa.
An excellent grandfather becomes a role model for his grandchildren.
My grandfather taught me that anything that your mind can conceive, you can have. It's a reality.
More and more, when I single out the person who inspired me most, I go back to my grandfather.
Your grandfather is a man you can love until the day you die. I adore and admire my grandfather. I treasure my grandfather while I still have him.
Nobody can do for little children what grandparents do. Grandparents sprinkle stardust over the lives of little children.
When you have a grandchild you love with all that is within you, only then do you know just how incredible it is to be a grandpa.
Grandparents are there to help the child get into mischief they haven't thought of yet.
Adorable grandpa sayings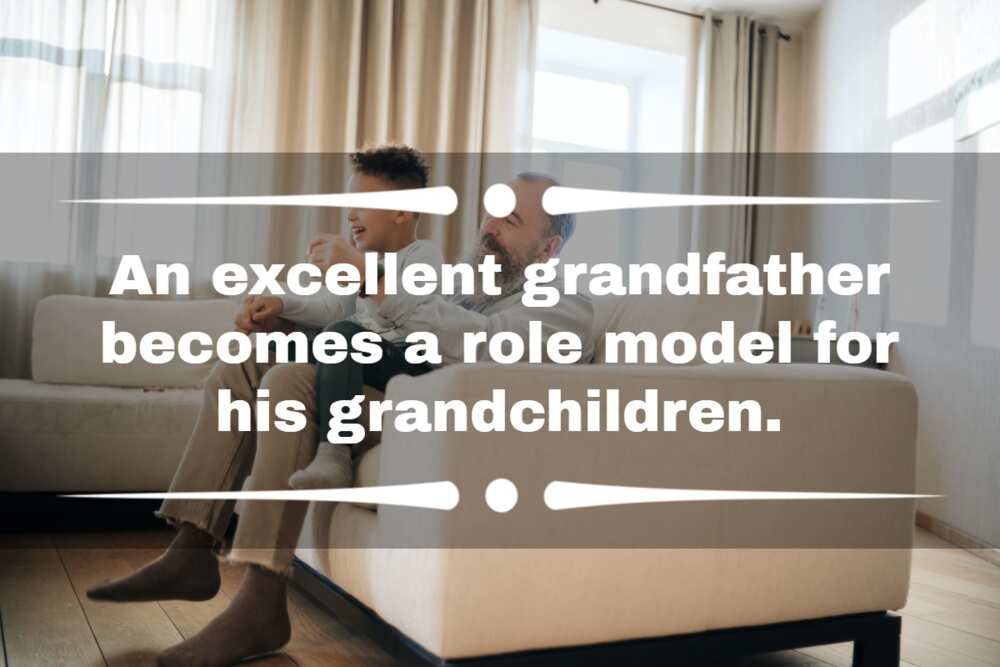 Being in the presence of your grandfather makes you feel safe and loved. Their unfailing love and stories make you want to spend every day with them. The quotes about grandfathers below will help you strengthen your bond with him.
Grandfathers are just antique little boys.
Grandpas fulfil all the wishes of their grandchildren.
The best place to be when you are sad is grandpa's lap.
Grandpa is in the footsteps of future generations.
When grandpa gives you advice, you better listen.
Tough love from your grandpa means you probably deserve it.
In a strange way, becoming a grandfather is like starting your life over.
Grandpa may not be there daily, but their love and influence are.
Grandpa always has their door open when you are in need of a hug.
Grandpa is a delightful blend of laughter, caring deeds, wonderful stories and love.
Grandpa's hug feels like the world's best comfort zone. And only grandpa is the person who loves you more than yourself.
A grandfather shares his wisdom, stories, and, most importantly, a love different from all others.
Grandfather quotes from grandchildren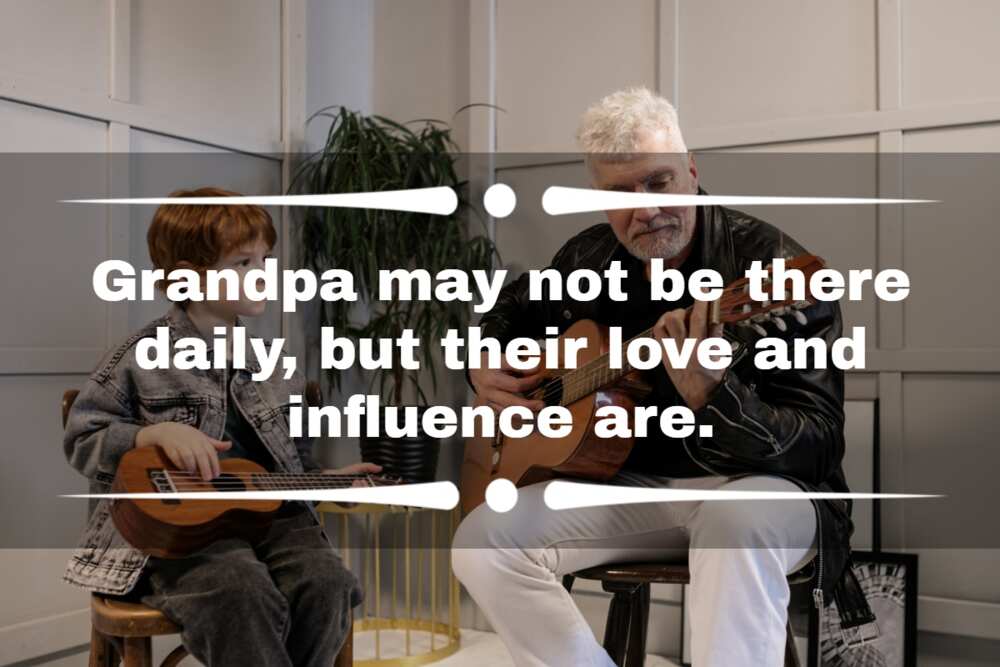 Having a loving and caring grandfather is a blessing. These meaningful grandfather quotes provide insight into a child's relationship with their grandfather.
Life changes for good when you become a grandpa. I am so fortunate to have you.
A grandfather finds his new hope and new purpose in his grandson. I found mine in you.
More and more, when I single out the person who inspired me most, I go back to my grandfather.
Thank you, grandfather. You have given me wisdom, encouragement, and inspiration in need.
I've always told you how special you were. You are full of kindness and love. Our love remains tightly knit and stronger.
You were such an inspiring person. You welcomed those who had problems with open arms. I am blessed to be your grandchild.
You are one of the most courageous people I know. You dared life and created impactful projects to show for it. I am proud to have you, pawpaw.
You taught me the importance of trust. I've learned to keep my word because you're a reliable person. Thank you for everything you've done for me.
A grandfather is the only person whom we believe knows everything. Our granny is the best, and we adore him.
You have taught us that no grandfather does not treasure and adore his grandchildren based on how you have treated us throughout our lives.
We learned from you, granny, that each generation rebels against its fathers and makes great friends with its grandchildren. You will live on in our hearts forever.
Our grandfather taught us that grandfathers are simply old-fashioned little boys who enjoy spending time with their grandchildren. We treasure all of the wonderful memories we made together.
Grandpas are fantastic role models in life. We learn and understand the gentle side of men through them. I'm glad I saw that side of you. I will always love you.
You have been an excellent grandfather to us, your grandchildren. You were never scared of the violent storms or the bibs dogs. We can only hope for a fraction of your bravery. We adore you.
Short grandpa quotes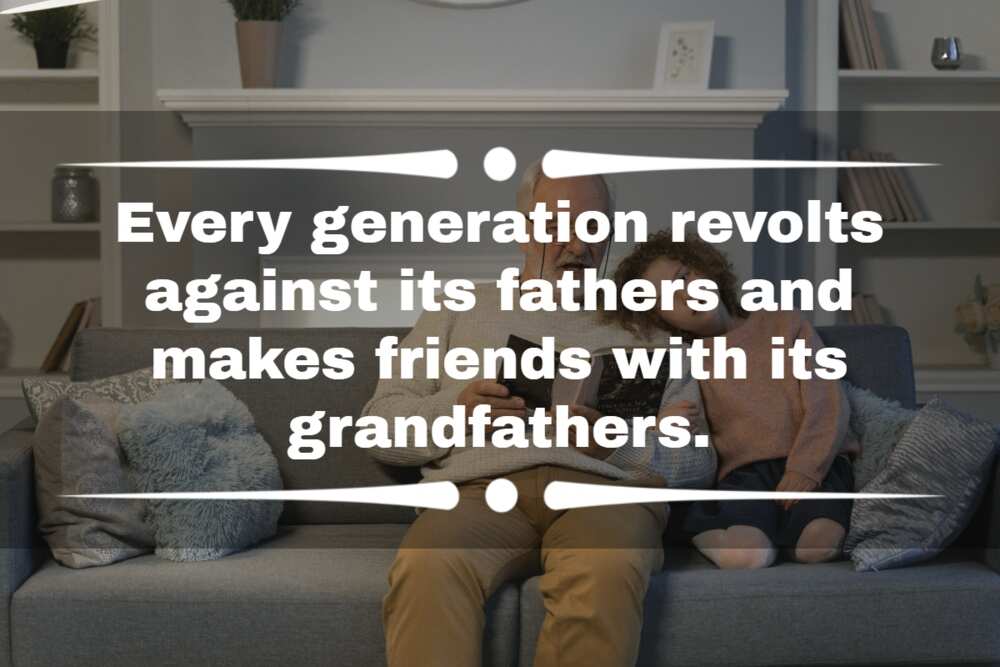 Grandfathers are extremely important to their grandchildren. They serve as role models and best friends and make you feel secure. They are the ones who will show you around, tell you about history, and teach you more about the world.
Grandfathers are the best blessing that any child can have.
Only the best dads get promoted to grandpa.
I go to my grandchildren. They keep their grandpa informed on what's going on.
There is no grandfather who does not adore his grandchildren.
When grandparents enter the door, discipline flies out the window.
Grandfathers are for loving and fixing things.
Being a grandfather is one of the true joys of life; it is an awesome time.
Every generation revolts against its fathers and makes friends with its grandfathers.
My grandpa told me to learn to love anxiety because it never goes away in moviemaking.
Grandpa says we've got everything to make us happy but happiness.
A grandfather is someone with silver in his hair and gold in his heart.
A grandfather has the wisdom of long experience and the love of an understanding heart.
For grandpas, a baby represents them, their hopes and their desire for the future.
A grandpa holds your hands for just a little while, but your heart forever.
Grandpas are always proud of you and will never stop loving you, even if they disagree with your decisions. These best grandfather quotes will help you remember the laughs, smiles, and love you shared with your grandfather.
READ ALSO: 100+ you are beautiful quotes and messages that will make your loved one smile
Legit.ng recently published an article containing 100+ you are beautiful quotes and messages to make your loved one smile. Beauty is one of the fascinating aspects of a person. This explains why there are numerous poems, quotes, sayings, and messages about beauty.
It is always appropriate to thank your loved ones for their compassion, kindness, or advocacy, which makes them radiant and beautiful. Some profound, you are beautiful quotes can help to brighten your loved one's day. Don't let a perfect opportunity to say something lovely to them pass you by.
Source: Legit.ng