70+ best Disney tattoos: great ink ideas for you and your friends
Remember when you believed in the heroics, triumphs, and magic of fictional characters from Disney? For Disney fanatics, tattoos are a cute and perfect way to pay homage, connect, and express affection for magic and nostalgia. From princesses and villains to castles and park icons, the back catalogue of popular classics is limitless. These are the best Disney tattoos to etch on your skin and express what matters to you and your friends.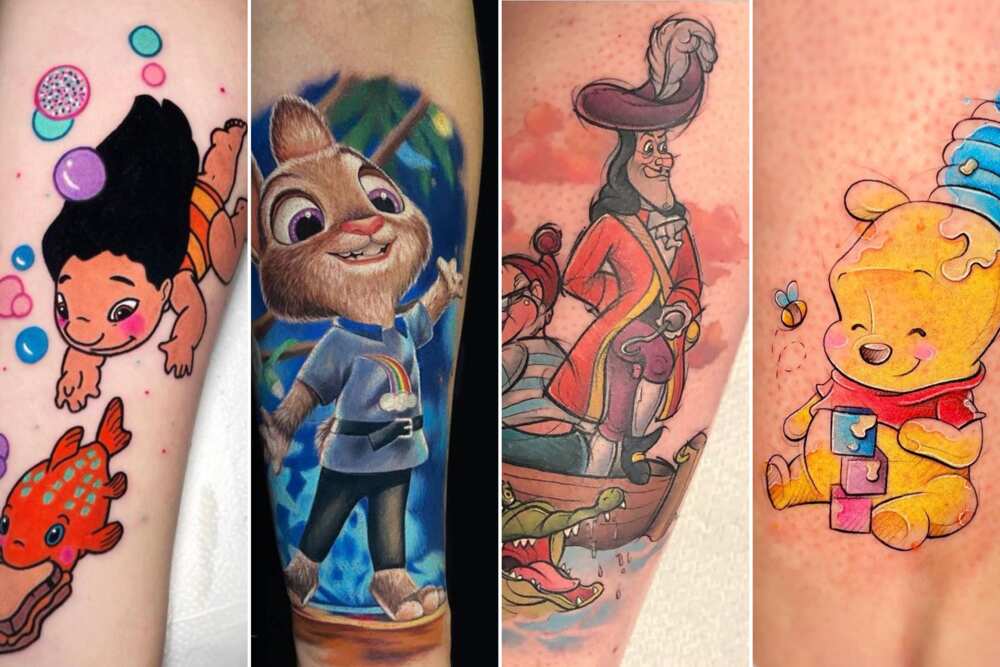 Tattoo inspiration can come from all facets of life, and with many growing up watching Disney films, it is hardly surprising that Disney character-inspired tattoo designs are becoming increasingly popular. Do you want a unique way to express your love for your favourite Disney characters? You can draw some of these best Disney tattoos on your skin as a visible reminder.
Best Disney tattoo ideas
With every Disney franchise that comes out, there is a lesson to learn. Whether it is the flawless princesses struggling with self-doubt, or heroes triumphing over villains, the love for Disney is guaranteed to pass down to future generations.
If you are a tattoo lover and fictional characters tickle your fancy, here is a list of Disney tattoo ideas to help you stay in touch with your childhood fantasies. They include characters from early Disney movies, such as Mickey Mouse, The Little Mermaid, and Donald Duck, as well as those from modern franchises such as Zootopia, Frozen, and Toy Story.
Disney sleeve tattoo ideas
Sleeve tattoos are among the best Disney tattoos you can draw on your upper arm. They cover a large area and allow room to include other intricacies, symmetry, and geometric shapes, making the final product incredibly stunning and cohesive.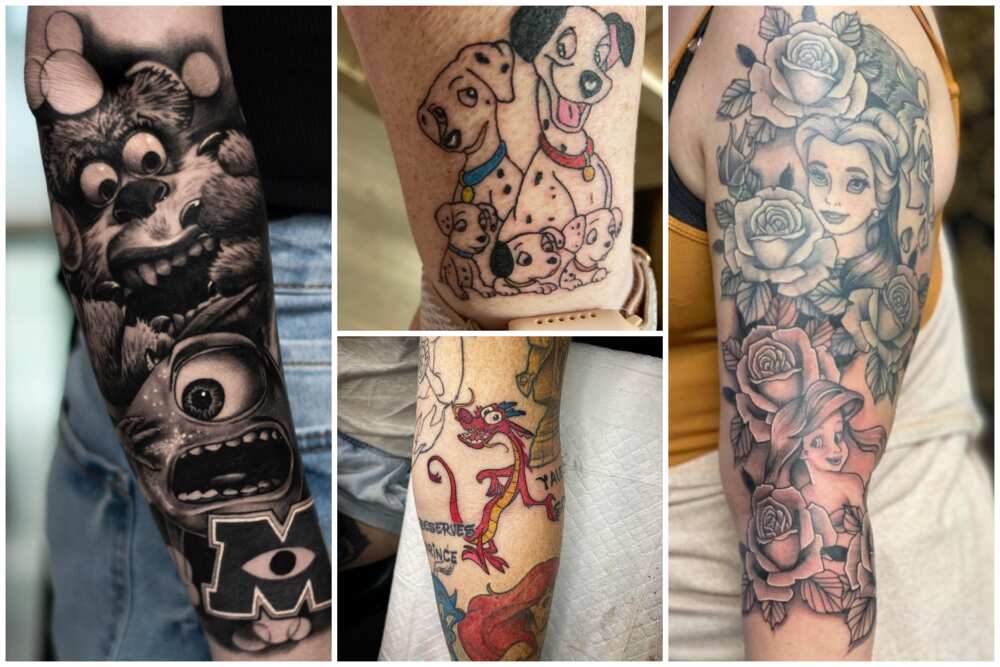 Sleeve tattoos are unique and breathtaking body markings that will impress you and your friends, even if Walt Disney Studio isn't their thing. Famous Disney sleeve tattoos will depict your personality and childhood fantasies.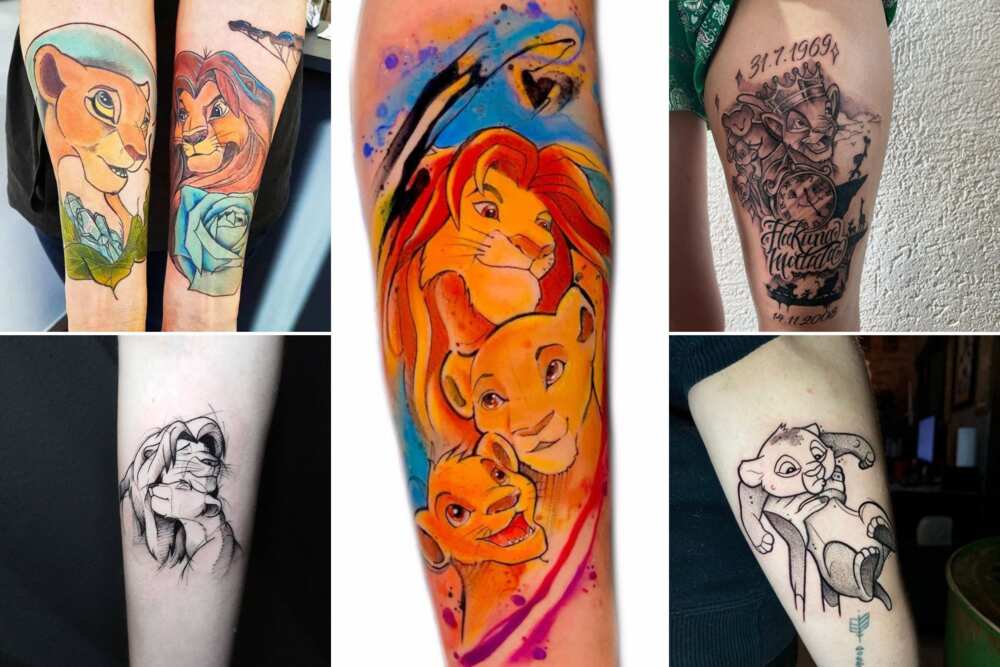 Are you a fan of The Lion King? The film was released in 1994 and was the highest-grossing Disney animated film before Frozen came along. Many love and have watched it due to its fantastic storyline.
Its characters also make for cute tattoos. If you are a tattoo lover, you can draw one on your sleeve to show strength, loyalty, friendship, or perseverance.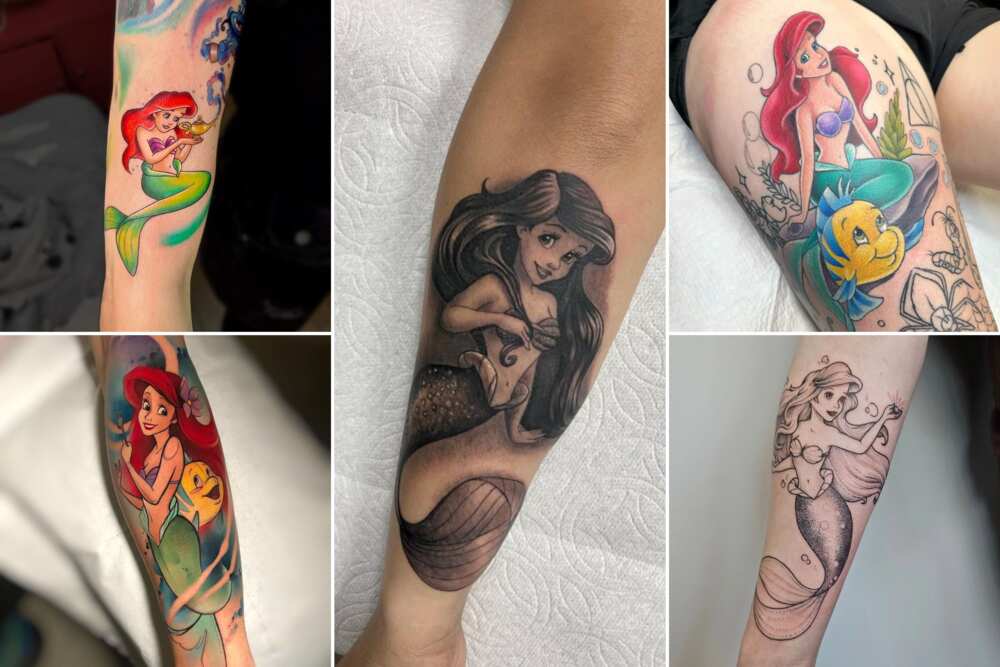 Mermaids are mythical beings. Kids love mermaids, and whereas they don't exist in real life, it doesn't hurt to create amazing body art on your sleeve from these amazing mythical creatures.
Feeling adventurous and unhindered by tradition? Get a 3D tattoo depicting Ariel and her aquatic adventures.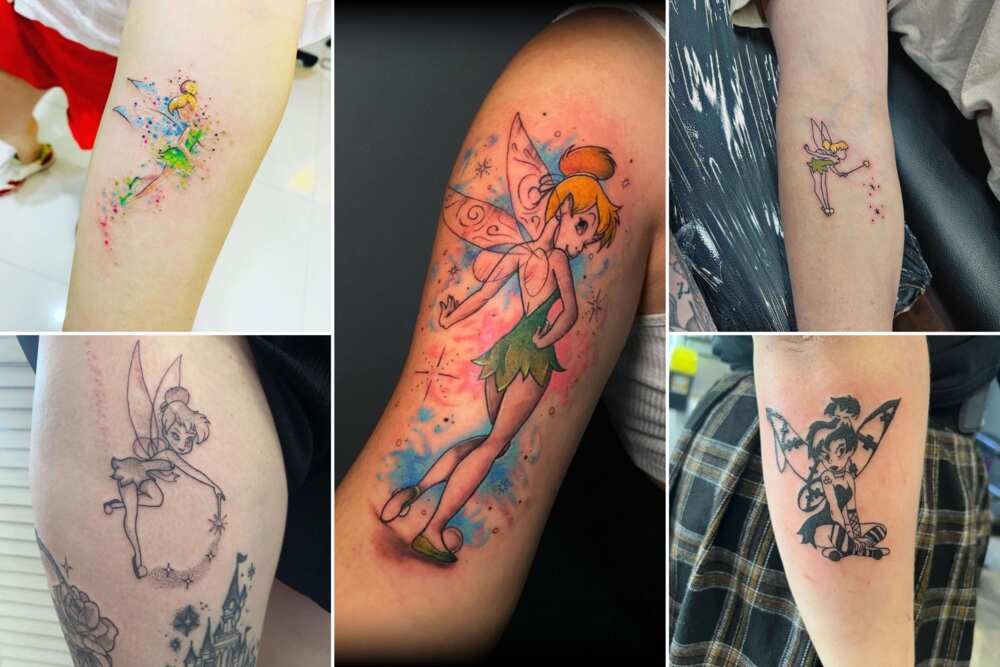 Beyond being portrayed as compassionate and helpful with her pixie dust that enables people to fly, Tinkerbell represents other idealized qualities such as charming, fun, beautiful, and loyal.
Disney matching tattoos
Nothing commemorates infinite love between friends or couples more than matching tattoos for all genders. These designs are ridiculously cute and refer to your love for Disney's fictional characters.
You can use Disney's matching tattoos to express your eternal love, declare devotion to your significant other, or preserve memories.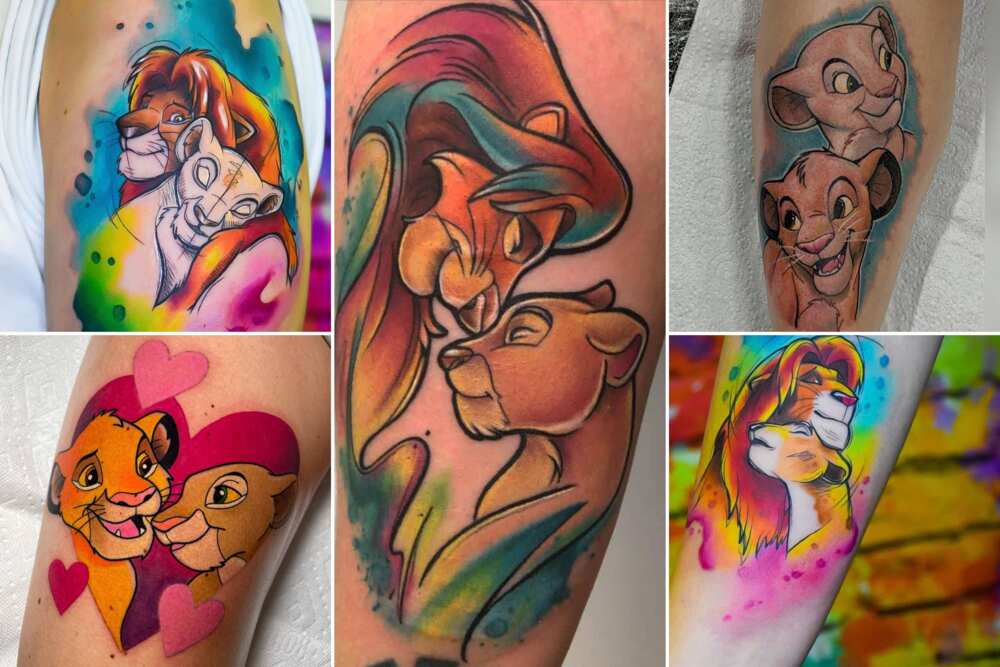 You can go for colourful Simba and Nala tattoos. Simba is the main character of the Disney animated film The Lion King. He has a female friend, Nala, who becomes his wife. This is a great matching Disney tattoo idea for couples.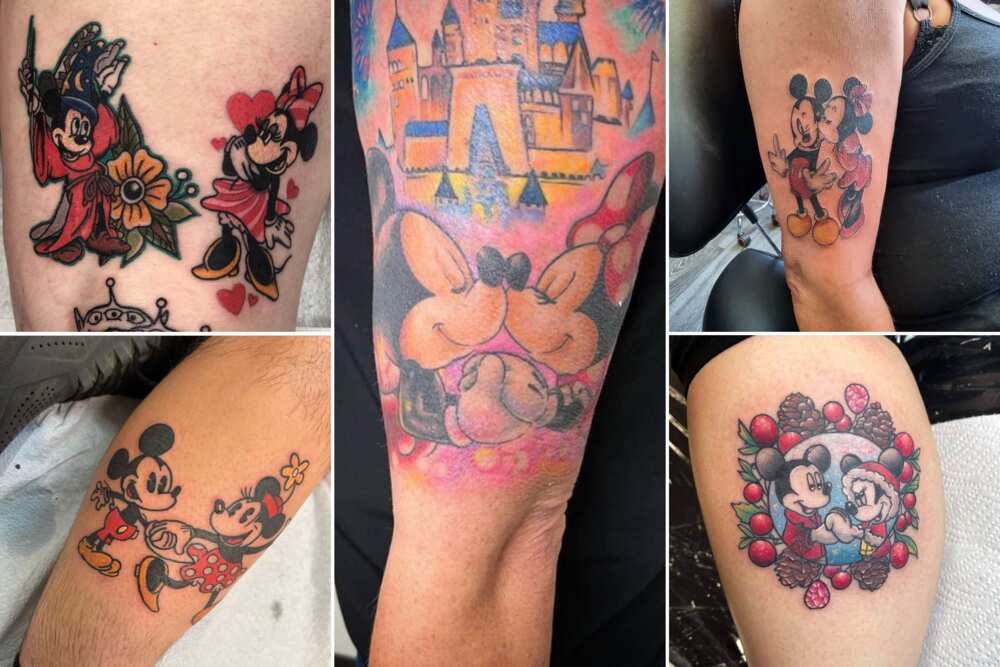 How about trying Mickey and Minnie tattoos? Matching couple's tatts are always a cute and pleasing idea. Mickey and Minnie are one of those that are just too adorable to pass up.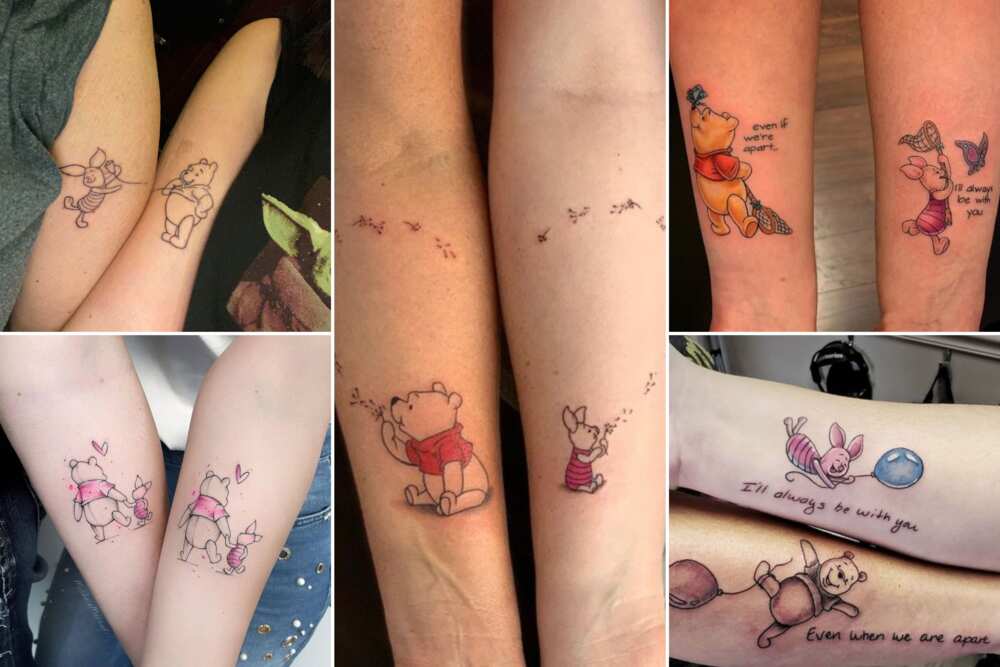 You can also choose to match Winnie the Pooh and Piglet tattoos. Winnie the Pooh and Piglet are among the best friend Disney tattoos for friends who want to stay close even during hard times.
The designs show Winnie the Pooh and Piglet holding balloons while floating away. You can finish the design with a beautiful statement or prayer.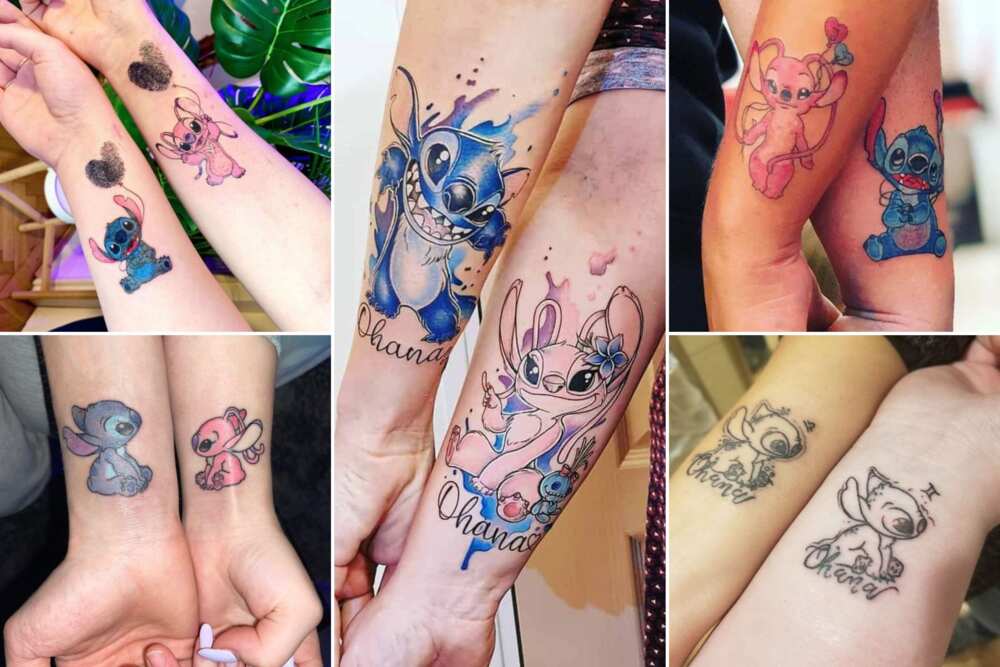 Matching stitch tattoos are best if you have limited time to create something unique and meaningful. You can also match them with other designs to emphasize the message or hide its meaning.
Disney sibling tattoos
Are you looking for the perfect sister-sister, brother-brother, or sister-brother matching tattoos? You can get a cute, clever, and meaningful Disney sibling tattoo for siblings who have an infinite love for each other.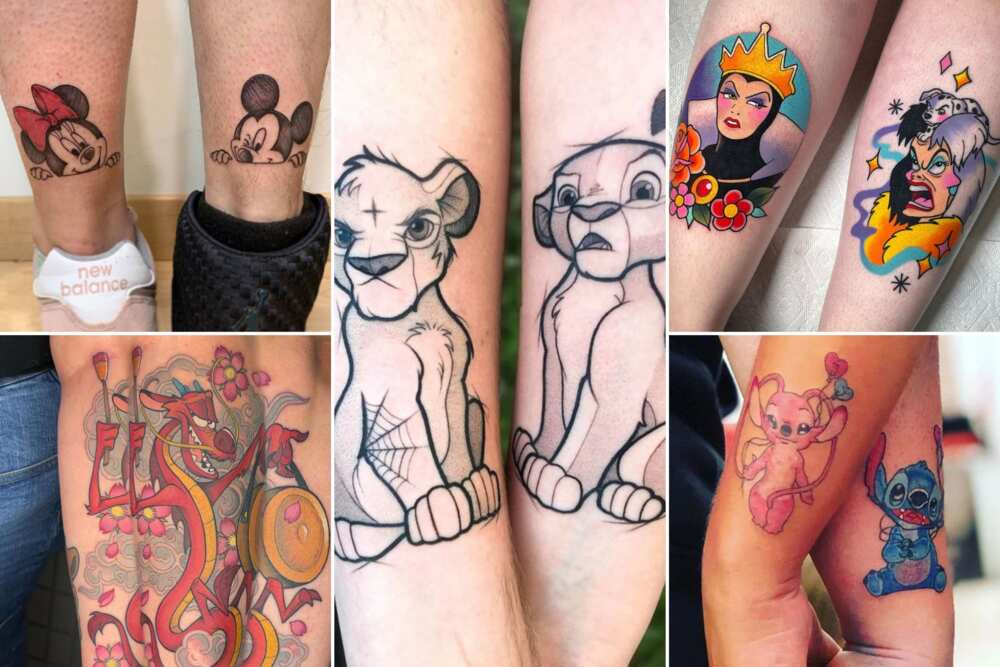 You can customize your tattoo to reflect each of your personalities or personal preferences. They can be designed in various styles, sizes, and colours, allowing for creative expression and individuality.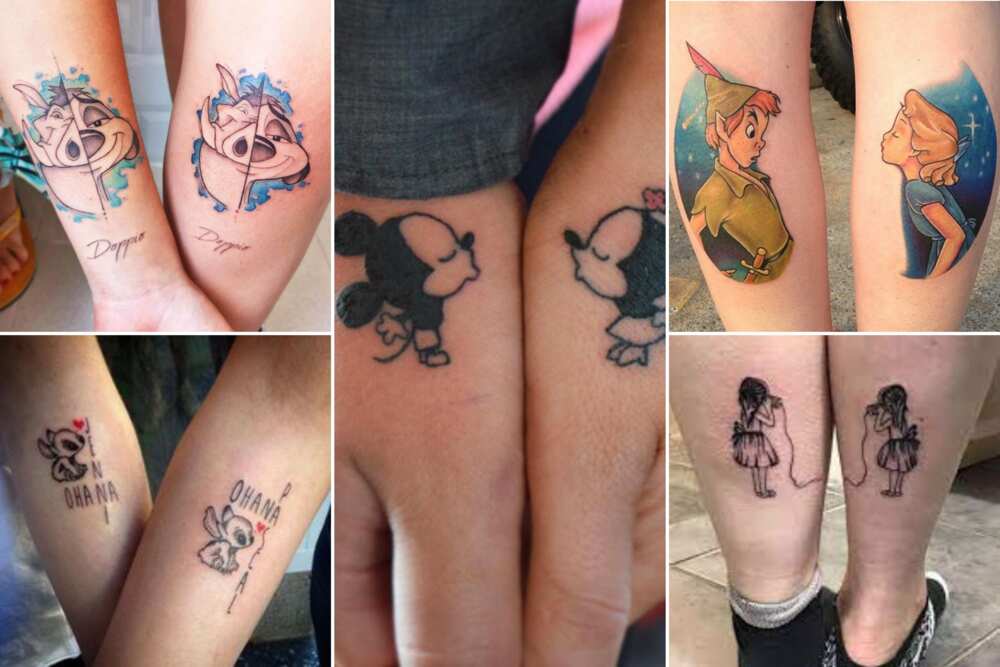 Disney characters are iconic and well-known, making them attractive tattoo subjects. Whether it's Mickey and Minnie Mouse, Simba and Nala, or Elsa and Anna, Disney has a plethora of popular characters from which siblings can select to express their special link.
Unique and simple Disney tattoo ideas
Disney tattoos are best for friends deciding to have their skin inked for the first time. These designs are easy to modify, though creating a beautiful image that expresses your thoughts can take a lot of time.
Disney tattoos are simple and cute; you can draw on any body part. The goal is to keep everything simple, clean, and classy. They can also come in detailed and colourful designs, allowing you to pick your favourite options.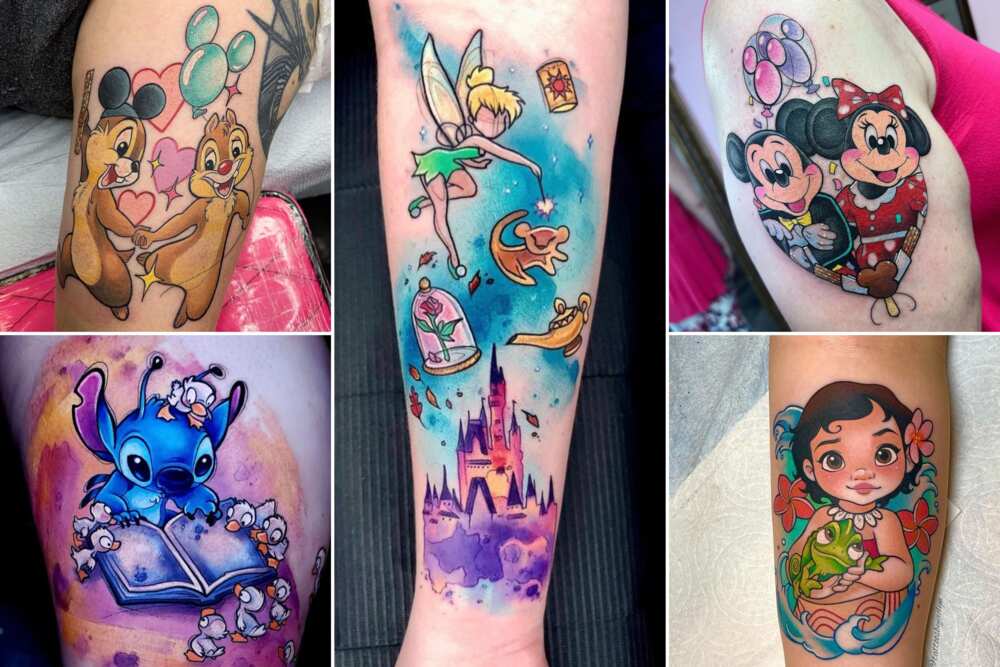 Whether you and your friends decide on flowers, black and white sleeves, sketchbooks, or full-colour tattoos, unique tattoo ideas perfectly express love for each other. These tattoos can fit anywhere on the body and come in different sizes depending on your preferred statement.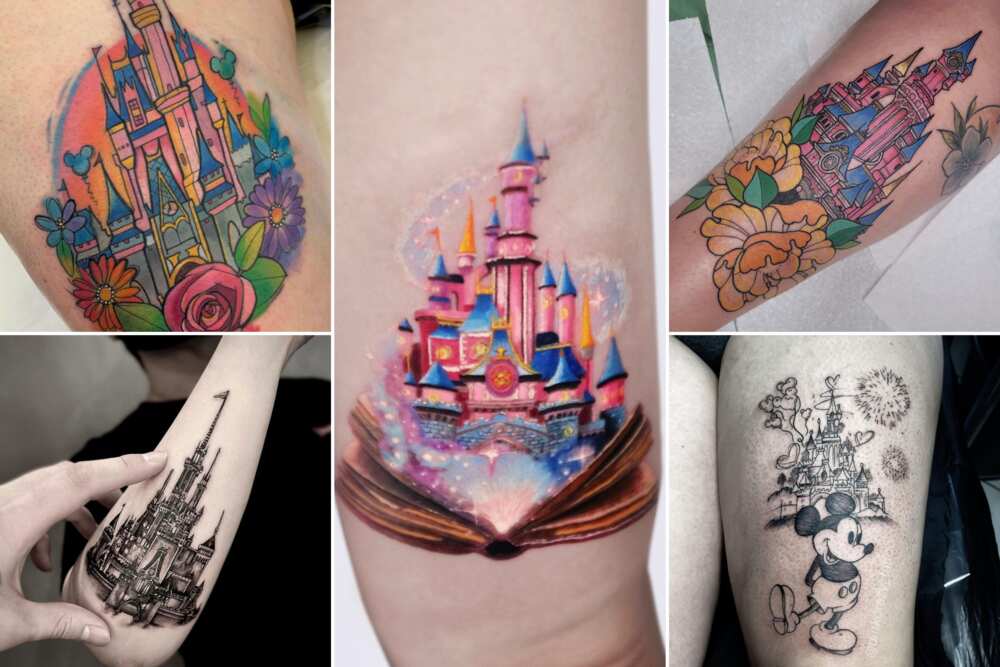 You can opt to get a perfect Disney castle tattoo if you want to keep your dream alive until you achieve it. They come in different designs, including those with the castle alone or those with added elements such as Mickey Mouse.
You can also draw a Disney castle and add your preferred statement or friends' names.
If you have an insatiable desire to remain young and in a strong romantic with your partner, you probably need Peter Pan and Tinkerbell Disney tattoos.
In Disney's fictional plays, Peter Pan is a mischievous boy who does not want to grow up, while Tinkerbell is a small girl in love with Peter Pan.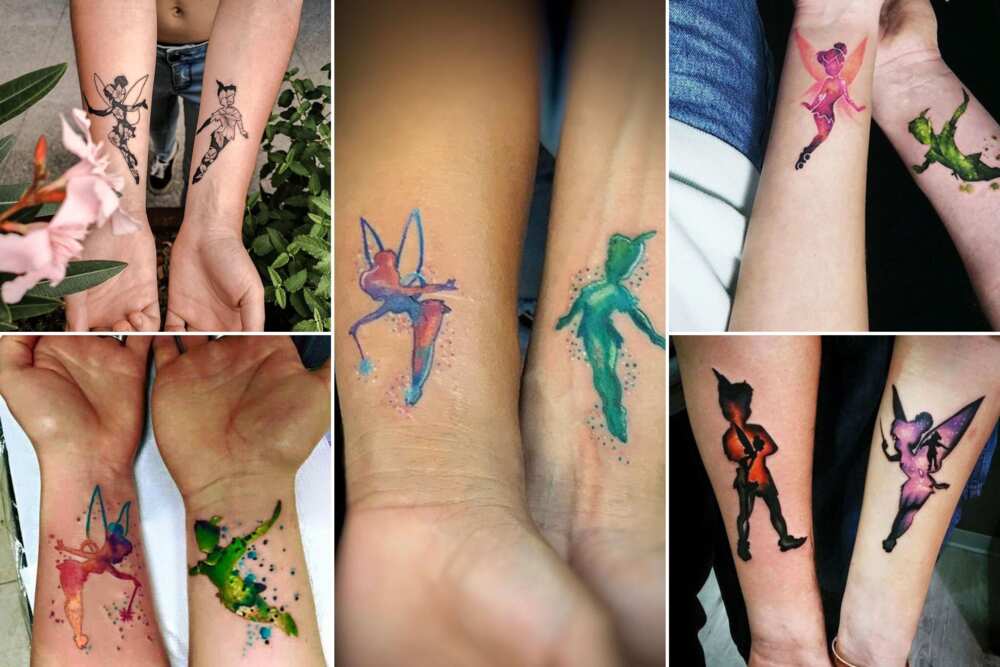 Both characters wish to remain young and enjoy their childhood relationship. Therefore, getting Disney matching tattoos with Peter Pan and Tinkerbell designs indicates you want to remain young and in love forever.
Small and minimalist Disney tattoos ideas
Are you a huge fan of Disney tattoos and want something that looks minimal but with a strong hidden meaning? Then minimalist Disney tattoos are the way to go.
Minimalist and small Disney tattoos are easy to draw and modify. You can also hide or cover them if you change your mind.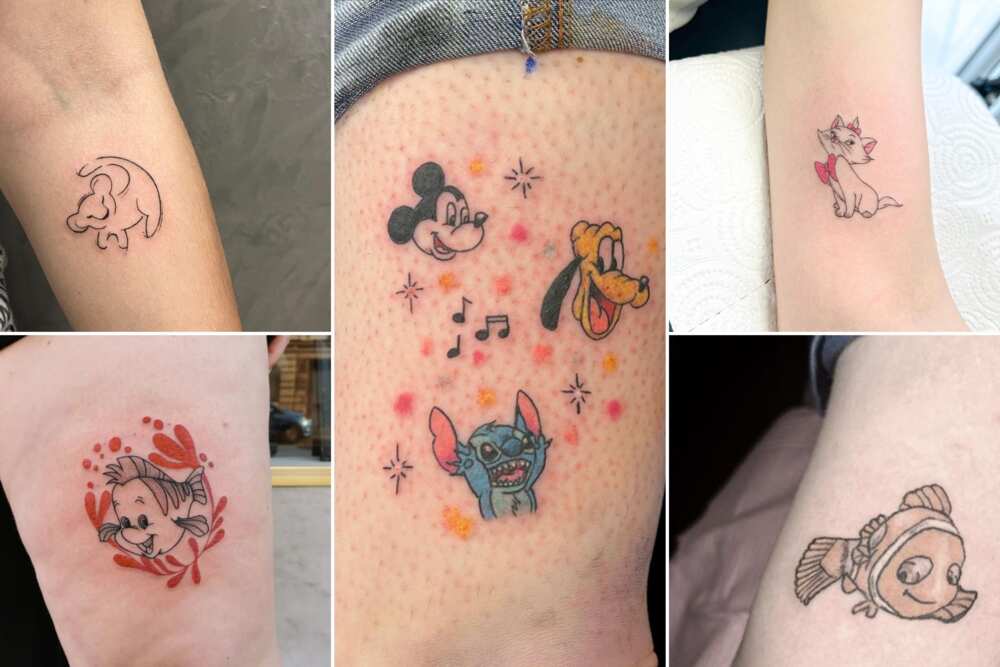 Classic tatts are a must-have for friends or couples who love watching Disney-related movies. These minimal designs do not need much time to create and take up a small space of the body.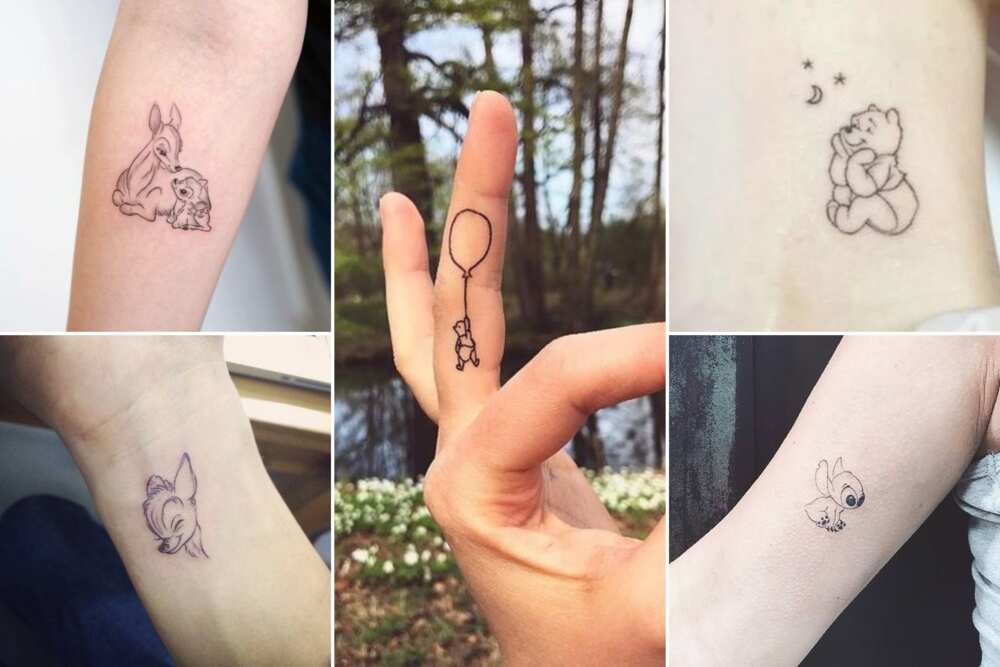 You can get matching Disney tattoos with classic Mickey with your friends and enjoy the magic whenever you look at them.
If you grew up in the late 20th to early 21st century, Disney's fictional characters likely inspired your dreams, aspirations, and TV memories for most of your childhood. Tattoos can symbolize your past personalities and traits. Disney tattoos are a way of commemorating your friendship and childhood fantasies.
Legit.ng recently published an article about native gowns for ladies in Nigeria to try out in 2023. These gowns are known for their unique designs and styles, ranging from simple yet stylish to intricate and exquisite.
They reflect Nigeria's rich culture and heritage; every fashion-conscious lady should have at least one in their wardrobe. If you are a fashion enthusiast, this article has a compilation of the 50 latest Nigerian female native styles to add to your wardrobe.
Source: Legit.ng