70+ green aesthetic ideas for hair, makeup, outfits, room decor
Green is a color associated with nature and the environment. It comes in numerous shades and hues and is arguably the most common color in the natural environment. Many people associate it with wealth, vitality, and freshness. You cannot go wrong with adding green aesthetic features to your decor and fashion style.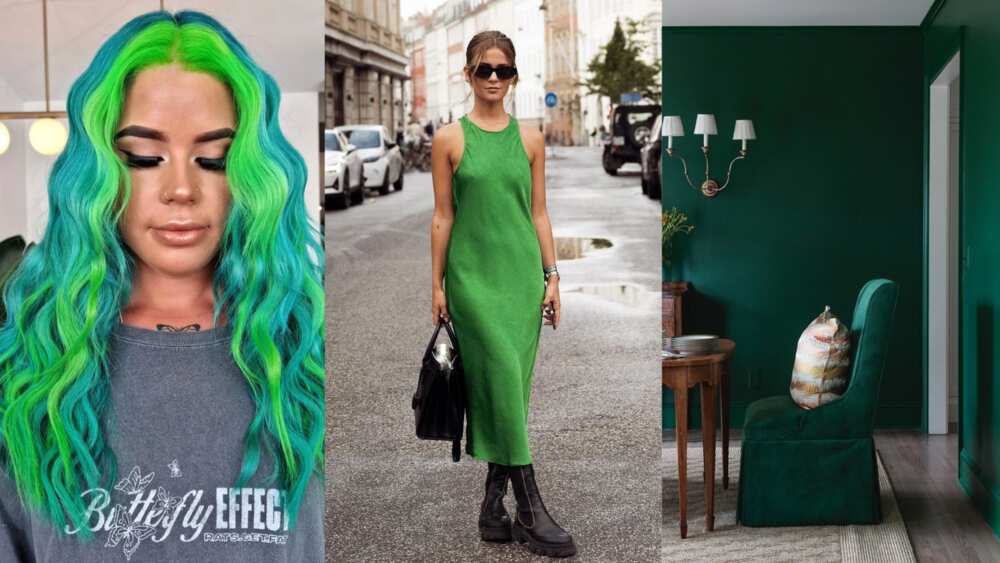 How many shades of green do you know? You incorporate your favorite shades into your decor, outfits, hair, and makeup. The color is cool, relaxing, and makes you feel connected to nature. If you want to add some green aesthetic features to your life, check out the ideas below.
Green aesthetic ideas for you
Check out these must-try ideas for your hair, makeup, home or office decor, and outfits.
Inspiration for short hair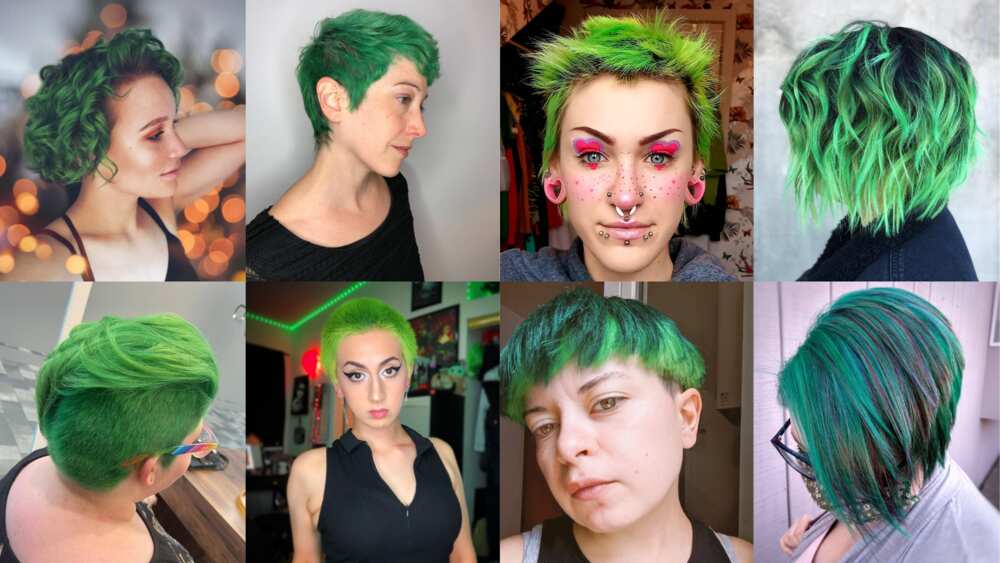 PAY ATTENTION: Install our latest app for Android, read best news on Nigeria's #1 news app
A close look at the aesthetic pictures above tells you there are numerous ways to incorporate the color green in your short hairstyle. You can use the color as is or blend it with other colors. Regardless of what you choose, you can be confident that green hair will command attention.
If you have neck-long hair, you can consider using hair dye colors to make it pop. Depending on your preference, you can use a light or dark green aesthetic color.
You can dye the entire head or blend it with other colors. You can curl the short hair to make it even more interesting. Purple and yellow are some of the colors that blend well with green.
If you prefer even shorter hair, you can get a mohawk, pixie, or bob cut before dyeing it. You can choose a bright or dull dye to match your style and personality.
Long hair inspiration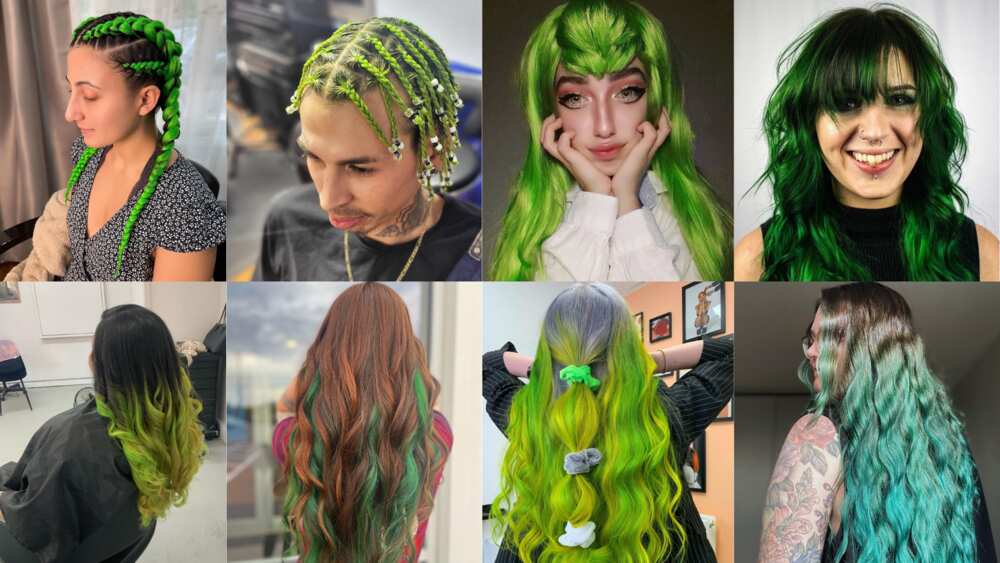 If you look at aesthetic art or anime, you will notice that the pictures or characters use bold colors. Bold aesthetic colors give them some uniqueness, which is the same effect you get when you dye your hair.
If you have long hair and do not know how to make it unique, try dyeing it green. If you are afraid of dying your natural hair, you can use hair extensions or wigs.
You can use green hair extensions to braid the hair or plait cornrows. You can also cut your long hair into a fringe or bangs before dyeing it.
If you want a doll-like look, you can have neon aesthetic hair that will make heads turn effortlessly. Lovers of this color who would rather not dye the entire head can also consider dyeing it at the ends. Alternatively, you can blend it with one or more colors to make it more fun.
Edgy makeup ideas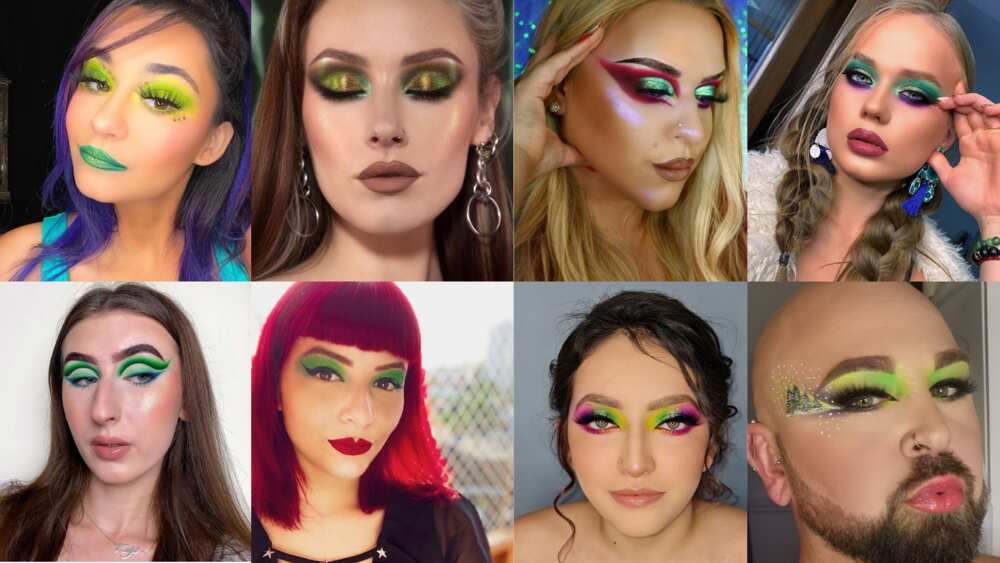 Using green makeup has become increasingly common because people are at liberty to express their style and preferences. Manufacturers have also produced makeup in all colors you can imagine.
Many people wear green makeup to less formal events or social functions. However, did you know green eye makeup looks fantastic for formal events? All you have to do is use dull shades and reserve brighter ones for non-formal events.
You can wear bold makeup to non-formal events or as an everyday look if you love the cybergoth style. The best way to incorporate this color is by using eye-shadow or green lipstick.
Daring but cute makeup looks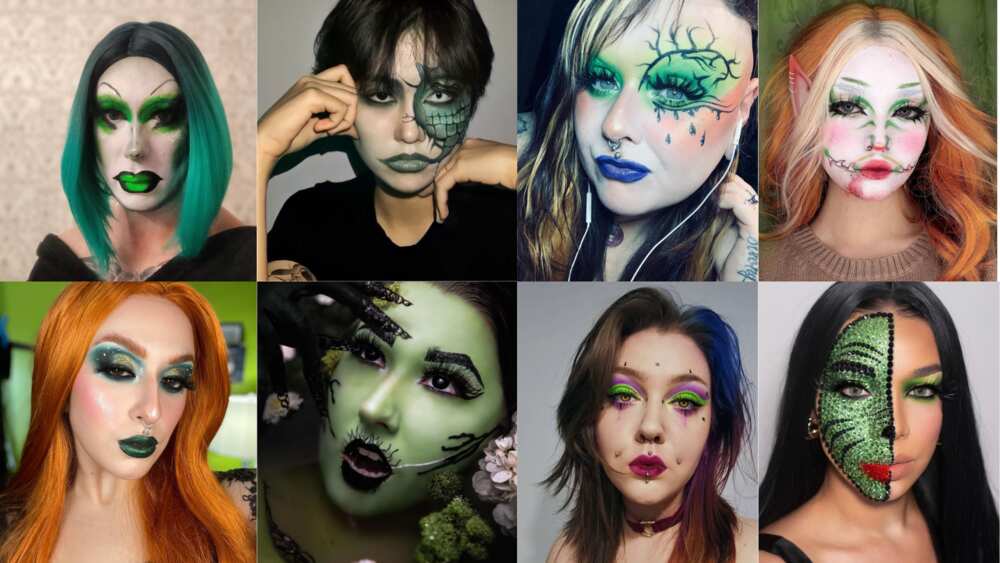 Are you into the aesthetic grunge style? If you are, the green aesthetic pictures above make you happy. In this edgy style, dark colors are used. Mixing green and black aesthetic features in your makeup routine is perfect for this look. Usually, this style incorporates ripped jeans, flannels, converse sneakers, chokers, leather pants, and combat boots.
If this is not your everyday style, you can use the bold makeup ideas for your next Halloween look. Alternatively, you can wear this kind of makeup on a night out or themed party.
Achieving these bold but cute makeup outcomes may not be possible for many people on their own. Most require the help of a professional makeup artist. You can outsource one artist and show them your favorite green aesthetic makeup picture to use as a reference.
Inspiration for skirts and dresses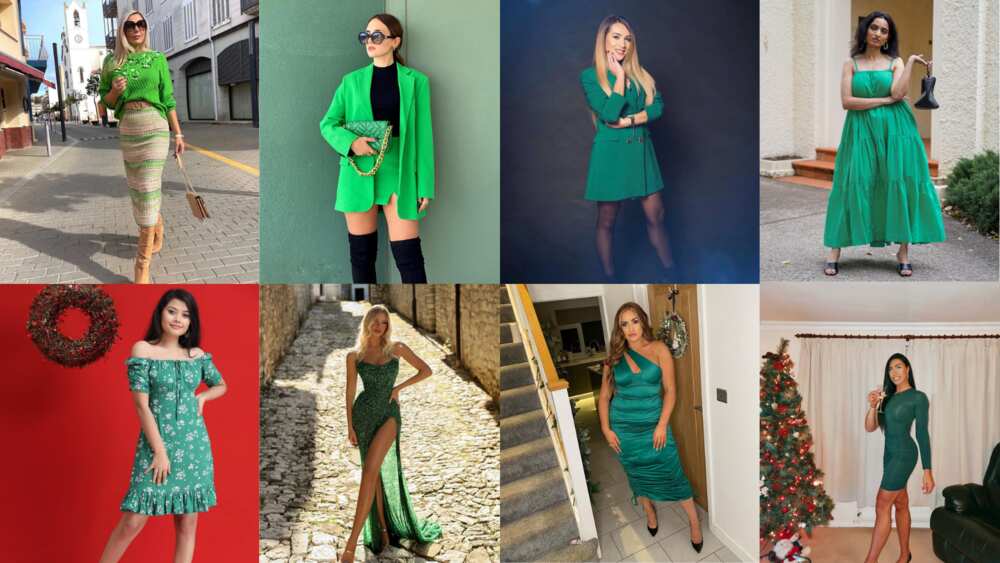 Choosing outfits that match your personality and style is sometimes challenging. Often, people end up buying what is trending or whatever fits them. However, you can define your unique style, especially if you love everything green, because there are numerous shades to play around with.
If you prefer skirts and dresses, you have such a wide array to choose from. You can wear a knitted or crocheted outfit for a casual weekend or function. A green crocheted sweater and a striped skirt are perfect for the weekend. However, ensure you wear this outfit in the correct weather as yarn can be overly warm.
You can also opt for a stylish skirt suit or long coat when you want to make a statement. You can pick a simple maxi dress or an off-shoulder short floral dress during summer.
A long green dress with a high slit is perfect for a wedding. However, if you are more conservative, try a one without the slit and with a halter neck. A green bodycon style dress is a must-have for any woman because it can be worn to formal and informal events.
Inspiration for suits, pants, and shorts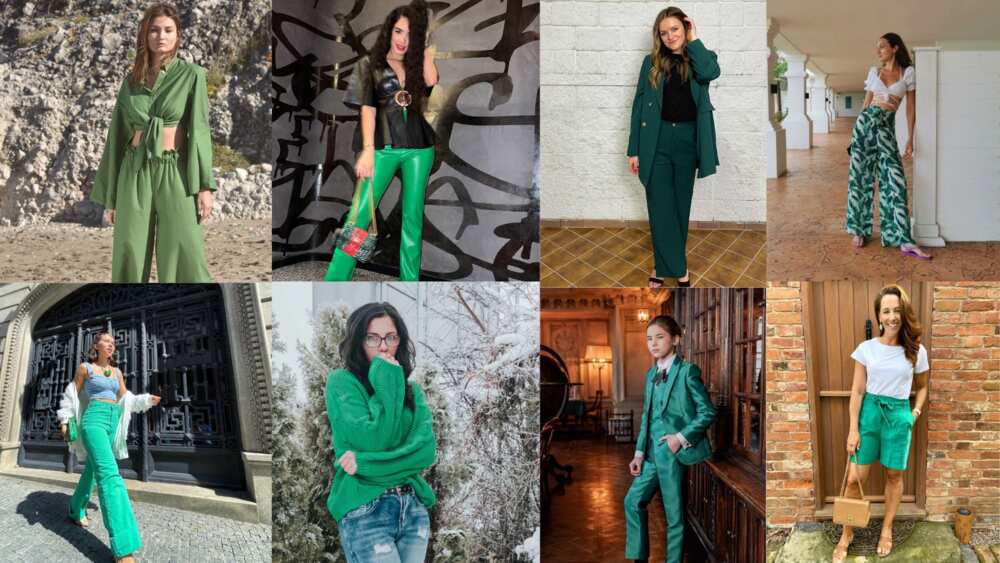 Pantsuits and shorts are a must-have for every human being because they are versatile and easy to style. If your style is more casual, consider having a palazzo pantsuit. The top can be long and flowy to allow you to fold and tie in various designs for a unique look. You can also opt for floral palazzo pants, as they are ideal for the summer.
Did you know that leather pants will never run out of style? They are a must-have for bold people. Instead of having a black pair, try a green one. You can also own a pair of denim pants in this color for a unique look. A pair of shorts is also great, especially when it is hot and sunny.
For persons whose style is more formal, having a three-piece suit is a must for those formal dinners. Adding a black bowtie to the suit will make you look sharp and ready to conquer any battle. If the three-piece suit is not your style, try a two-piece one.
Bedroom decor ideas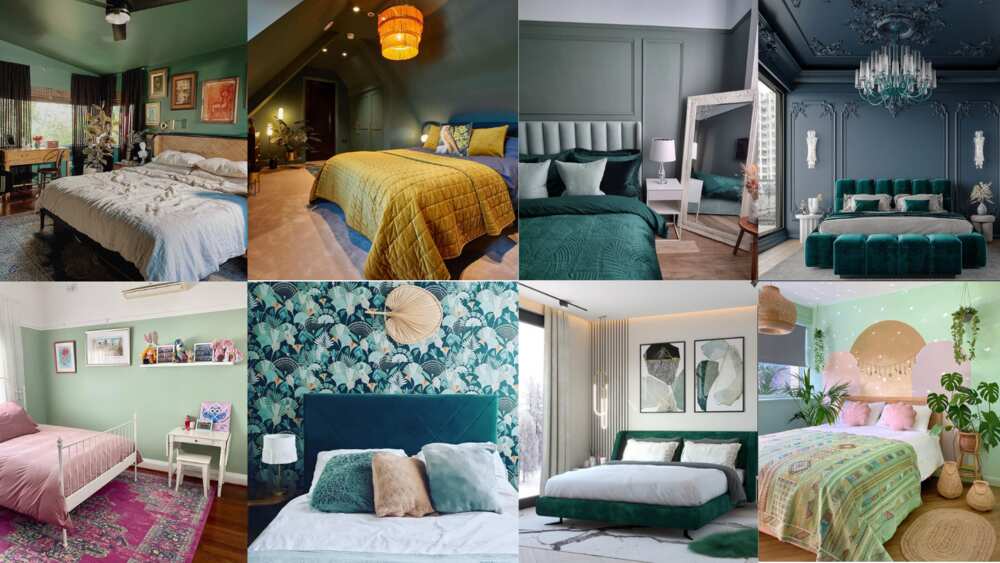 A bedroom is a personal space for most people. Although it is mainly used for relaxing and sleeping, it should be designed and decorated to meet personal preferences and desires.
Many people incorporate pastel green aesthetic walls in their bedrooms because they are cool and easy to blend with other colors. For example, these walls go well with pink bedding and pink rugs for girls' bedrooms. For boys, the walls can be blended with blue or gray bedding.
Adults or older children may prefer darker walls. If these are too bold, one may opt for a green headboard for their bed or install wallpaper on one wall. Using faux or real plants as decor is also a fantastic idea.
There are endless decor possibilities, including pinning murals, paintings, or pictures on the walls. For example, if you are a fan of Harry Potter, you can have a framed Slytherin picture to show you are ambitious, shrewd, and achievement-oriented.
Kitchen decor ideas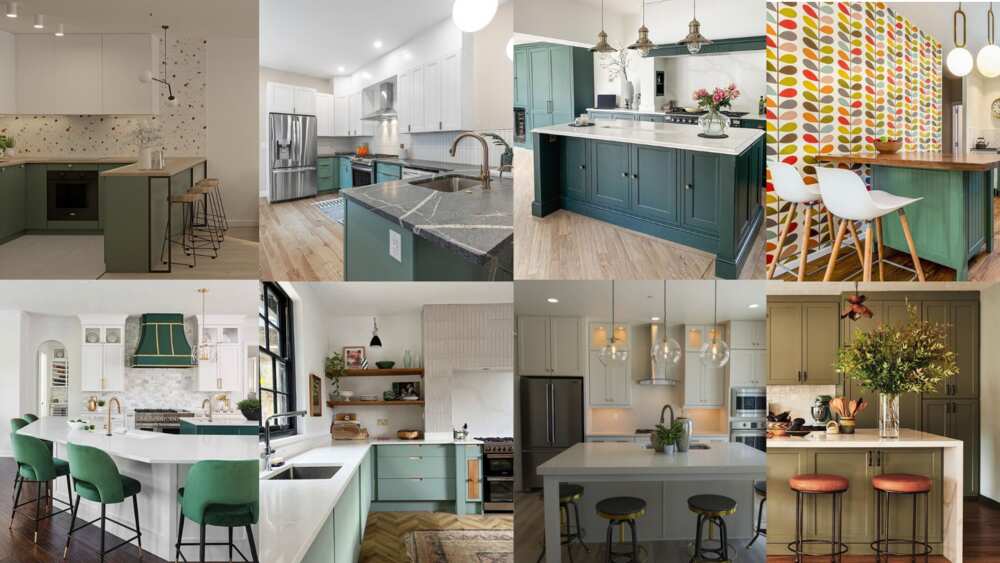 A kitchen is a special place in most households because it is used for preparing meals, catching up with loved ones, and even storing food. It is the heart of most homes, so it should be designed and decorated to offer peace, joy, love, and happiness.
A home without a kitchen would likely feel empty and confused. A good kitchen has all the required appliances and food items. It should also be well decorated to motivate you to go and prepare a meal for yourself or your loved ones.
One way to add green aesthetic features is by having cupboards in this color. You can also have terrazzo-style wallpaper. If you prefer the normal neutral colors, you can go ahead and use them. However, you can break the monotony by having green chairs for your dining area or kitchen island.
Living room decor ideas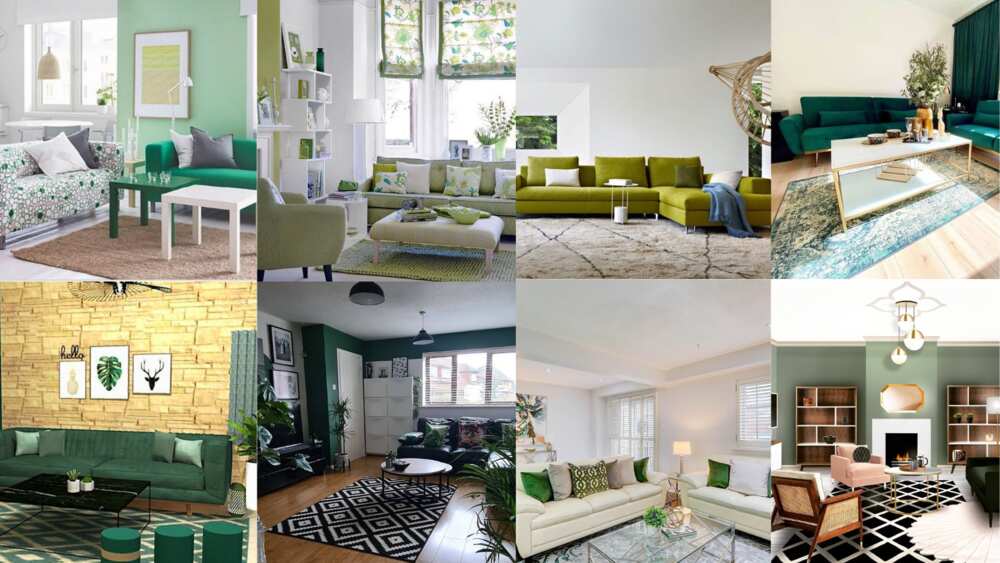 An ideal living room is airy and well-ventilated, has ergonomic interiors, and is well decorated to meet your style and preferences. Gone are the days when all-white or neutral-colored living rooms were the norm.
Today, people are breaking the monotony of neutral colors by using what they feel matches their style. If you are a nature lover, you can incorporate your favorite color in your living room.
One way of doing this would be having your seats upholstered in this color. If a solid green color is too bold for you, try upholstering the sofas with a patterned or floral fabric.
Alternatively, you can break the neutral theme in your house using green-colored throw pillows and blankets. If neither of these options, add several real or faux plants in your living room.
Green is a vibrant color that symbolizes oneness with nature. We hope that the green aesthetic ideas for hair, makeup, outfits, and rooms inspire you to incorporate this color into your life.
READ ALSO: 70+ purple aesthetic ideas for hair, makeup, outfits, room decor
Legit.ng recently published 70+ purple aesthetic ideas for hair, makeup, outfits, and room decor. Purple symbolizes royalty, good health, and riches.
If you love the color but are not sure how to incorporate more of it in your life, check out the amazing ideas presented. Remember, you can use your creativity to alter the ideas given and come up with something unique.
Source: Legit.ng