70+ pink aesthetic ideas for hair, makeup, outfits, room decor
Pink is a universal colour that symbolizes love for oneself and others. It represents friendship, affection, and inner peace. Additionally, it is believed that pink is the sweet and calm side of red. Incorporating this colour into your everyday look and living space is something you should consider because you will never go wrong with pink aesthetic features, decor, outfits, and makeup.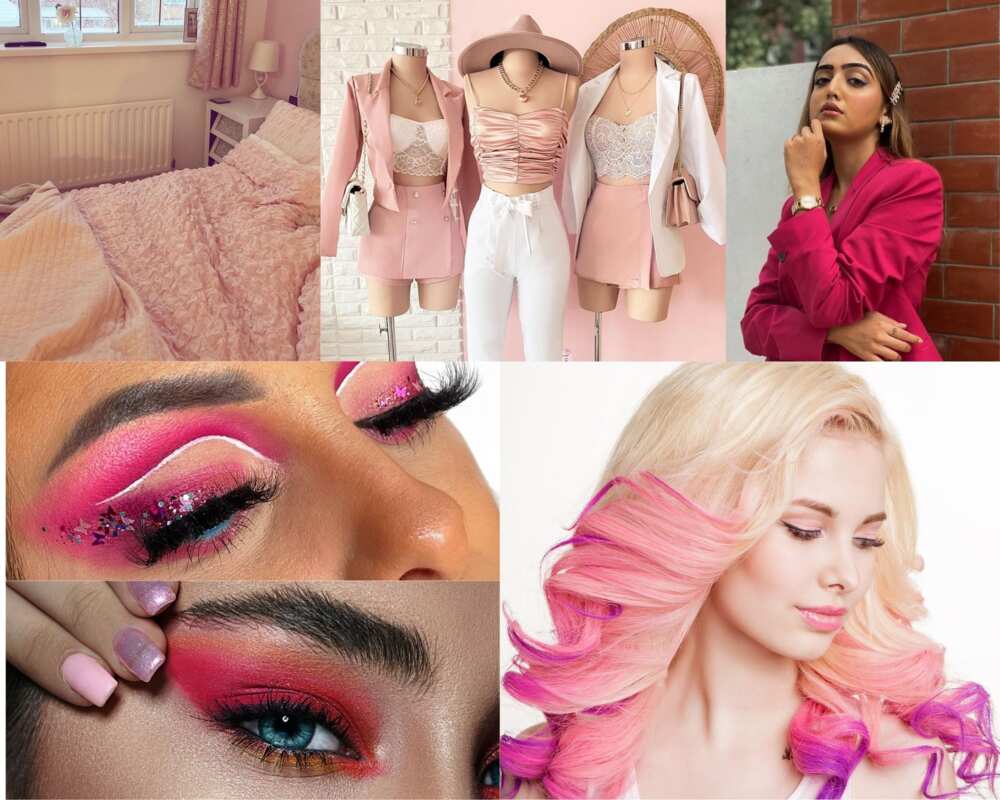 There are countless shades of pink that you can incorporate in your home or workspace decor, hair, makeup, and even outfits. Well, how can you achieve this? We have listed and compiled ideas into the best pink Tumblr aesthetic, ranging from wallpapers to outfits and makeup.
Pink aesthetic ideas for hair, makeup, outfits, room decor
Check out these must-try pink aesthetic ideas if you are a lover of pink all the way.
Cool pink hairstyles inspiration
In these recent years, lace wigs have become popular because of their affordability, comfortability, and ease to wear and style. Additionally, they are designed in such a way that they can be dyed with almost every colour combination. For those who love to go extra and bold, you can blend pink, purple, red, orange, and yellow.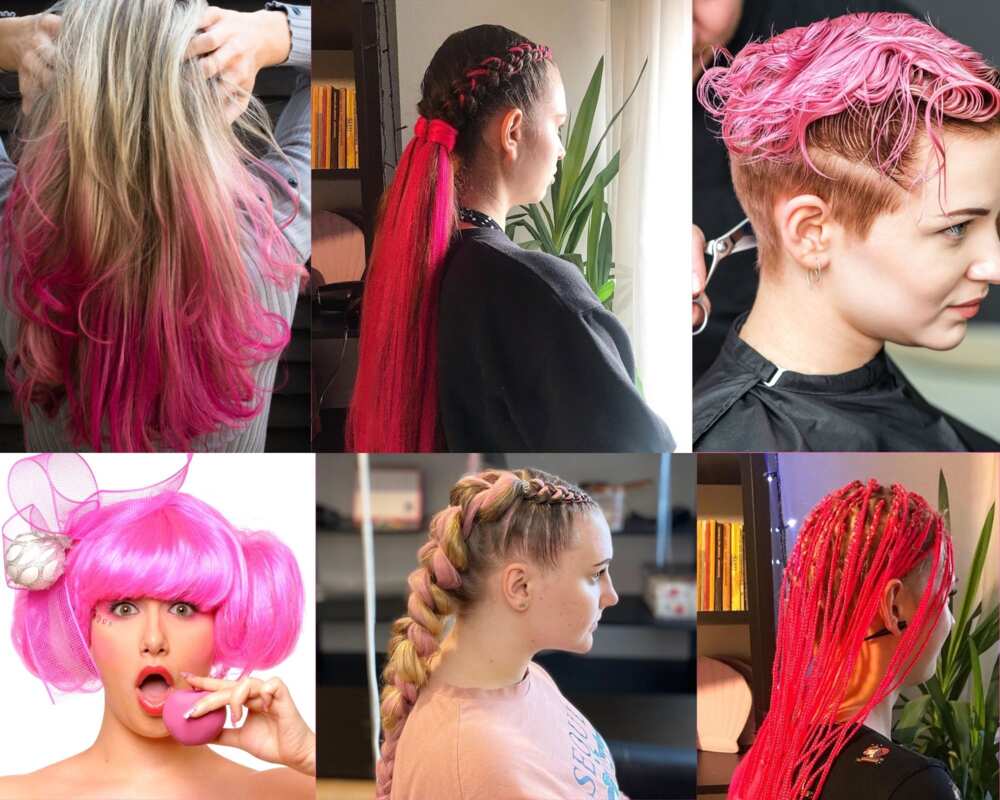 There are calmer shades such as baby pink aesthetic and light pink. If you love these soft pink shades but are hesitant to dye the entire head, you can dye the ends or sides. The result will be a fantastic toned down look that you will be fascinated with.
Aside from the wigs, you can choose to go bad girl aesthetic and do the trim. However, this requires a daring yet artistic person to have this kind of look. Yes, black braids have been on-trend in the fashion industry for quite some time. However, recently, there have been other brighter colours that people are opting for.
For instance, you are rocking in pink braids or cornrows. Alternatively, you can decide on the half n' half style, of course, if you are a daring or artistic person. However, this style is not official, especially to those with office jobs, as it is casual and so conspicuous.
Another perfect option is the pastel pink shade. Its soft and pale nature is ideal for modern women, especially those who are somewhat outgoing. But, of course, you can always spice it up depending on your mood and season.
Options are way too many. Have you heard of bangs? Yes, the fringe of haircut straight across the forehead. If you are looking for a total makeover or boujee aesthetic, or perhaps you want to look younger, then pink bangs are what you need. This kind of look results in a complete transformation.
Pink must-try hairstyles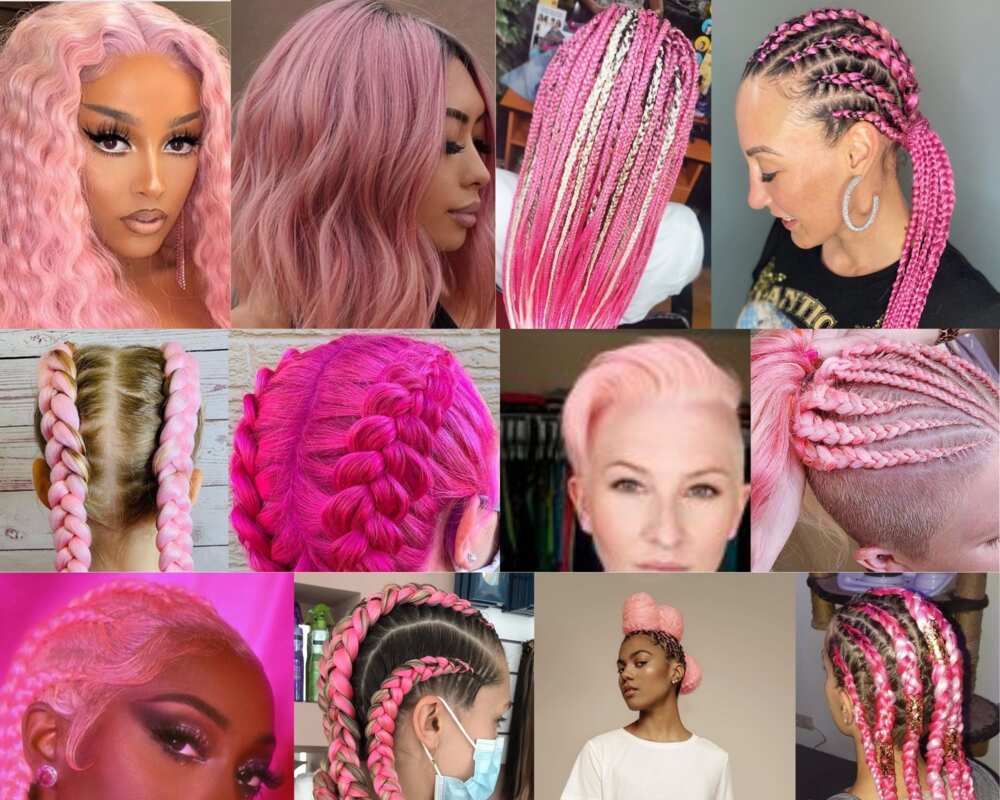 Time and again, people often do many braids on their hair. However, having one big pink braid done on your hair can also be a trendy look. What if your mane is short? Well, you can use hair extensions. If one giant braid does not fascinate you, you can opt for two or three braids. This style is excellent both for kids and young women.
You can have it dyed for those with long, thick, and curly hair, but if your natural hair cannot have the result you desire, you can opt for a pink curly weave, wig, or hair extensions. Interestingly, the short and curly look is versatile, for you can wear it to school or even the office.
This style is often classy and adorable, but that splash of pink makes it even more beautiful. Alternatively, you can choose to dye your hair pink and have cornrows done. Again, this look is natural, and you can spice it up by adding vintage pink beads mixed with white or any other shades of pink.
What about pigtails? Do you find pink pigtails fascinating? Although this hairstyle was often reserved for little girls, young women opt for this look today. It becomes even more impressive when you incorporate pink in the entire pigtail or at the ends.
Amazing makeup inspiration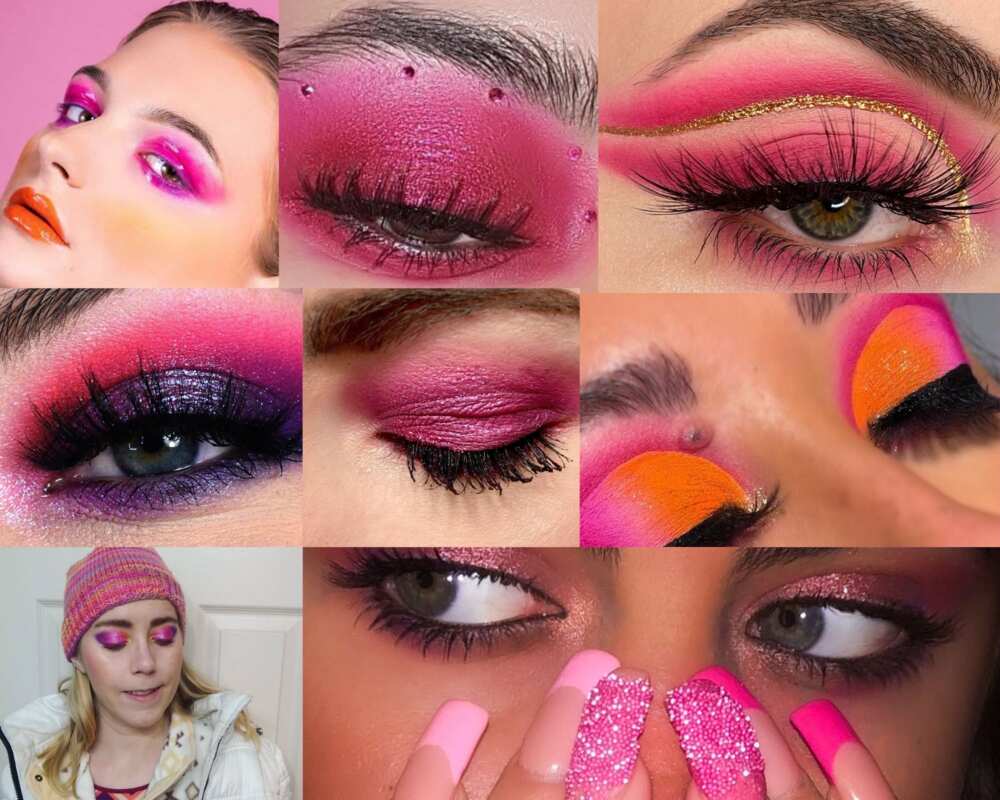 Are you that one person who is enthusiastic about eye makeup? A blend of different shades of pink is fascinating. Eye makeup is often audacious. Therefore, once you decide to go for that look, you ought to tone down the rest of the face. Perhaps pink is not your only favourite colour. If that is the case, you can blend your eye makeup with other bold colours of your choice. For instance, you can blend pastel pink with purple or red.
Take, for instance, using purple at the corners of your eyes and having pink take the better part of the eye. Additionally, you can use a baby pink aesthetic blush on your cheekbones and complete the look with a darker shade of matte or nude pink lipstick. Finally, for this look, you can spice it up with a pair of vintage pink jewellery.
Next-level makeup ideas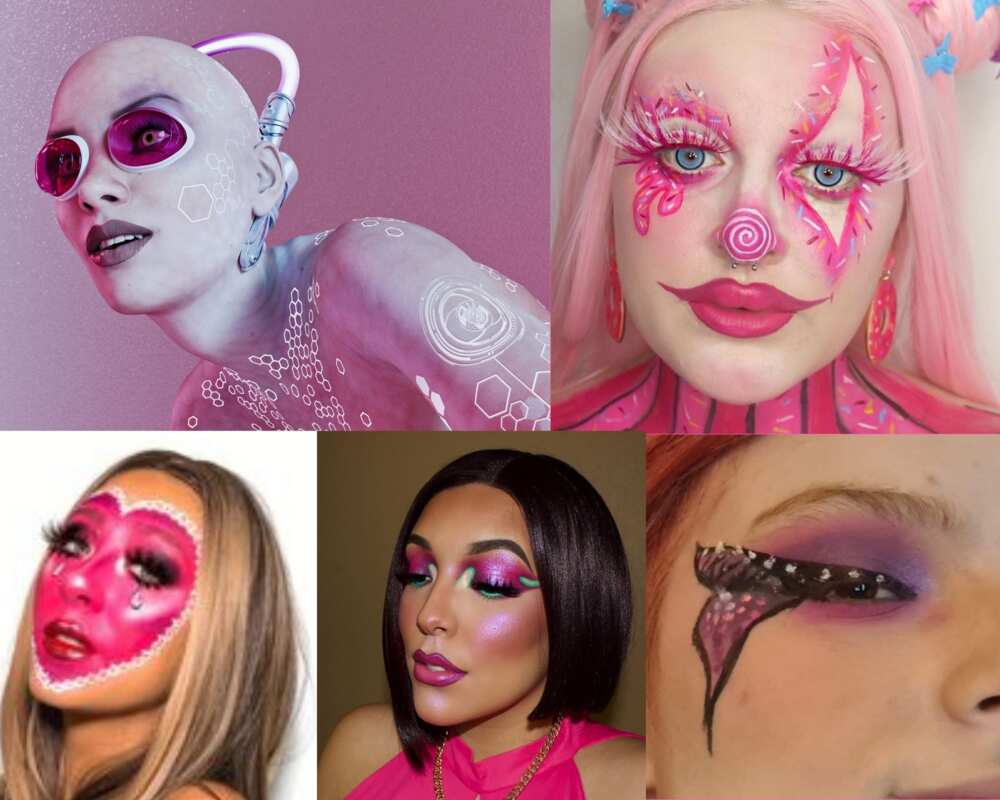 Did you know you can achieve a bad girl aesthetic look with the pink colour? A unicorn or a cat nose inspiration, for instance. This bold and shiny look is yet another fantastic choice of pink incorporation. If you want to go extra and achieve a 3-dimensional makeup look, you can choose any inspiration from animals to seasons, depending on your mood and enthusiasm.
Have you ever looked at any spring aesthetic trendy wallpaper and thought of actually achieving that look as makeup? Well, today, there are thousands of makeup artists who can go to that extreme to get your favourite soft wallpaper done on your face.
Anything can be a source of inspiration for your next look. Perhaps you are a lover of the spring season, and you want the flower aesthetic inspiration done on your face. Be sure with no doubt that you can achieve that look and so much more. This look is more suited for a themed kind of occasion such as Halloween, birthday parties and so forth.
Top pink outfit inspiration
Looking and feeling cute ignites fast cognition activity connected to emotions as well as pleasure. It is scientifically proven that one is generally happier when one looks good. Children and young adults often stand out in kawaii outfits. This includes sweatshirts, pants, knitted sweaters, dresses, and shoes.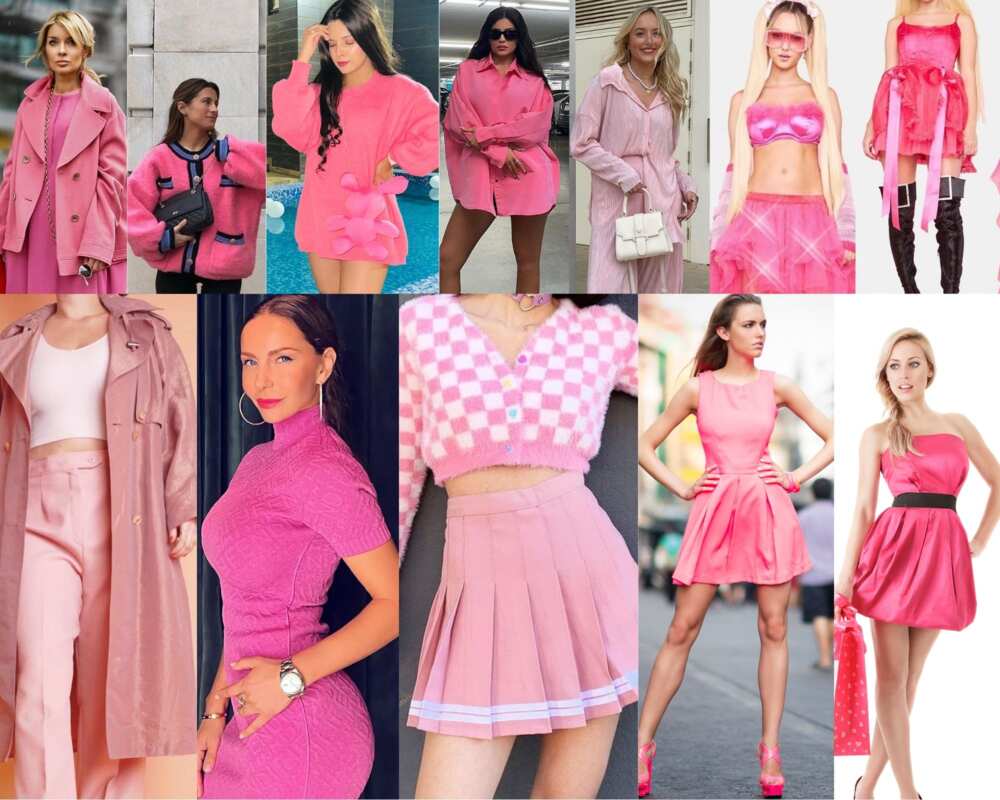 Pink also looks adorable in maxi bridesmaids gowns, short dresses, shirt dresses, tracksuits, sweat pants, hoodies, and so much more. Additionally, eras are changing, and brides are now opting for wedding gowns in pink shades.
Kawaii shoes
While most people love a bomb shoe game, you should look at kawaii sneakers, sandals, doll shoes, heels, boots, and so on. The flirty and cute anime print on them would complete your pink outfit.
kawaii clothes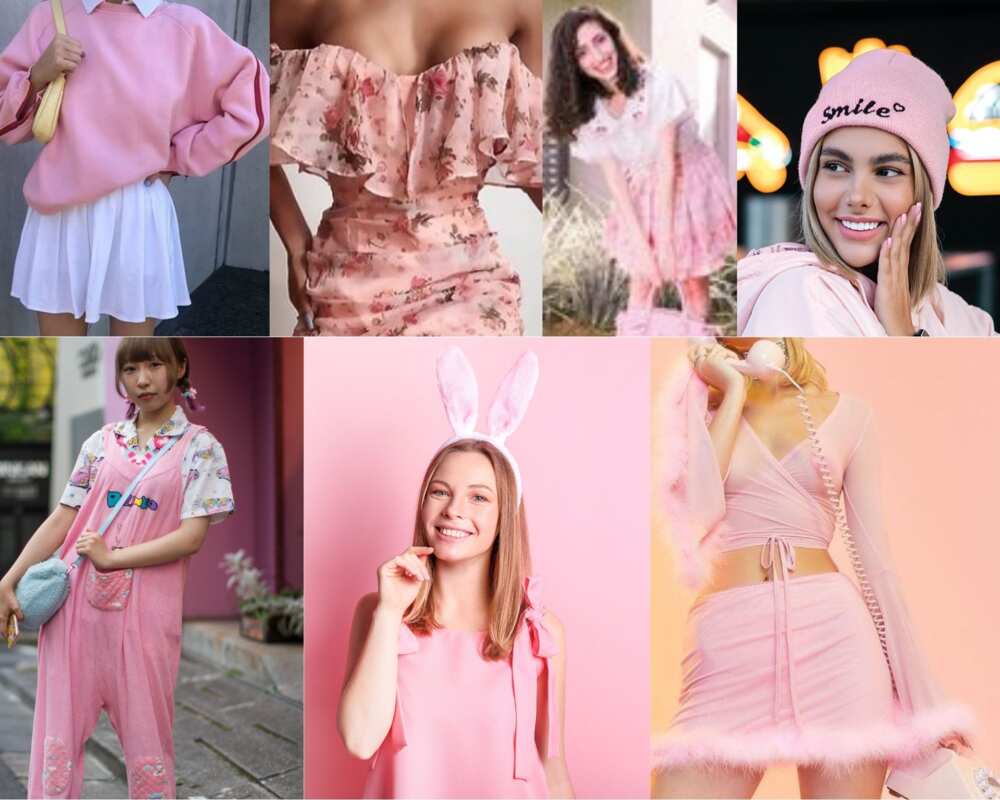 There is nothing more refreshing than standing out. Perhaps, you are in the mood to feel cute and flirty, straight up from your hair, makeup, and outfit of the day. You can opt for a kawaii Cinderella dress, single-breasted coats, shirt dresses, a pair of shorts, or even one oversized hoodie.
Did you know you can have your t-shirt or hoodie printed with your name or your favourite quote? Take, for instance, your favourite kawaii t-shirt printed out your name. Additionally, you can complete your look with a cute pink sling bag, purse, or handbag.
Room decor
Did you know you can achieve a calm yet amazing feel in your bedroom by incorporating pink into the interior part of the room and your bedding? You can choose vintage pink curtains, throw pillows and blankets, a bedside rug, and a console table.
Bedrooms are often a private space that should reflect one's personality. For example, if you love portraits and frames, you can create a bedroom wall collage consisting of your favourite items or quotes printed on them. You can achieve this decor by having pastel pink backgrounds or frames.
Alternatively, you can opt for a photo wall collage. This way, you can arrange an aesthetic collage of pink-framed photos and those of your family members and friends on your bedroom wall. Also, you can use a vintage pink mural on your bedroom wall.
Pink quotes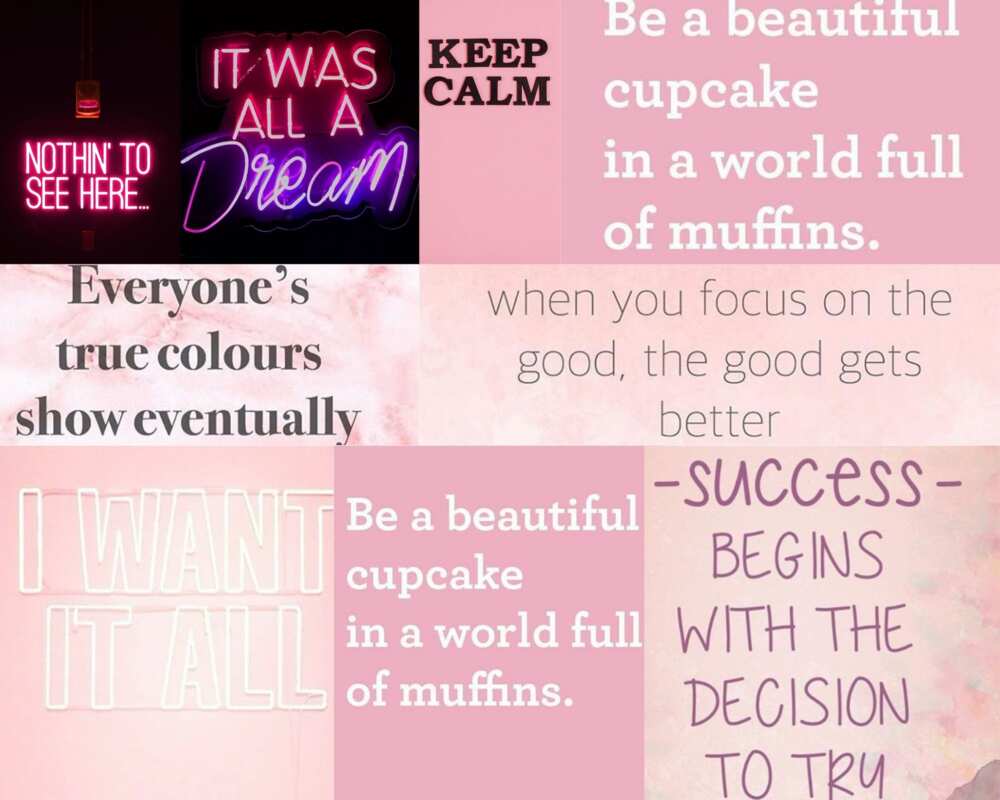 Generally, pink is thought to be a soothing colour that is associated with love, hospitality, kindness, and most significantly, it is regarded as feminine and girly. Additionally, it is thought to bring romance and Valentine's mood to mind as it is red's calm and sweet side.
If you are looking for girly, flirty, love, or romantic quotes, you will discover that they are often displayed on a pink background or rather written or printed in pink. You can choose to have these quotes printed on the back of your phone cover.
If you do not find plain quotes fascinating, you can always opt for neon quotes. For instance, you can have pink neon quotes on any part of your space, in that, when you dim your lights, you can be able to view your favourite inspirational quote on the wall.
Pink is a cute colour that is associated with warmness and love. We sure hope that the pink aesthetic ideas discussed above will help you add some colour to your bedroom, living room, dream house interior decor, and your day to day outfits.
READ ALSO: Black natural hairstyles for medium length hair
Legit.ng has recently published an article about black natural hairstyles. This is the most versatile length of hair, as you can try out different styles.
If you happen to have medium-length hair and wonder what to try out next to stand out, look no further. We have discussed several hairstyle ideas you can choose to wear as your next fantastic look.
Source: Legit.ng