70+ blue aesthetic ideas for hair, makeup, outfits, room décor
Blue is a colour that symbolizes calmness, wisdom, and stability. Aside from that, it also symbolizes trust and loyalty. It makes people stay calm and often expresses love, support, happiness, and excitement. Here are ways of incorporating blue aesthetic ideas for makeup, room décor, outfits, and hairstyles.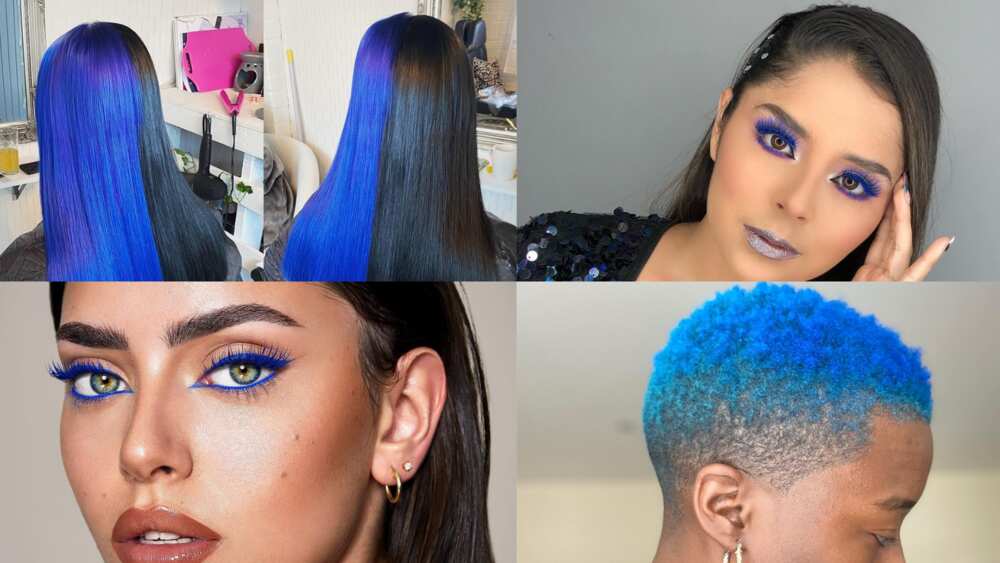 There are a variety of colours that can blend with this colour to give out a splendid look. Colours such as white, black, green, and purple can blend well to give an exciting outcome.
Blue aesthetic ideas for hair, makeup, outfits, room décor
Here are the best blue aesthetic ideas for makeup, hair, room décor, and outfits that you should try out.
Inspirational blue hairstyles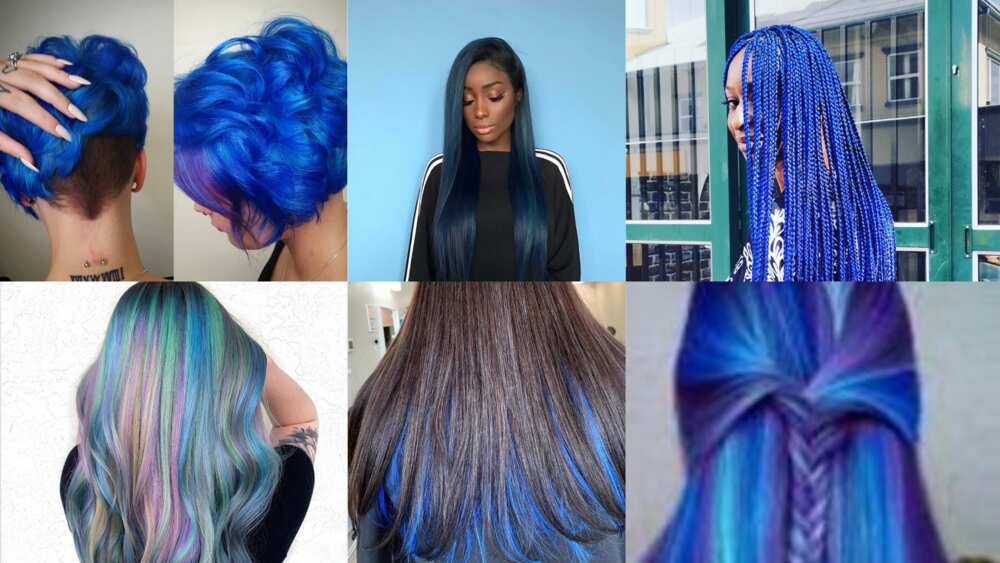 PAY ATTENTION: Install our latest app for Android, read best news on Nigeria's #1 news app
Several hairstyles styles will make your hair stand out, whether it is long or short hair. For instance, a light blue box cut can suit short hair. It makes your hair stand out and brightens up your look.
Blue wigs also give out an aesthetic hair look. They are easy to style and put on. Wigs have become the most common hairstyle, especially for celebrities, because they give a good sense of fashion and comfort. Moreover, it is easy to dye them any colour of your choice.
If you love braids, you should think of how stunning you will look if you try out this lovely colour. What does blue braids symbolize? This style of braids symbolizes trustworthiness, reliability, and conservative people. The most exciting thing about them is that it is a style for both adults and children.
Another way to make your hair look beautiful is by blending aqua blue, purple, and pink. This is a must-try hairstyle for ladies. It is perfect for trimmed hair.
You can also have light blue aesthetic hair by dyeing the ends. You can do this if you are not a fan of dying the entire head.
If you have long hair and want a desirable look, pastel blue will help you achieve that. You can dye the entire head, or the tip ends. Either way, it will give you a look you desire and make you feel confident about yourself.
Must-try hairstyles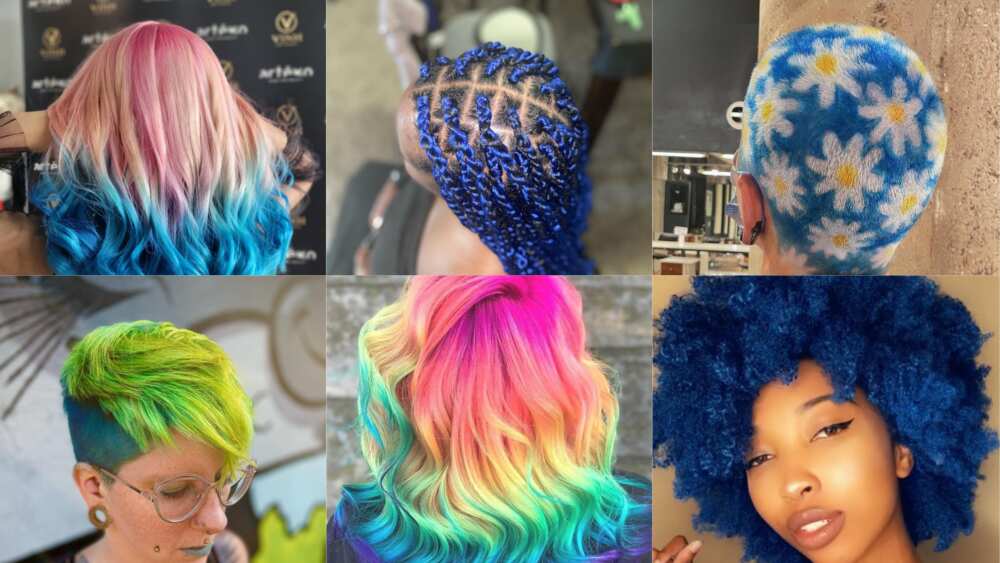 If you have a pink wig and want to make it look a little stylish, you can dye the ends using a blue dye. This combination of dyes gives a stunning look.
Twisted braids is another hairstyle of this colour you might consider trying out. It is a trending hairstyle today. These types of braids are preferable because you can style them anyhow you like.
You can create patterns on your head using a blue, white, and yellow dye, especially for short hair. You can create patterns like flowers to have a unique look.
A yellow pixie cut with blue dye on the sides is another hairstyle you should try if you love short hair.
You can blend more than three colours and still have a perfect hair look. For instance, you can try yellow, pink, blue, purple, and green dyes for long hair.
Curly natural hair looks fantastic, especially when dyed blue. You can have such a hairstyle by first dying the hair then having it curled afterwards.
Cute blue hairstyles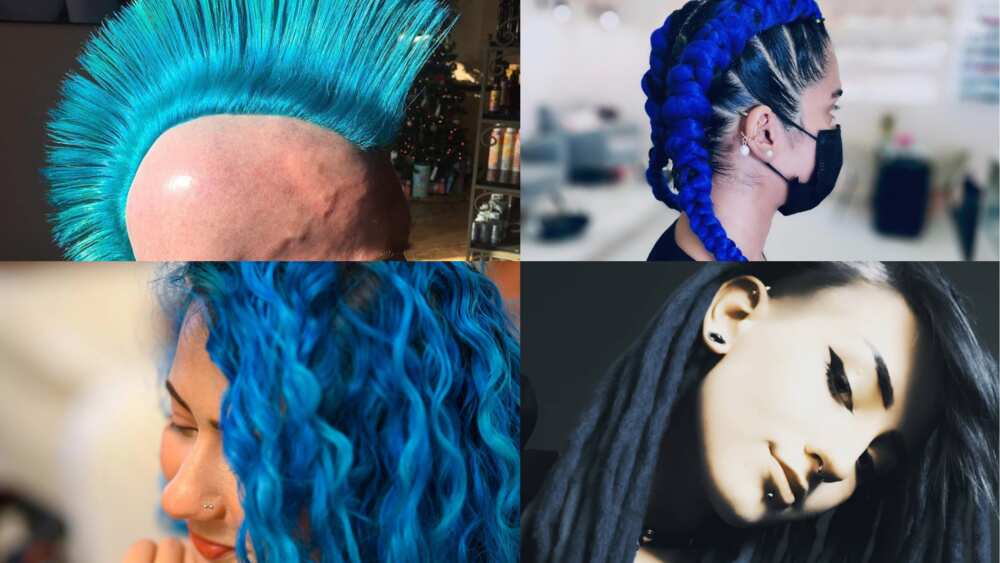 To feel more confident and unique, you can consider a hairstyle like Mohawk. Colour celeste and shades of blue will give out a splendid look for Mohawk.
You can also try out giant cornrows. Two giant cornrows with a little bit of deep blue dye, especially on the front of your head, gives a great look. They can be worn by both children and adults depending on your taste or style.
To achieve a curly hair look, you can dye your hair new blue and then have it curled. With such a fantastic hairstyle, people's eyes will pop out whenever they see you pass by.
Blue dreadlocks have been trending for a while now. You can dye the entire head or the ends to achieve your desired look.
Breathtaking makeup looks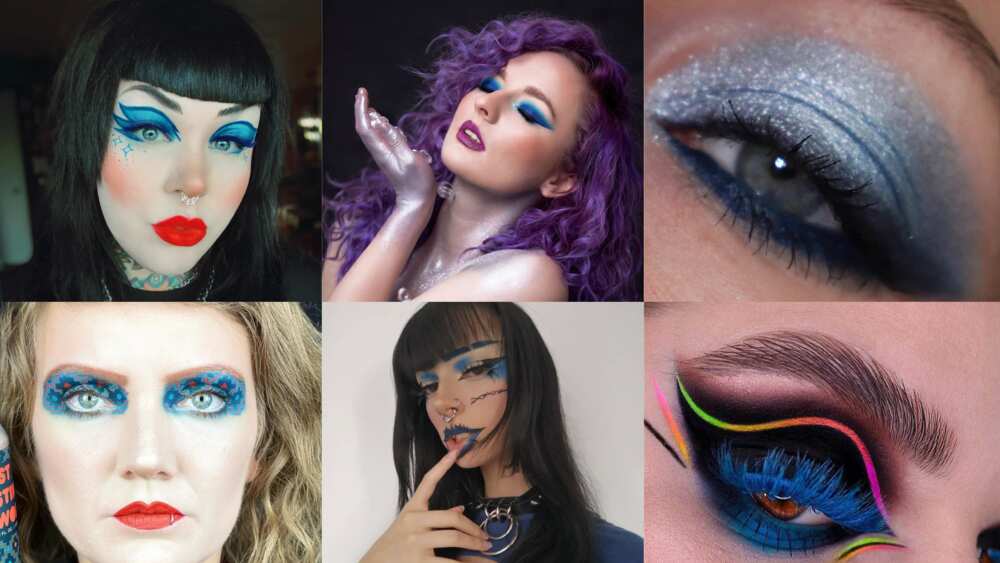 There are different shapes of eyes. Whether yours is monolid, hooded, round, or downturned, they all look beautiful. Here are blue aesthetic ideas to consider when doing your makeup.
You can have aqua blue eye makeup look by using black eyeliner and turquoise eyeshadow. To ultimately achieve this elegant look, use white gel eyeliner for the waterline.
For the calm ocean look, you need cobalt blue and black eyeliners. You can blend blueberry blue, white, and burnt orange eyeshadows. For the waterline, use white eyeliners.
You can also incorporate a dark blue aesthetic in your makeup by blending light blue and black eyeshadow. Use a black shadow as a base, and then use any blue at the top.
Today with the advanced makeup industry, makeup artists can create any pattern on your faces, such as stars, wings, spider webs, and flowers.
Blue aesthetic grunge is standard for laptop wallpapers. The idea, however, can also be incorporated into makeup. In addition, it depicts an 'untidy' look and is commonly used in music aesthetics.
Stunning make up looks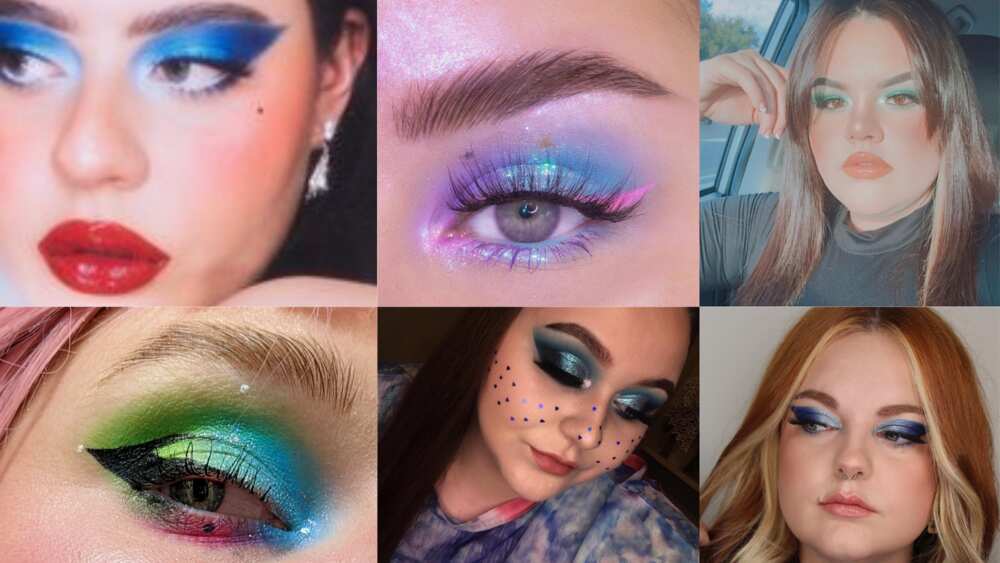 For a simple eyeshadow look, you can apply blue on the lashlines and extend it to the outer corner of the eye.
Applying a light blue eyeshadow with other colours such as pink looks beautiful. To attract attention to your eyes, you can place colours right in the center of your lid.
For a colourful eye look, you can use one eyeshadow. Applying blue shadow on the eyelid and using the same colour underneath the eyes brings a nice balance.
Mixing blue colours with other colours such as black, green and pink will create a perfect eyeshadow look. Applying blue as the dominant colour will make your eyes more attractive.
If you want to wear something with glitters, blue eyeshadow with metallic shimmer and sparkle is ideal for such an outfit.
Fabulous outfit ideas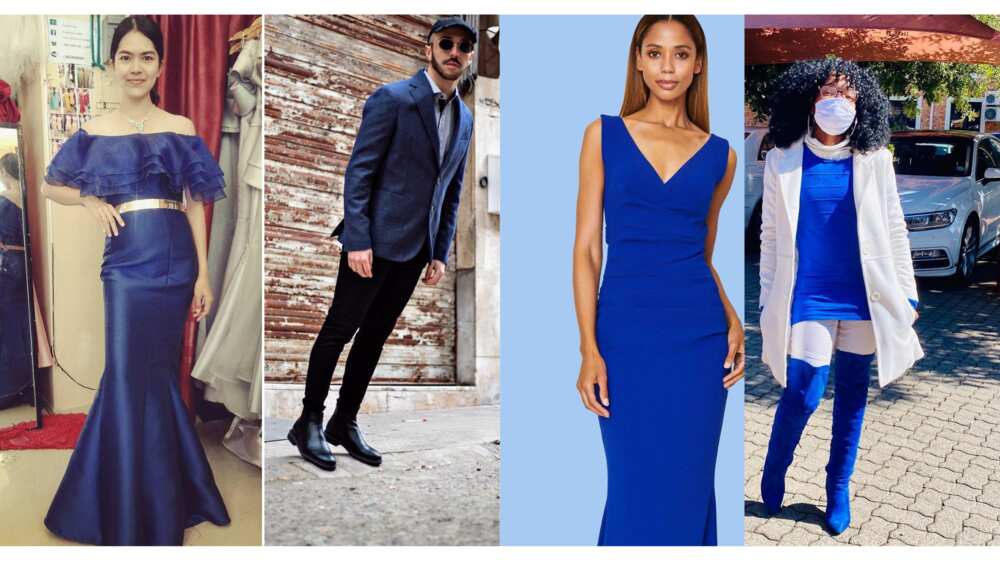 What do your clothes say about your psychology? Researchers have proven that a particular way of dressing can affect how people interact with each other. They determine our attitude, mood, behaviour, personality, and confidence. Therefore choosing something nice to wear is essential as it uplifts ones self-esteem and confidence.
Midnight blue outfits look fabulous in women and young children. It is a suitable outfit for evening dates and cocktail parties. Additionally, you can wear it to formal events.
Men look gorgeous in navy blue with black outfits. The combination gives out a perfect look, and men should always have the combo in their wardrobe.
Royal blue outfits such as dresses, sweaters, and sweatpants make one look elegant. It also makes you look energetic and cheerful as you interact with the people around you. You can wear these outfits to parties and weddings.
If you love brightly coloured outfits, then you will consider a white and royal blue combo outfit. A white shirt and a high-waisted royal blue midi skirt will give you a stunning look you will never forget. To make the outfit more elegant, wear silver heels and a Black belt.
Cute blue outfits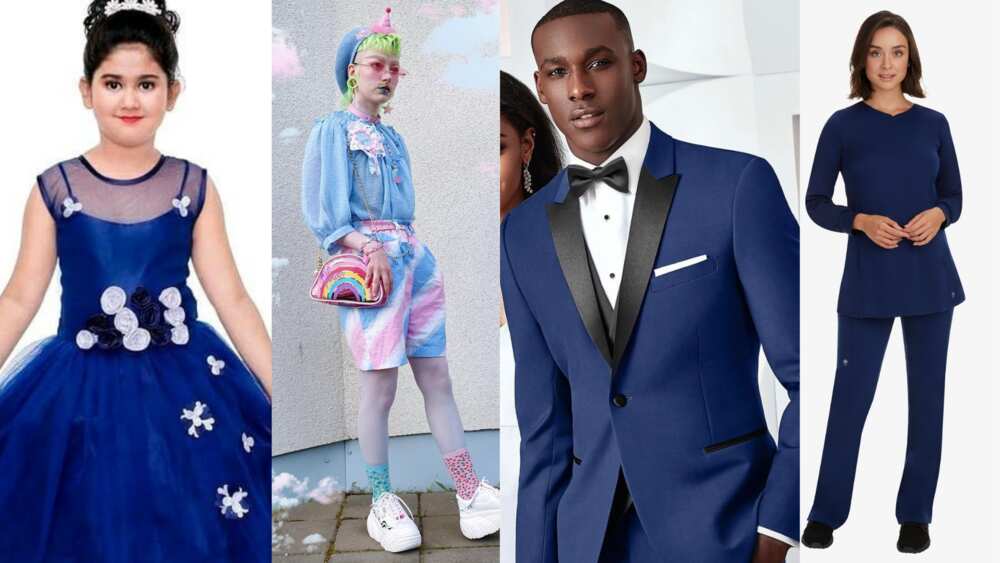 When choosing what colour of outfits for children during weddings can be such a headache sometimes. Have you ever tried out Blue-violet dresses for flower girls? They are the most beautiful outfits to consider on occasions such as weddings.
There are several colours that match with blue. For instance, Light blue outfits look gorgeous with shades of pink and yellow. Wearing such an outfit will boost your confidence.
In most cases, men want to wear black suits during weddings but what they do not know is that blue is the new black today. Navy blue is the best aesthetic idea for wedding suits.
Women also look stunning in navy blue outfits. The exciting thing about navy blue outfits is that you can wear them with anything. To complete the outfit, wear a black pair of heels.
Stylish outfit ideas
An outfit of blue, grey, and brown combination looks amazing. For instance, try a wool coat of this colour with a grey short and brown top.
If you are going on a date, you can wear a navy blue jumpsuit with black pair of heels. This is such a super cute combination for ladies.
The Blue and black combination is another trending fashion for ladies. You can make the outfit look more breathtaking by wearing a blue pair of trousers, a blouse and a trench coat of this amazing colour.
Another combination of this colour with red will result in a gorgeous outfit. This combo can be worn mostly at weddings.
Top living room décor ideas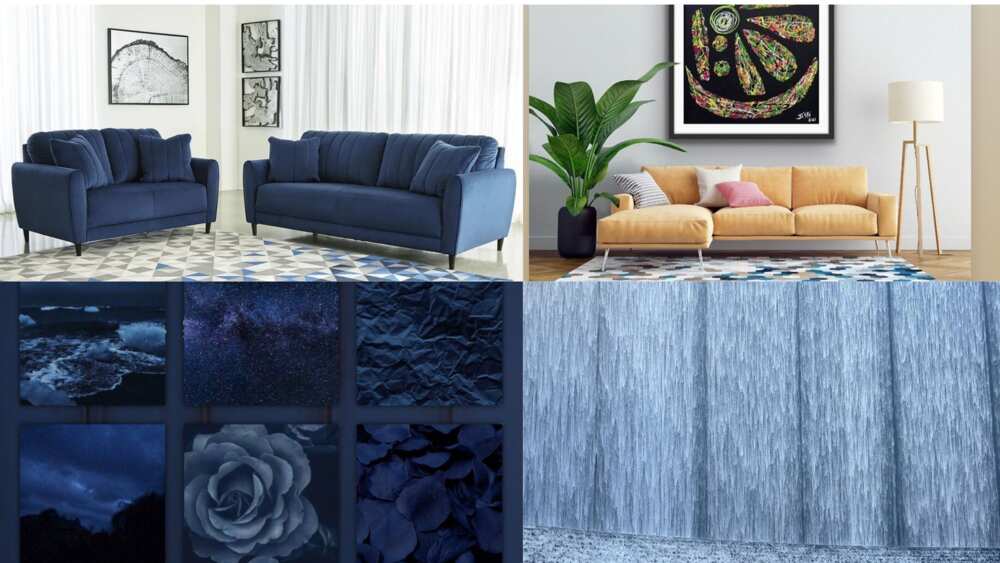 What does the colour blue symbolize in a home? It indicates a fresh start and growth. Incorporating it at your home creates aesthetic backgrounds. It does not only make the surroundings look beautiful but also enables you to relax and stay calm.
Consider aquamarine cushions and potteries. You can add a navy blue sofa leaned against a white wall and decorate the wall using blue pictures for a bright look.
Pastel blue painted walls enable a relaxing feeling. Likewise, yellow and pink shades of furniture will make your living room shine with beauty.
If you have a large wall in your living room, you can fill the space using an aesthetic collage. Navy blue collage looks elegant in a room and carries a sense of power, confidence, and authority.
You can achieve a calm feeling in your room by having water aesthetic walls. In addition, blue-green furniture can make the space more elegant with such a colour.
Elegant living room decor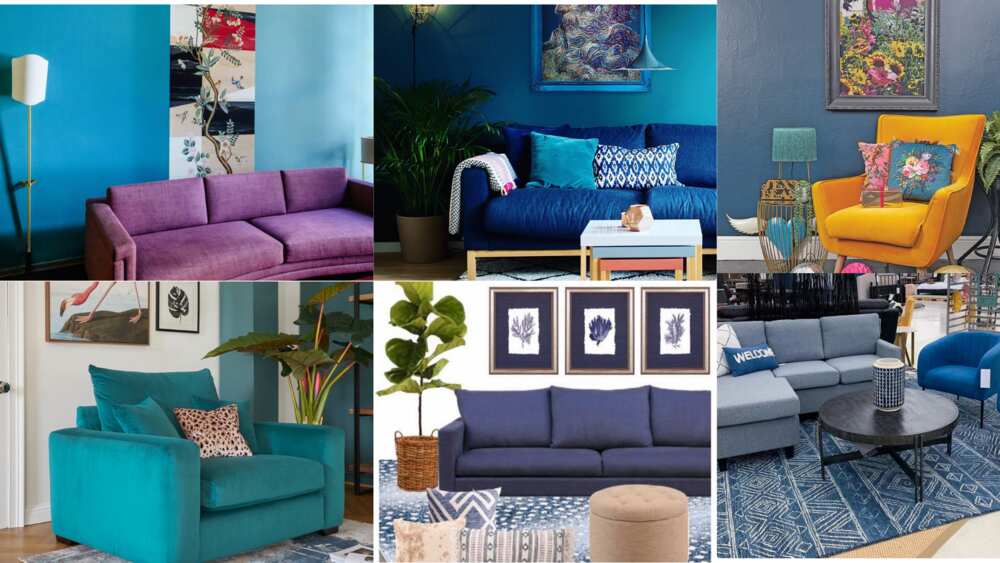 A purple sofa leaning against a blue painted wall with white decorated pictures looks beautiful in a living room. This will appear more elegant with a white lamp.
A light blue wall for living rooms can create the most relaxed feeling, especially when incorporated with other colours such as white and other shades of blue.
You can also incorporate blue in your living room to have a perfect look by having a yellow sofa and pink cushions.
A navy blue sofa in a white-painted room creates a more relaxed feeling. In addition, you can make the room more appealing by adding navy blue pictures on the wall.
Irresistible blue kitchen decor ideas
The kitchen is considered the heart of any home. This is because it is where meals are made. Therefore it is crucial to make sure that your kitchen looks elegant by incorporating different shades of blue.
One can make use of this colour in kitchen cabinets, dishes, and cutlery. By doing this, it enables the area to be more engaging as you prepare your meals.
Having an azure backsplash in the kitchen is another way of using blue to give a beautiful background.
Gorgeous kitchen decor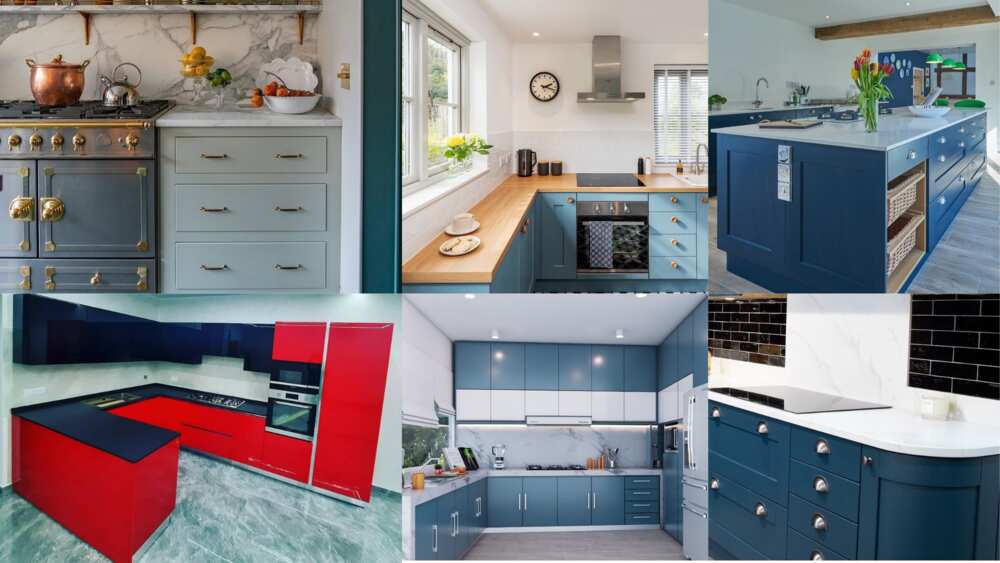 To have a well-decorated kitchen, you can have blue painted walls and a cabinet with gold accents.
You can also have an all-white kitchen with a few blue elements. Black and white tiles will make the place more beautiful.
You can also have an all-blue kitchen if you do not want to add another colour. Purely blue kitchens are perfect.
Red and blue match well, especially in kitchen decor. You can paint the wall blue and have a red kitchen cabinet.
Bathroom décor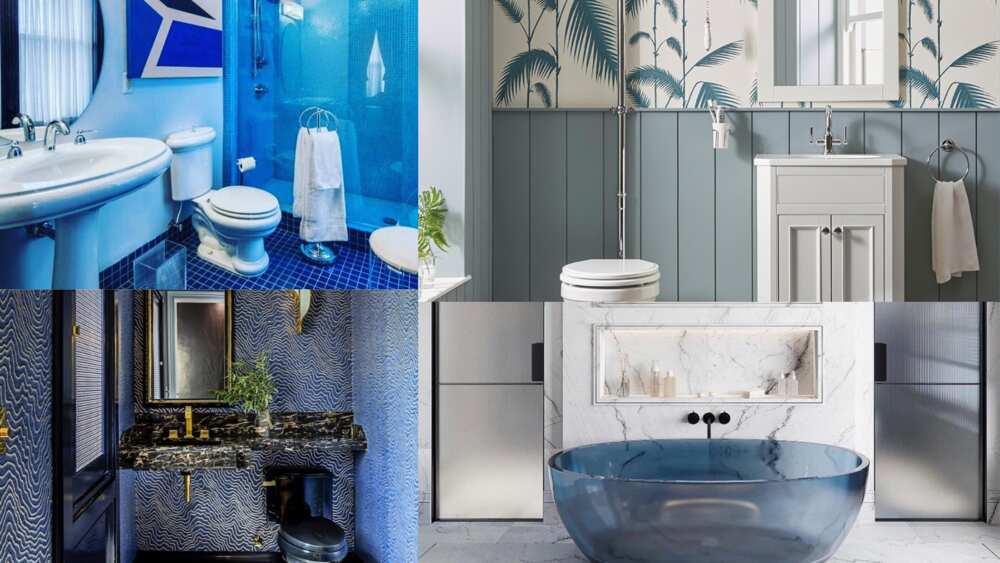 Shades of this colour are usually incorporated with white in bathrooms, especially for walls. You can paint periwinkle colour in the lower part of the wall and then brighten it up by filling the upper wall using white. White bathtubs will suit well on such walls.
A pale blue wall with an oversize silver mirror creates an elegant feeling. To create a tone of luxury, you can add silvertone fixtures.
For the most relaxing bathroom, you can choose a blue oval-shaped bathtub. A white painted wall will make the room gorgeous.
Bedroom ideas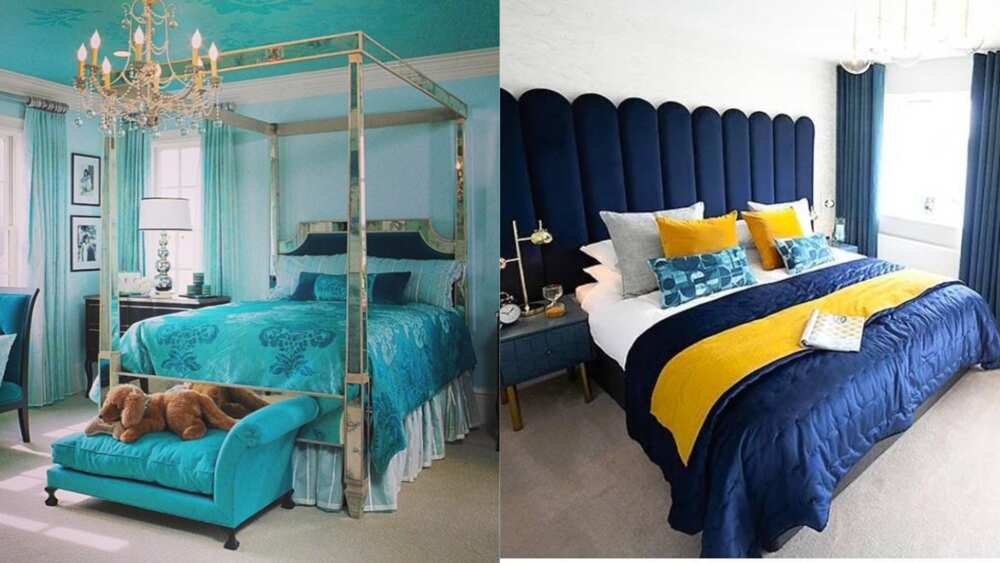 This colour offers the room a sense of calmness and comfort. Turquoise walls and ceiling for the bedroom create a cosy feeling. Blankets, pillows, and lampshades of this colour make a more appealing background.
Ravenclaw in bedrooms symbolizes intelligence. You can incorporate the colour for curtains and one side of the wall. The other sides of the wall can be filled with white. Ravenclaw blankets and white pillows will make the room attractive.
Brilliant blue bedroom decor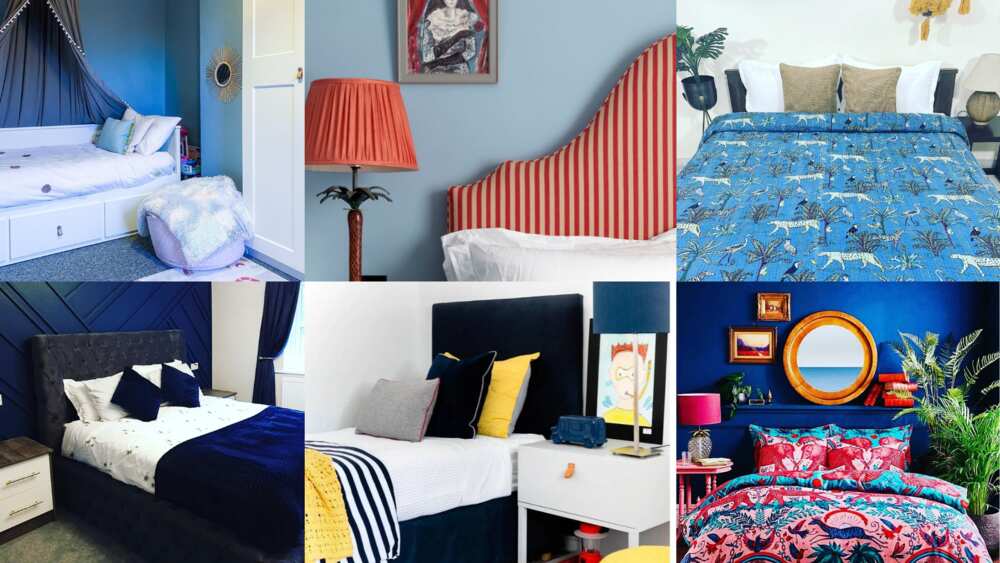 A blue-painted wall with white pillows, bedsheets, and one blue pillow will create an elegant look. You can add the flavour by having a dark blue floor.
Red is one of the colours that is known to blend well with blue. A red bed leaning against a blue wall looks perfect. You can make the room elegant by having an orange lamp and pictures on the wall.
Blue bedcovers, white and grey pillows, a white lamp, and a dark blue flower vase will make your nights more beautiful.
A blue bed will look more impressive if leaned against a blue wall. To make the room look attractive, you can have bedcovers and pillows of both white and blue. If you want to have curtains, blue ones will suit such a room.
The blue colour symbolizes essential things in life, such as wisdom, stability, and calmness. Hopefully, you have found the best blue aesthetic ideas for outfits, room decoration, and hairstyle to try at home.
READ ALSO:70+ purple aesthetic ideas for hair, makeup, outfits, room decor
Legit.ng recently published 70+ purple aesthetic ideas. Purple is a colour that symbolizes power and wealth. Incorporating it in your outfits, makeup, and interior designing of rooms is something you should consider.
There are several shades of purple, such as Dark violet and dark purple. Which one best suits hairstyles, outfits, and room decor? Find more about purple aesthetic ideas in the article.
Source: Legit.ng