70+ purple aesthetic ideas for hair, makeup, outfits, room decor
Purple is a colour that symbolizes wealth and power. It uplifts spirits, calms the mind and nerves, and creates feelings of spirituality. Adding this colour to your everyday look or living space is something you should consider doing because you will never go wrong with purple aesthetic features, makeup, decor and outfits.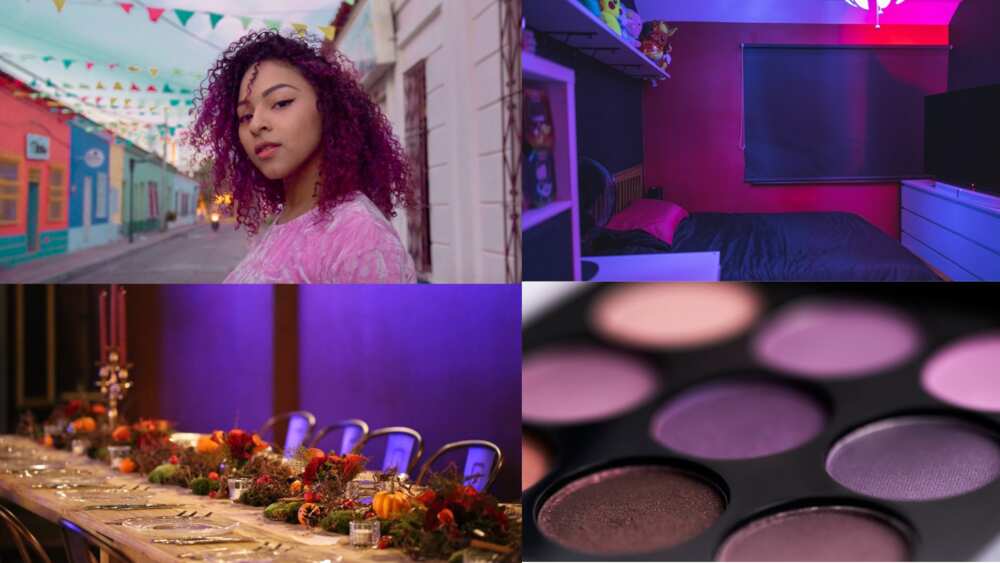 There are numerous shades of purple that you can incorporate in your home or office decor, outfits, and even hair and makeup. How can you do this? We have compiled the best purple aesthetic ideas for hair, makeup, outfits and room decor to help you with this.
Purple aesthetic ideas for hair, makeup, outfits, room decor
Check out these must-try ideas if you love all things purple.
Hairstyles inspiration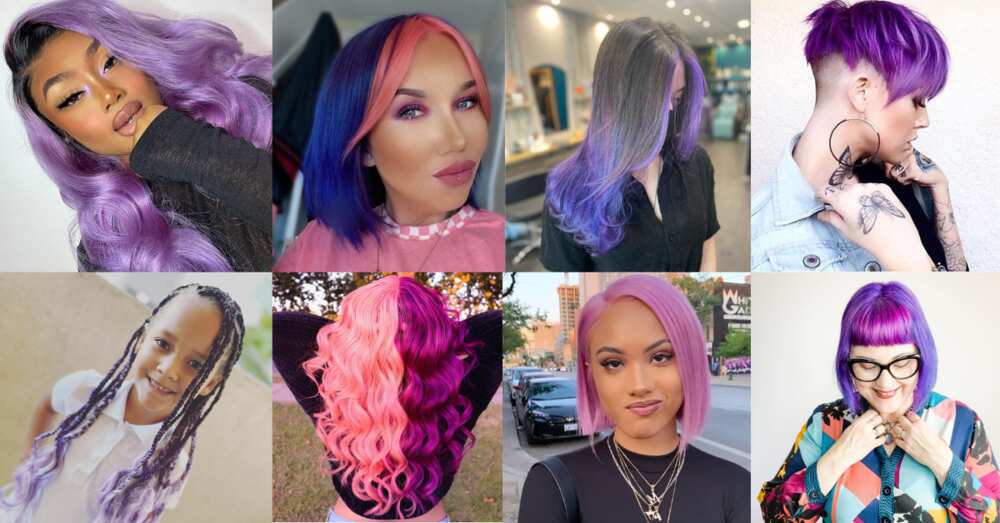 In recent years, lace wigs have become popular because they are easy to wear and style, comfortable, and versatile. You can dye your lace wig purple for a fantastic look.
Alternatively, you can blend pink, purple, and blue if you are a bold person. It is perfect for trimmed hair and goes well with the same colours of makeup.
If you love soft purple aesthetic hair but do not want to dye your entire head, dyeing the ends is a fantastic option. It will give you that toned down look you desire.
Another option is the pixie cut. A daring and artistic person can have this look to show their purple love.
Purple braids have been trending for a while now. They can be worn by both children and adults. You must be patient to get the cornrows done, especially if you have very long hair.
The half n' half style is best suited for an artistic person or one with no office job as it is quite showy and shouting.
Another great option is a lavender bob cut. The bob haircut and style never run out of fashion. You can always spice it up depending on the season or mood. Lavender aesthetic hair is ideal for the modern woman who is outgoing.
Similarly, bangs are timeless. Did you know that bangs make you look younger? This hairstyle transforms the face and is good for a makeover. Having purple bangs is a nice way of making your hair pop.
Must-try hairstyles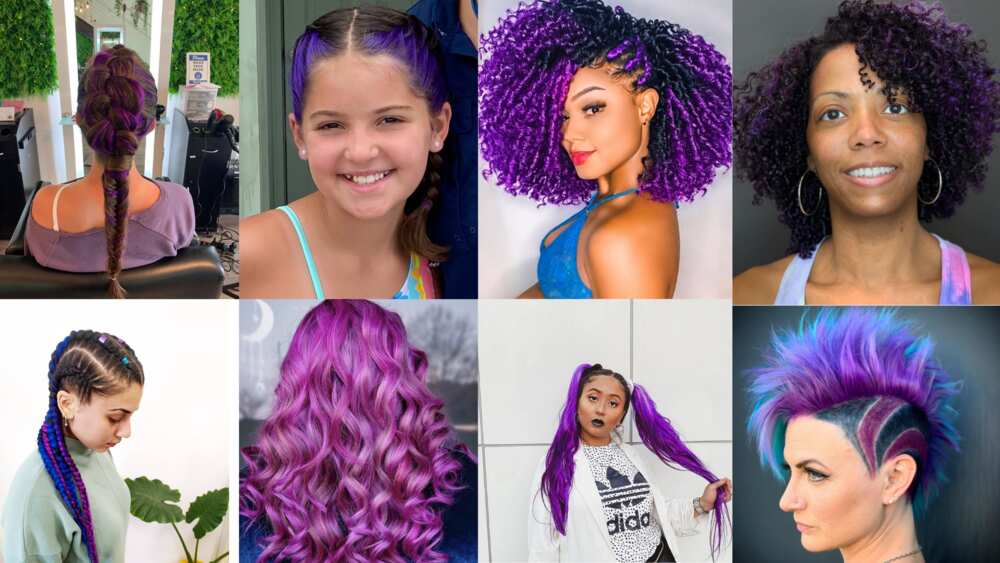 Usually, people have many braids done on their hair. However, you can also do just one giant braid, especially if you have long hair. If your mane is short, you can use hair extensions. You can spice up your giant braid with some purple dye.
If a single giant braid does not please you, you can try wearing two braids. These are great for kids and young women. Adding a bit of purple at the front makes the cornrows more appealing.
If you have long, thick curly hair, you can have it dyed then curled to achieve this look. If your natural hair cannot achieve this result, do not shy away from using a curly purple weave or hair extensions.
On the other hand, the short and curly look is versatile. It can be worn to the office, school, or another place. The short curls are classy and beautiful, but the hint of purple makes them even more amazing.
Feed-in braids are very neat and attractive, especially if done in purple. In the feed-in method, the hairstylist increasingly adds thick pieces of hair as the cornrow is created. Usually, a starter braid is created with your natural hair, and then synthetic braiding hair is added to create a long cornrow that still looks natural.
Another great option is the long and wavy style. Having a purple wavy mane is cute and bold. This hairstyle is perfect for a woman who is not shy of expressing her bold and sassy side.
You can also choose to wear purple pigtails. In the past, pigtails were reserved for little girls. Today, anyone can wear them. Instead of the ordinary pigtails, why not try purple-coloured ones? This hairstyle will bring out your outgoing and playful side.
The mohawk cut is another style that is unlikely to go out of style. You can make yours unique by mixing different shades of purple.
Amazing makeup looks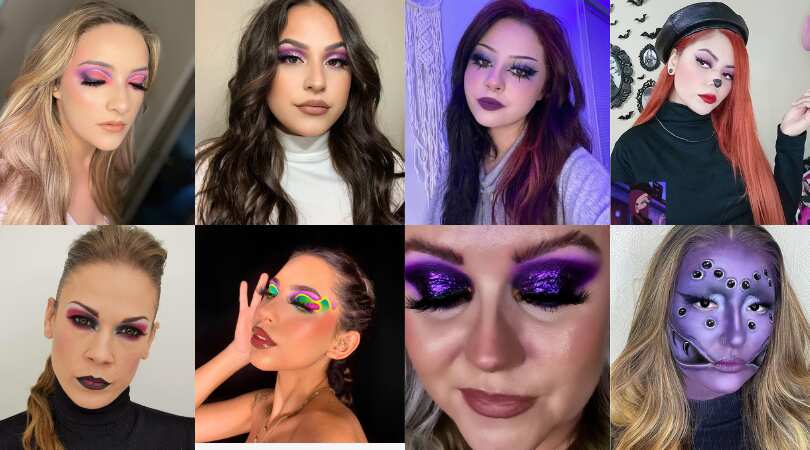 Do you love eye makeup that speaks volumes about your personality? A blend of different shades of purple is amazing. Since the eye makeup is very bold, you can tone down the rest of the face.
For an extra touch, you can blend a bit of silver and purple eyeshadow. This requires a bit of skill and practice. However, you can achieve this look with a bit of practice or have it done by a professional.
A simple way of incorporating a dark purple aesthetic in your makeup routine is by using a bold purple lippie. Matte lipstick is best for this look, and it is complemented by lavender or violet eye shadow.
Did you know that you can use anime art as inspiration for your makeup? A cat nose complements the lilac eyes and anime theme.
Another fantastic option is the gothic look unique because it uses dark, mysterious, and antiquated features. It is usually done in black, but you can make yours unique by adding some purple eyeshadow.
Have you ever seen a colourful snake? You can get inspiration from such an animal. By blending various colours in a snaky pattern, you will, without a doubt, make others' eyes turn.
The bold and shiny look is yet another amazing choice of purple eye makeup. Ordinary purple eyeshadow is bold, but it is mind-blowing if shiny. This look is ideal for a night out with your girls or a costume party.
If the above looks do not cut it for you, you can do some optical illusion. Optical illusion makeup is breathtaking, especially because it is spooky. It makes something looks so real, it is almost unbelievable. This look is perfect for Halloween.
Bold makeup ideas
Have you ever looked at aesthetic desktop wallpaper ideas and thought of doing something similar to your face? Talented makeup artists can draw your wallpaper on your face.
You can have a moon-inspired, smokey eye, gold and purple mystery, or bald queen look. Blending purple with another colour, adding a dash of glitters, and thinking outside the box will lead to stunning results.
Next-level makeup ideas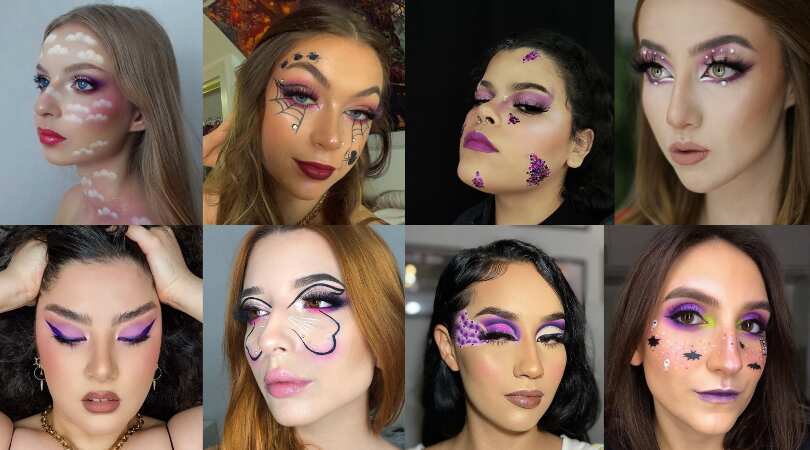 The makeup industry has blossomed over the last few decades. Today, makeup artists can create any unique pattern with your face as the canvas.
Anything can be a source of inspiration for your next makeup look. For example, a lilac sky can be done on your face. You can also choose a spider web, bars, pearls, butterflies, and so much more. These looks are ideal for themed parties or Halloween.
Cute outfits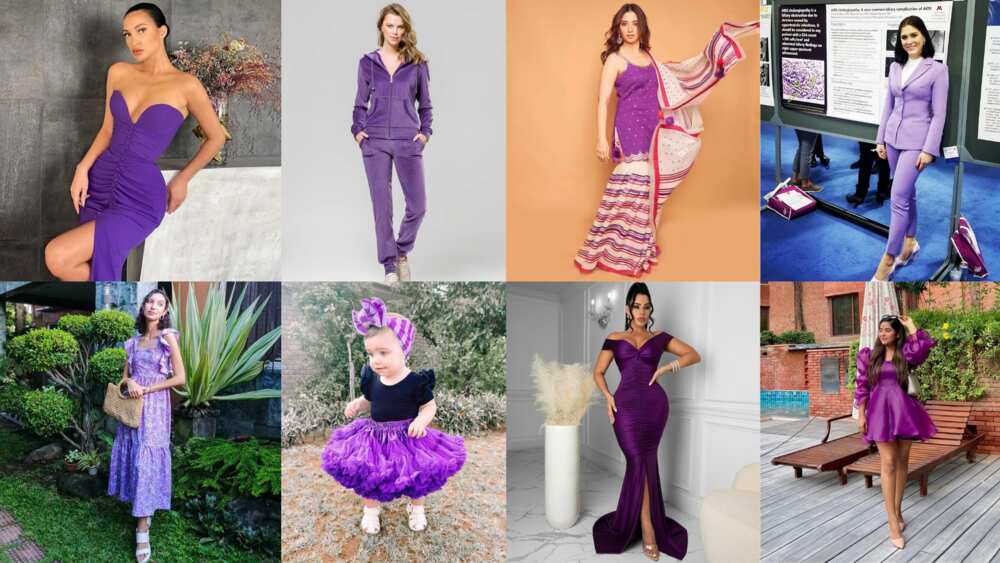 Did you know that looking and feeling cute ignites fast brain activity linked to emotion and pleasure? If you look good, you are generally happier in life.
Baby girls look amazing in lavender tutus, and adults look fabulous in a flowery lavender maxi dress.
This colour is also elegant for evening or wedding gowns, maxi bridesmaids dresses, or cute short dresses for a night out. It is also ideal for office wear or tracksuits.
Stylish outfit ideas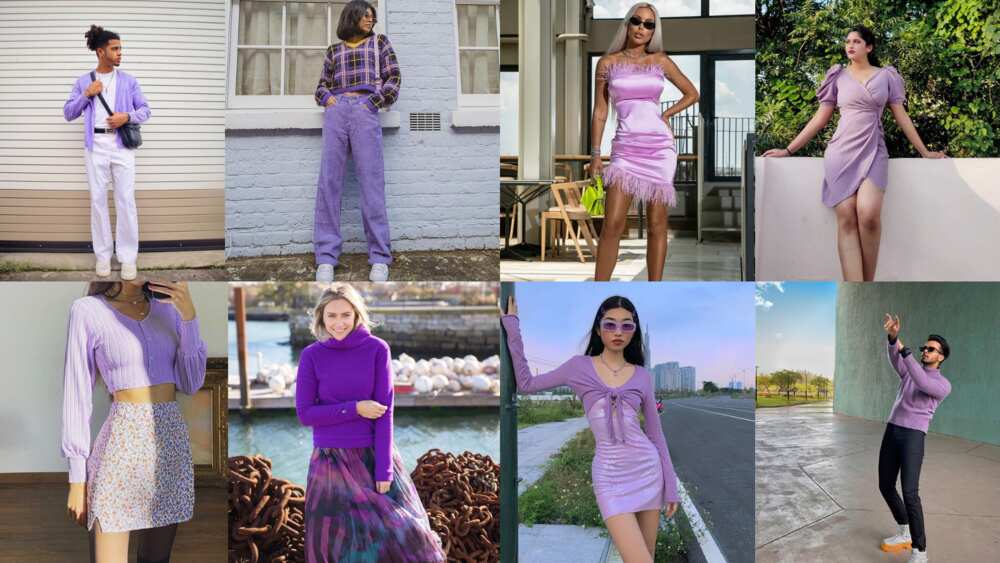 A stylish outfit not only makes you look good but also affects your self-esteem and confidence positively. Usually, fashion gives identity to people as they will always dress in a way that fully matches their personality.
There are numerous stylish lavender and violet outfits for men and women. These include sweaters that can be paired with denim, shorts, or skirts.
You can opt for a ute flowered short skirt, a lavender dress with a bolero, or even purple denim pants.
Purple bedroom decor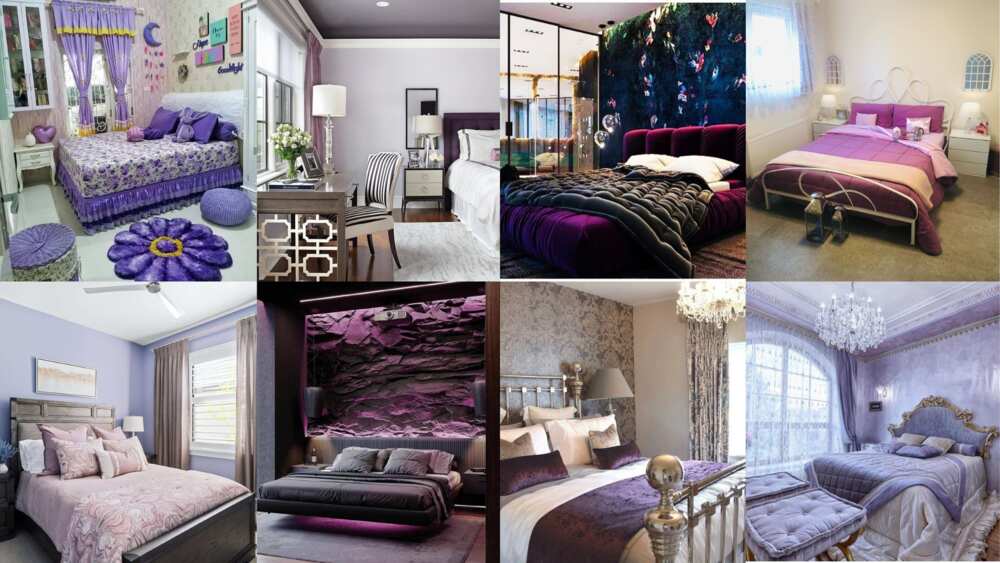 The bedroom is a very private space that should reflect one's personality. If you choose a purple theme, there are numerous options to choose from. You can pick a comforter or pillowcases in this colour or have your bed headboard in it.
Better yet, you can hang a violet or lavender mural in the room or have a colourful violet bedside rug.
Fabulous kitchens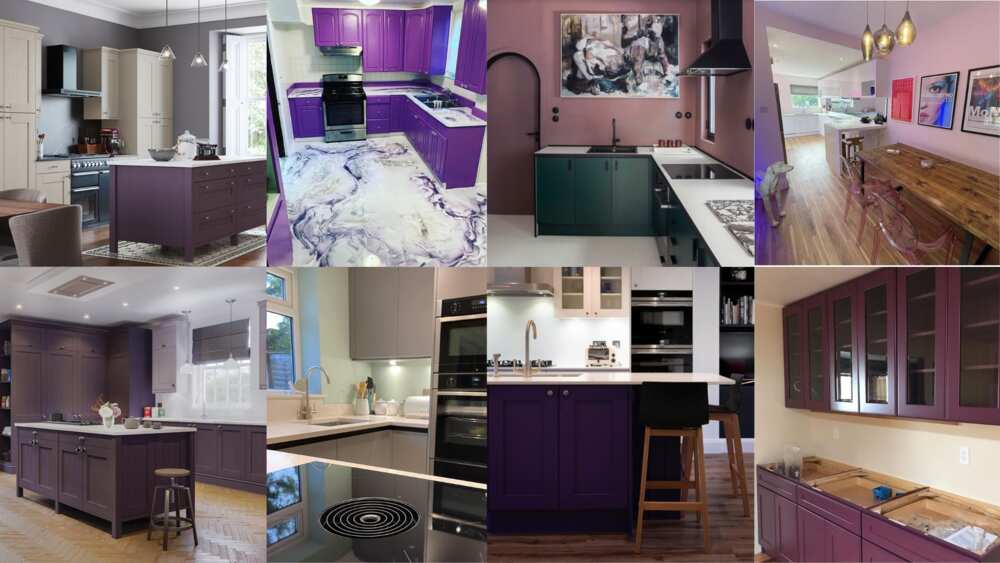 A kitchen is a crucial part of a house because it contains the appliances and tools necessary to prepare any meal. It is also used for storage, seating, and communication. In the last few decades, there has been a purple haze and craze.
You can add this colour to your kitchen for a unique, colourful, and satisfying look. You can have a lavender kitchen island, buy lavender crockery, paint the kitchen walls pastel purple, or install violet cabinets. Whichever you choose, you are assured of an eye-pleasing outcome.
Living room ideas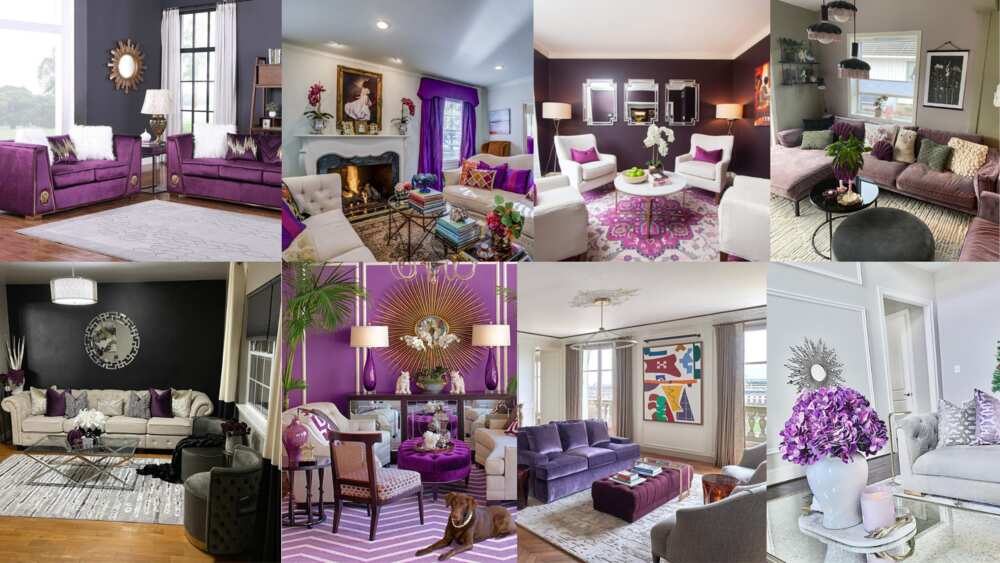 The living room is one of the most important parts of a home. Usually, it is the room many people decorate first because it is a versatile room used for different things. You can add some pastel wallpaper to make your walls more interesting.
Alternatively, you can add some violet aesthetic by adding some throw cushions. You can also go all out and purchase violet couches.
If you want a toned-down dash of this colour, you can use a lavender rag, have a vase of violet flowers as the centrepiece, or incorporate a floral pattern.
Purple is a rich colour that symbolizes great things in life. We hope the purple aesthetic ideas explored above will help you add some colour to your kitchen, living room, bedroom so that you can achieve your dream house interior decor.
READ ALSO: Latest Ankara styles in 2021: gowns, tops, skirts, jumpsuits and more
Legit.ng recently published the latest Ankara styles. In recent times, fashionable gowns, jumpsuits, skirts, tops, shorts, and more clothing items have been made using Ankara fabrics.
Besides giving an authentic African feel, Ankara styles are versatile and can be worn to different events and functions. Check out these styles to inspire your next outfit.
Source: Legit.ng