30+ love flowers: use floral arrangements to show your feelings
Did you know that receiving love flowers can brighten your mood and make the day more enjoyable and wonderful? Bouquet or basket flower arrangements are a fantastic gift for a romantic partner, relative or friend. Receiving a bouquet of your favourite flowers will, without a doubt, make you feel special.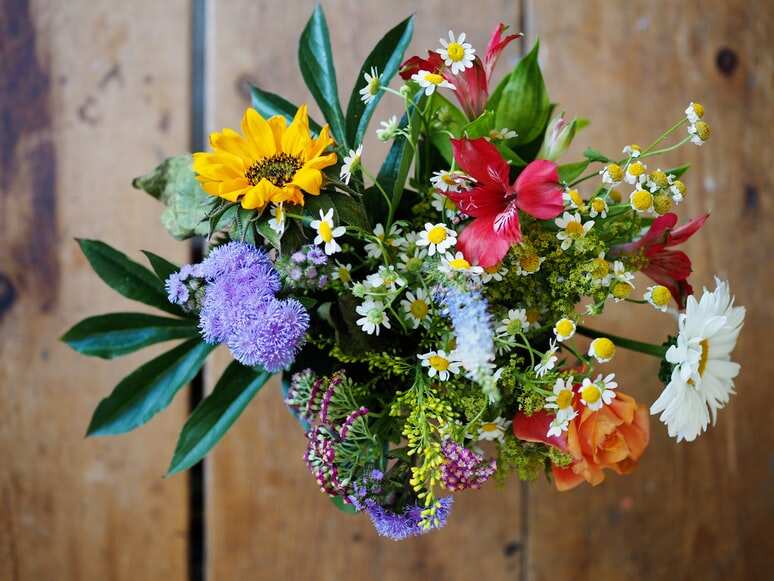 What is the best flower for love? While red roses are traditionally considered flowers for love, you can choose any variety you or the receiver like best. Alternatively, you can play around with different colours of roses to create amazing flower bouquets or baskets for your loved ones.
30+ love flowers to express your feelings
Usually, flowers of love are sent in February, especially on Valentine's Day. However, you can send them to the special people in your life at any time of the year. There are countless arrangements you can use to express your feelings, and below are some of the best ones.
1. Timeless red roses
PAY ATTENTION: Install our latest app for Android, read best news on Nigeria's #1 news app
What flowers are most romantic? Red roses are considered the most romantic flowers. Instead of arranging them in a simple bouquet, you can go out of your way and make a love heart for that extra oomph.
2. Rose and waxflower bouquet
If plain red roses feel a little dull for you, you can have an arrangement that features waxflowers. The square vase and metallic heart make this arrangement heavenly.
3. White roses
White roses signify innocence, youthfulness, young love, and loyalty. These lovely flowers are perfect for your significant other, regardless of how long the relationship has lasted.
4. Blue and white magic
A blend of light blue and white roses is a fantastic bouquet for a peaceful and chill person. Besides, fresh flowers like these will remain alive for a while if well preserved.
5. Summer is here bouquet
If you love bright colours, these are the best choice for you. All you have to do is pick or purchase bright yellow and orange flowers of your choice and arrange them in a cute basket.
6. Bloody Mary hatbox arrangement
Hatbox arrangements are ideal for fresh flowers. They contain a saturated foam that dries out with time, so you need to monitor the foam daily. The Bloody Mary theme uses different red-coloured varieties accentuated by a bit of green and yellow.
7. Pastel-toned arrangement
Pastel-coloured arrangements are ideal flowers for mom on Mother's Day, her birthday, or any other day. Adding some blueberries and a few Astrantia stems break the monotony and adds an extra touch of uniqueness to the bouquet.
8. Oopsy daisy magnificence
While daisies are not ordinarily considered romantic by many people, they are beautiful and can be used to express your feelings. If your loved one likes daisies, this arrangement will, without a doubt, make them happy.
9. Royal arrangement
Purple, violet, and deep blues are colours of royalty, respect and love. These colours can be combined to make an amazing combination and are an ideal gift for any occasion.
10. Fabulous basket
Basket flower arrangements are excellent for any occasion. Adding a ribbon to the basket makes it even more fabulous. The best part about this arrangement is that you can use any flowers of your choice.
11. Pastel roses bouquet
If you love rose flowers, this is a must-try arrangement. Pastel roses are elegant and eye-catching and guarantee you a smile from the special person who receives them.
12. White and cream blooms
This is a designer arrangement that you cannot go wrong with. Combining white and cream blooms looks classy and is the ultimate way of expressing deep affection.
13. Purple alliums
These bulbous flowers are a sight to behold. Arranging a few of them in a clear vase together with a few green stems makes them even more stunning.
14. Spooky n' gorgeous
Spiky flowers tend to add a spooky touch to a bouquet. This arrangement is for people who are not mushy and would rather express their feelings without being overly sentimental.
15. Halloween arrangement
This is another option for people who are not overly sentimental. The blend of dull orange and other colours makes it unique. This arrangement works best with at least four bouquets or vases.
16. Yellow gerbera arrangement
Yellow gerberas are bright and radiant and represent energy and rejuvenation. These are ideal for a bubbly and cheerful person. Did you notice the yellow ribbon on the bouquet?
17. Gerbera & aster bouquet
Did you know that asters are the month flowers for September? They symbolize love, faith, wisdom, and colour. On the other hand, gerbera daisies signify energy. Combining the two leads to a beautiful arrangement that gives life and love to the receiver.
18. Chrysanthemums bouquet
Chrysanthemums are the month flowers for November, and they symbolize loyalty and devoted love. They also bring happiness, longevity and joy, so you can send these to any wonderful and special person in your life.
19. Sunny sunflower arrangement
Who does not love warm and sunny days filled with love and cheer? You can brighten someone's day simply by arranging a few sunflowers in a vase and sending them over. The bright colours will awaken any dull spirit.
20. Simple and soothing
While it has become commonplace for people to perform grand gestures to express their love, we must not forget the simple things in life that make our loved ones happy. This arrangement is simple, soothing, and calming. The pastel green and white colours are fantastic.
21. Mexican marigold bouquet
Do you need to send flowers to cheer someone? Mexican marigolds bring positive emotions and energy. Send your loved ones this bouquet in orange or another colour of your choice to show care, affection, and incite joy.
22. Soothing green bouquet
This flower bouquet is perfect for that special person that loves nature. The blend of different shades and hues of green is mind-blowing, to say the least.
23. Elegant and classy arrangement
This magnificent arrangement is perfect for a romantic partner. The pink, white, and green are not only gorgeous but also evoke joy and happiness.
24. Gorgeous peonies
Do you like simple but striking bouquets? If so, these are the flowers for you. Peonies are showy in nature and they convey the message of love and affection. Since they have a striking appearance, you do not need more than a couple of them to create an amazing bouquet.
25. Pink stargazer lilies
Stargazer lilies are not only beautiful, but they also symbolize prosperity and abundance. They have an amazing scent and are a great choice for moms, friends, and acquaintances.
26. Purple petunias
Petunias may look like simple garden flowers, but they have a soothing nature and are a sign of comfort and feeling good with someone. The purple variety has mysterious, whimsical connotations and represents grace and eloquence. A bouquet of petunias is perfect for the bold, graceful, and loving woman.
27. Classy n' chill arrangement
The above flower arrangement requires some skill to make. The colour combination is breathtaking and mesmerizing. Send this to your loved ones today, and they will forever be grateful for the love you show them.
28. Bright and sunny bouquet
This is yet another arrangement that instantly uplifts a person's spirit. The fun and bright colours bring good cheer and happiness all around.
29. Rainbow roses
Did you know that rainbow roses exist? These require meticulous attention during growth, but the end result is very appealing. You do not need to do much in terms of the arrangement as these flowers make a statement of love effortlessly.
30. Elegant garden flowers
Most people think that they must visit a florist to purchase flowers to send to their loved ones. However, this is not always true. You can pick the garden flowers you have in your home or property and make a simple but beautiful bouquet for that special person.
31. Roses, carnations, and a teddy
Teddy bears add a dose of mushiness to any flower bouquet, especially on Valentine's Day. This lovely arrangement is perfect for your girlfriend, fiancée, or wife.
32. Simple pink roses
Light pink roses are often associated with femininity, grace, and sweetness. Placing a few large ones in a vase and adding green and white stems to balance the colours gives a stunning result.
Using love flowers to express your feelings for someone makes them feel very special. We hope you get an arrangement that meets your taste and preferences from the ideas given above.
READ ALSO: 30+ ideas for wedding gowns: find inspiration for your big day
Legit.ng recently published an article on the best ideas for wedding gowns. Finding the perfect gown for your big day is a daunting task, and many brides can attest to this. Before you go shopping, it is crucial to have an idea of what you want.
Going through wedding gown ideas helps to narrow down your options, thus preventing you from feeling overwhelmed. It can also inspire you to come up with a unique design.
Source: Legit.ng