- 3 female suicide bombers of the Boko Haram terrorists were killed in Gwoza
- A soldier sustained injuries due to the impact of the explosion but he is receiving treatment
Three female suicide bombers of the Boko Haram terrorists were killed in Gwoza, Borno state on Thursday, October 6, before they could carry out their mission.
This was disclosed in a statement by Colonel Sani Kukasheka Usman, the acting director Army Public Relations.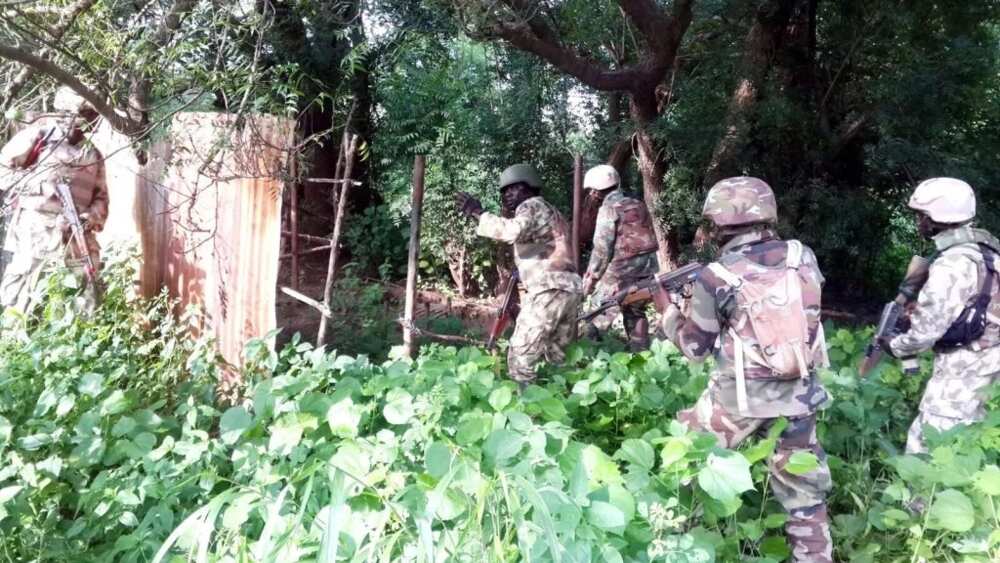 READ ALSO: Ndume advocates speedy attention for Boko Haram victims
According to the statement, the women attempted to force their way into troops location but were exposed by vigilantes who suspected their dressing and the nature of the hijab they were wearing which contained IEDS.
The statement from Col Usman read: "Today, Thursday, October 6, at about 12.25pm, 3 female suicide bombers attempted to attack a military location at Gwoza, Gwoza local government area, Borno state.
"The suicide bombers who came through Pulka axis were sighted by members of vigilante from a distance and alerted the troops about the impending catastrophe. The very observant vigilante also noted that the women looked suspicious; walking awkwardly with bulging hijab and distinct from other female farmers.
"When the suicide bombers noticed that they were being observed, they hurriedly ran towards troops aiming to detonate it on them. The troops neutralized 2 of the female suicide bombers, while the other ran back into the bush but was pursued. Unfortunately, a soldier sustained injuries due to the impact of the explosion. The wounded soldier is currently receiving treatment at a military medical centre and he is in stable condition."
READ ALSO: How Buhari saved Borno state from extinction
The death of female suicide bombers in Gwoza comes just after troops of the Operation LAFIYA DOLE intercepted and neutralized a male suicide bomber at the outskirts of Maiduguri, Borno state.
Photos here