Editor's note: The Edo governorship election which was scheduled to hold on September 10 was postponed following a security meeting by two weeks. Today, September 28, Edo people decide who will rule their state for next four years.
Josa, one of the Legit.ng readers, in this piece shares his views on the government of Adams Oshiomhole, saying that during his tenure the state has seriously declined in every imaginable spectrum.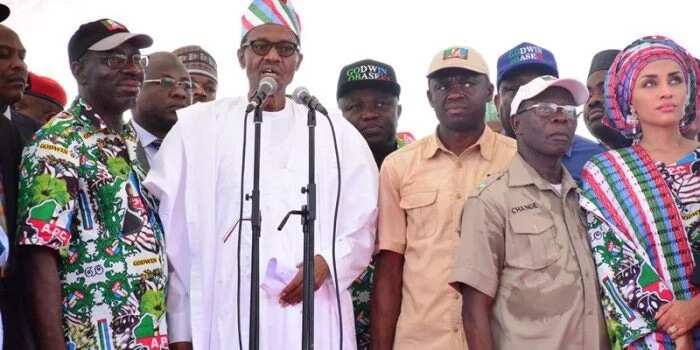 It is clear and evident. People are getting dumber by the day. The very purport of being a youth has been seriously charred in a fire of indiscretions. The utter disregard for common sense these days is laughable.
I seldom come online to Facebook but when I do, I find several posts of Governor Oshiomhole canvassing and campaigning for the next governor of Edo state.
READ ALSO: PDP accuses APC of planning to rig election
I weep bitterly to see these posts. If nobody has noticed, I have noticed that Edo state, just like some other states have seriously declined in every imaginable spectrum.
As the years roll by, the government of this state is less concerned about the welfare of the citizens. I'm particular about the youths. Every instrument of social engineering has been deflated by an insensitive government.
Just imagine Governor Oshiomhole and his purported political juggernauts. Education has waned, jobs are scarce still and everything is in shambles. Quote me anywhere, Edo state is galvanizing itself to be the worst inhabitable state in Nigeria, save for some northern states with severer levels of depletion.
The average Bini Boy now is no longer concerned about education or any other measure of self-development and growth not because they don't want to but because our government is weak and ineffective.
Oshiomhole has hidden under the facade that he renovated schools. Let me ask, does he think he has fully affected the educational sector? No… Is it by increasing the school fees of Ambrose Alli University? Is it by christening Ekiadolor college of Education to become a University?
READ ALSO: 4 factors that will define the Edo state governorship election
The underlying problem has not been touched. Ekiadolor remains a college of education in standard even if he has galvanized the school with a nomenclature I see as no more than a euphemism to palliate the pathos situation of the school. Cultism and other vices have ravaged AAU much to the chagrin of parents and other well-meaning members of the society.
The views expressed in this article are the author's own and do not necessarily represent the editorial policy of Legit.ng.
Your own opinion articles are welcome at info@naij.com — drop an email telling us what you want to write about and why. More details in Legit.ng's step-by-step guide for guest contributors.
We're ready to trade your news for our money: submit news and photo reports from your area using our Citizen Journalism App.
Contact us if you have any feedback, suggestions, complaints or compliments. We are also available on Facebook and Twitter. Subscribe to Legit.ng Opinion page!
Source: Legit.ng