- Some protesters have reportedly stormed a federal high court in Lagos state over the purported media trial of Nigeria's former first lady, Patience Jonathan
- The protest was taking place at a time the court was sitting on the matter involving a former aide to ex-president Goodluck Jonathan
A group of protesters under the umbrella of association of media professionals against corruption and instability on Tuesday, September 27, stormed the  federal high court in Lagos to protest against what they described as media trial of former first lady of Nigeria, Patience Jonathan.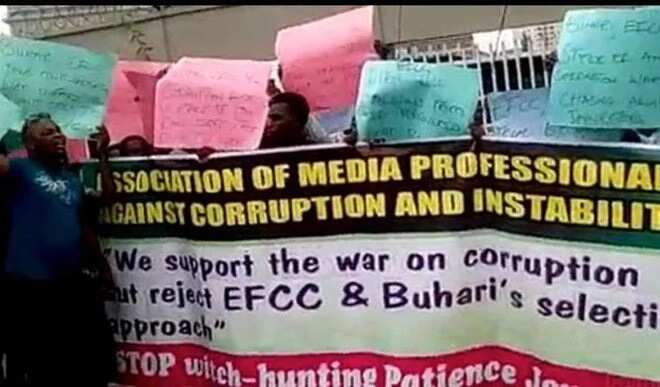 Daily Trust reports that the protest was taking place at a time the court was sitting on the matter involving a former aide to ex-president Goodluck Jonathan, Waripamo-Owei Dudafa, who is being arraigned before Justice Babs Kuawumi over another 17-count charge preferred against him by the Economic and Financial Crime Commission (EFCC).
READ ALSO: Nigerians react as Patience Jonathan battles EFCC
Dudafa is also currently facing charges on allegation of N5.1b fraud alongside two other people. He is also facing another charge over  alleged $15m fraud. But the former first lady has since claimed that the $15m belongs to her.
The protesters who stormed the court around 11am carried various placards with inscriptions like: "EFCC stop the trial or ordeal on Patience Jonathan", "Buhari, EFCC, your style of anti-corruption war is chasing away investors", "stop witch hunting Patience Jonathan", among others.
Leader of the protesters, Igho Akeregha, said the group supports the anti-corruption campaign of the present administration under the condition that the president will probe past leaders.
READ ALSO: EFCC recovers over N1bn from south south politicians
According to him, the current trial of some former aides of president Jonathan is planned by the present government to take over his family assets using the EFCC.
Meanwhile, the EFCC is set to invite the ex-president's wife after freezing her personal account with a balance of $5m as well as four other accounts linked to her with a balance of $15.6m.