- Nnamdi Kanu is going through a tough period in Kuje prison as his brother says he is ill
- He said the leader of IPOB needs to be checked by foreign doctors
- Prince blamed the DSS for letting Kanu suffer in pain in prison
Prince Kanu who is the brother of Nnamdi Kanu has raised alarm over the health of the leader of the Indigenous People Of Biafra (IPOB) and has asked the President Muhammadu Buhari-led federal government to allow him get medical treatment
Kanu was apprehended in Lagos Air Port in October 2015 for alleged treason and has been in detention since then.
Daily Post reports that Prince said his brother needed serious medical attention and should be examined by foreign doctors.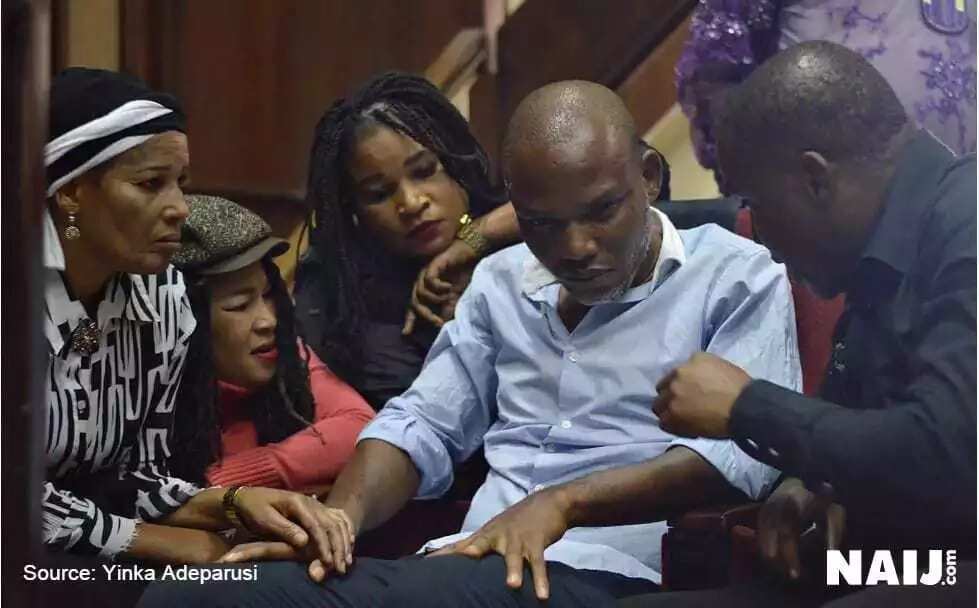 READ ALSO: IPOB declares Friday protest day, set to debut significant bird
A splinter group, the Reformed Indigenous People Of Biafra had claimed that Kanu was hale and fine but Prince insisted that his brother was going through a tough time in prison.
"The leader of IPOB, Kanu is my brother and is having a severe abdominal pain and ocassional tightening in the chest resulting in cough.
"My brother needs urgent medical attention and we demand that a foreign doctors be allowed to examine him because we believe more in their diagnosis after all even the President travels abroad for treatment."
He also accused the Department of State Services (DSS) of abandoning the leader of IPOB to his health situation.
"DSS is aware as the report is everywhere and nothing has been done."
Prince rejected the idea that there was confusion within IPOB and said the group remained one.
READ ALSO: International body calls for Nnamdi Kanu release
"There is no such thing as splinter groups, its only in the media and was orchestrated by the Federal Government.
"IPOB is one and remains one. The government is trying to create confusion here and there."
Meanwhile, Bishop Abraham Chris Udeh, the general overseer of Mount Zion Faith Global Ministries Inc, aka (By Fire By Fire), berated the international community over its silence in the continued imprisonment of the Director of Radio Biafra, Mazi Nnamdi Kanu.
According to Udeh, Kanu is still in prison because of the lack of interest of the international community, especially Britain in assisting the Indigenous People of Biafra gain their independence.
Speaking to The Sun, Bishop Udeh said that if the United Nations (UN) as a body, as well as America and Britain had shown interest in Kanu's freedom, and had questioned the Nigerian government over his continued detention, he would have been released by now.