- Troops within Zamfara have killed 15 bandits
- The bandits were killed in two separate operations
- Four Boko Haram members were also killed in Gombe
Fifteen bandits and 4 Boko Haram members have been killed bt troops within the Northeastern region of Nigeria.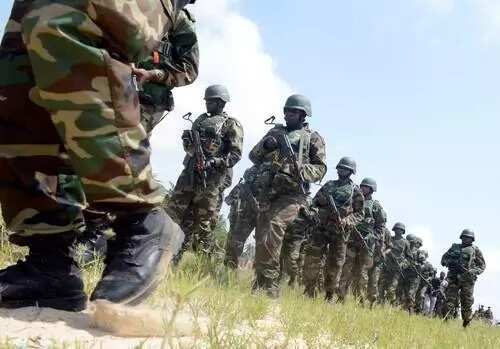 Troops of the 223 Light Tank Battalion , Gusau, Zamfara, killed 15 bandits in two separate operations in the state, the Commanding Officer of the battalion, Lt Col Abdullahi Adamu, said.
Adamu, who made the disclosure to the News Agency of Nigeria (NAN) in Gusau on Wednesday, September 14, said the operations were carried out between September 7 and September 10.
READ ALSO: 30 Boko Haram members, 7 soldiers killed in bloody clash
He said an early morning raid was launched on a suspected bandits' hideout in Dumburum forest in Zurmi Local Government Area during which seven bandits were killed, while many others escaped with bullet wounds.
The commanding officer said one round of 2.7mm calibre ammunition and a pair of army desert camouflage uniform were recovered from the camp of the fleeing bandits.
He said the troops then invaded Bagega area in Anka Local Government Area, but that the hoodlums had already fled before their arrival.
Nevertheless, Adamu said, the soldiers destroyed the camp along with one motorcycle which was abandoned by the criminals.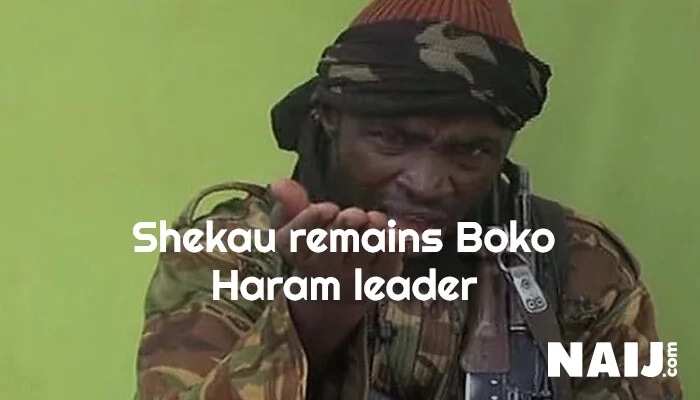 Similarly, he said, the troops raided another bandits' camp at Gando forest near Baruba village in Bukkuyum Local Government Area where eight bandits were killed, others fled with bullet wounds, while the camp was completely burnt.
He said all existing camps and the bandits' means of transportation were being destroyed by the Soldiers, while clearance patrol was ongoing across the forests in order to apprehend the fleeing bandits.
The commanding officer said all the operations were being supported by the Police, the Department of State Services (DSS), local vigilante groups and the Nigeria Security and Civil Defence Corps (NSCDC).
He appealed to all communities in the state to continue to give useful information to security agencies in order to rid the state of of criminals.
READ ALSO: BBOG trails Buhari to New York, to hand him a letter at UN General Assembly
In the same vein, four motorbike-riding Boko Haram gunmen were on Wednesday killed by soldiers in a shootout at a village in Gaidam Local Government Area of Yobe State, witnesses said.
According to Premium Times, the gunmen were spotted by soldiers on patrol near Jororo village at about 3pm.
"Four of them were shot dead near Jororo village while one of them was caught while trying to escape," said Abdullahi Aminu, a local government official and resident of Gaidam who spoke to newsmen on phone.
"They were all heavily armed with AK47 rifles and wore ammunition belts.
"All of them were on Kasea motorcycles. We don't know their targeted destination, but thank God it was thwarted," he added.
Although the Nigerian Army is yet to confirm the report, a soldier in the state confirmed the incident in Jororo,10km from Gaidam town.
"You know it is not my job to address the press on matters like this, but what you have is correct," he said.
"Those criminals have been evasive for some time but thank God that we have been able to nab them finally."
Wednesday's incident occurred hours after the terror group released a video where they threatened to kidnap President Muhammadu Buhari.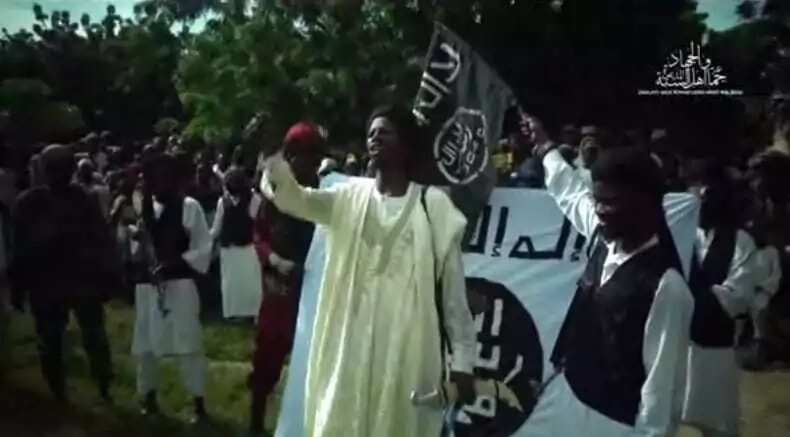 The group recently expressed willingness for a prisoner swap, asking that its arrested members be released in exchanged for the Chibok schoolgirls it kidnapped in 2014.
The Federal Government has also expressed willingness to negotiate a prisoner swap if genuine leaders of the sect can be identified.