A pastor has been arrested for sexually assaulting a female church member.
Pastor Edmond Kakrae Agyei, the founder and leader of Faith Word Church International at Nii Boi town, Accra, Ghana, has been arrested for molesting a female church member.
According to the police, the victim narrated how the pastor claimed she was possessed by evil spirits and while pretending to cast out the spirits started touching her private parts intimately, rubbing it with anointing oil.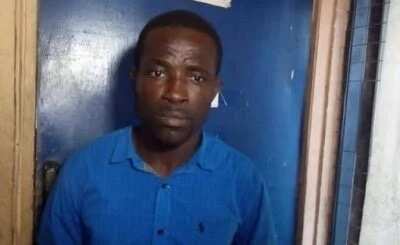 The victim also alleged that he had tried to rape her, but she had managed to escape after shouting for help. Following the incident, the pastor was charged for indecent assault and breach of trust.
Confirming the incident, the Divisional Crime Officer DSP Aba-Afari, said the victim was an 18-year-old senior high school graduate who attended the church with her parents. They also said pastor Edmond had told the victim's parents earlier, that she was possessed by an evil spirit and that he saw that in a vision. He also asked them to bring her for deliverance alone.
The victim alleged that on getting to the church, pastor Edmond insisted that the deliverance be carried out in his house.
PAY ATTENTION: Get all the latest gossips on NAIJ Gossip App
Pastor Edmond reportedly asked the victim if she had ever had a boyfriend and if she had ever experienced menstrual pains, claiming that menstrual pains were from the devil. He claimed she could be delivered from the pain if she allowed him anoint her navel. He asked her to lie down, removed her dress and rubbed the oil on her navel and parts of her abdomen. He later asked her to remove her pants and proceeded to 'anoint' her private parts.
When the victim tried to stop him from touching her intimately, he insisted he was being directed by the Holy Spirit. The pastor then tried to pin her down and tried to kiss her when she tried to get up and leave, making her scream, drawing her parents' attention which led to his arrest.
Hmmm! Na wa oo!