- 4 of the 24 Chibok girls who escaped Boko Haram in 2014 have now matriculated into AUN
-  According to school authorities, one of them scored over 300 marks in the JAMB exams
- The names of the girls were not however disclosed to prevent people from intruding on their privacy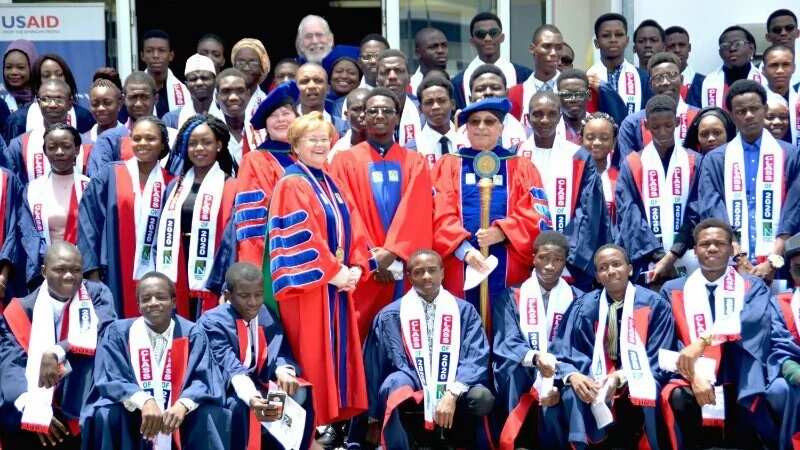 In 2014, 24 Chibok girls escaped from Boko Haram, they were reabsorbed into the educational system, and came to the American University of Nigeria (AUN) for their education.
Some of them were among the new students formally accepted into the university during the convocation and pledge ceremony on August 29. The joyous matriculation ceremony witnessed a large turnout of parents and students.
All of the 24 girls have been on the university's scholarship studying under a special preparatory programme since their lucky escape.
According to Premium Times, four of them have now passed their West African School Certificate (WASC) and Joint Admission and Matriculation Board (JAMB) exams, with one scoring over 300 marks in the JAMB exams, according to school authorities.
READ ALSO: Wanted journalist Ahmad Salkida released from detention
However, to enable the girls exist freely on campus, the university declined to disclose the identities of the students.
Also among the new students were those accepted from assorted applications for the maiden class of AUN's new School of Law that kicked off this semester.
Addressing the convocation inside the commencement hall, President Margee Ensign announced that the type of education the new students will receive at AUN will ensure that students become leaders in their chosen fields.
"This kind of education will train you to look at problems from varying perspectives," she said.
President Ensign reminded them that they are being trained to be the leaders of the continent who, upon graduation, will be ready to solve the challenges that confront them, their community, their country, and their continent.
"All universities identify new problems, come up with new ideas. They discover new truths and some change society. At AUN, Africa's first Development University, this is what we are trying to accomplish.
"We not only provide you with a different sort of education, we provide you with the intellectual tools to become the future leaders of Africa." 
READ ALSO: Fast all in one -- UC Browser
Meanwhile, there have been reports that Ahmed Salkida was released late on Tuesday, September 6, a day after he was arrested at the airport in Abuja.
Ahmed Salkida is one of the three people wanted for supposed knowledge of Boko Haram and the whereabouts of over 200 Chibok girls.
The journalist, who is known for his deep reportage about the Boko Haram sect, was taken during his arrival at Nnamdi Azikiwe International Airport aboard Emirates flight EK 785 on Monday, September 5.