- Ekiti state governor, Ayodele Fayose, has reacted to today's meeting between Ali Modu Sheriff and former President Olusegun Obasanjo
- Fayose described the meeting as a coming together of collaborators in the total annihilation of the Peoples Democratic Party (PDP)
- The governor said it was on record that both Obasanjo and Sheriff collaborated to destroy the defunct All Nigerians Peoples Party (ANPP)
Ekiti stte governor, Ayodele Fayose has berated the ousted chairman of the PDP, Ali Modu Sheriff over his visit to former President Olusegun Obasanjo earlier today, September 3.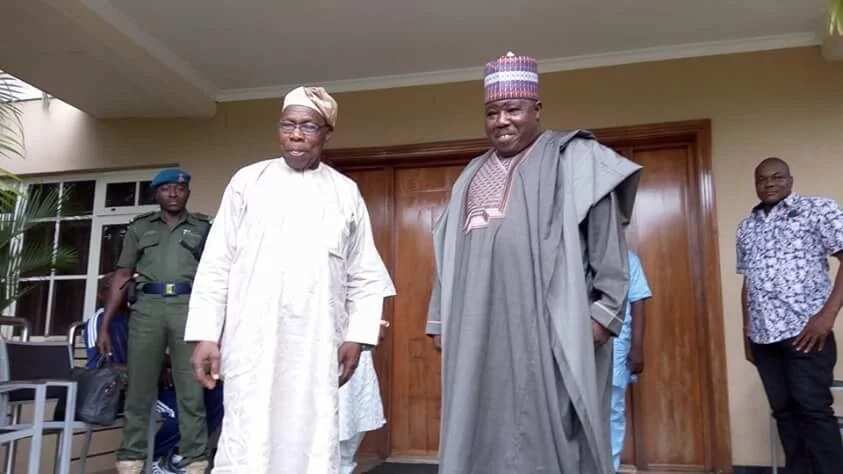 Fayose alleged that the meeting of the duo is to further collaborate to destroy the PDP. Fayose's statement was contained in a statement distributed to the media by his special assistant on public communications and new media, Lere Olayinka.
"Sheriff can as well begin to sleep in Obasanjo's house, it is good riddance to bad rubbish.
"Since Obasanjo is no longer a member of the PDP and he has consistently maintained that he can never return to the PDP, only those in the same league with him can go about visiting him," Fayose said.
READ ALSO: 13 facts that prove Ali Modu Sheriff is responsible for Boko Haram crisis
Fayose further said it was hypocritical and deceitful for Sheriff to have said he went to see Obasanjo to seek advice on the way forward for the PDP.
According to him, Obasanjo was among those who made the PDP to lose the presidency, adding that Sheriff  only visited Obasanjo as part of his plot with the All Progressives Congress (APC) to destroy the PDP.
"No genuine lover of the PDP will go to the house of a man who openly destroyed his PDP membership card and worked assiduously to ensure the party's failure in the 2015 presidential election to seek advice on how the way forward for the PDP," Fayose noted.
Lamenting over Obasanjo's choices, Fayose said; "The result of Obasanjo's imposition of President Muhammadu Buhari on the country is the hunger and sufferings that Nigerians are facing now."
Sheriff visited Obasanjo earlier today in his hilltop mansion in Abeokuta, the Ogun state capital. According to him, he came to brief the former president on the PDP crisis.
READ ALSO: Revealed! How Obasanjo, Jonathan, Yaradua destroyed Nigeria's economy – APC reacts
Obasanjo sympathized with Sheriff on the PDP crisis, saying he was carrying a dying baby (PDP) on his laps.
Meanwhile, Sheriff has threatened the Independent National Electoral Commission (INEC) over his faction's candidate for the September 10 Edo state governorship election.
Sheriff urged INEC to recognise his candidate, Mathew Iduoriyekwemwen as the party's candidate or "face the music at the end of the day."