- The Movement for Actualisation of Sovereign State of Biafra (MASSOB) has made its stand known as regards rumours of negotiation with the federal government
- The group has condemned the inclusion of its leader, Comrade Uchenna Madu as one of those selected to negotiate with the federal government
- The group reaffirmed its commitment to continue the struggle for Biafra
The Movement for Actualisation of Sovereign State of Biafra (MASSOB) has said it won't be part of any negotiation to end its agitations.
According to the group, the over 17 years of struggle for the actualisation of Biafra cannot be halted.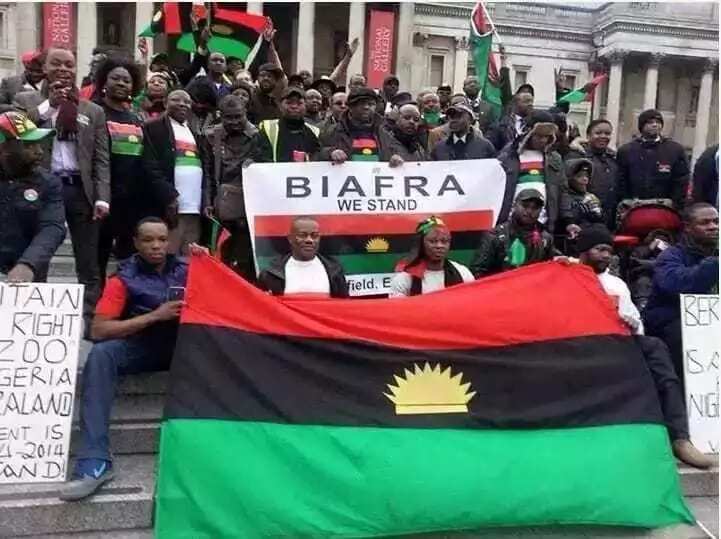 In a statement distributed to media houses by the group's national director of information, Comrade Samuel Edeson. the group frowned at the inclusion of its leader name as part of a delegation to negotiate with the federal government.
"The leadership of the Movement for the Actualization of the Sovereign State of Biafra (MASSOB), after our National executive meeting at MASSOB headquarters, Okwe, warns the Re-IPOB to stop their unguided and stupid exhibitions in the name of Biafra which will bring harms to them than good.
"We condemn and reject the inclusion of our leader's name, Comrade Uchenna Madu as one of the trusted persons to negotiate for Biafra on behalf of Re-IPOB with FG," part of the statement read.
READ ALSO: IPOB sparks controversy with reaction to Avengers' October 1 Independence declaration
A splinter group, Re-branded Indigenous People of Biafra (REIPOB) had included the MASSOB leader's name as one of those to negotiate with the government.
The Re-branded Indigenous People of Biafra broke out of the Indigenous Peoples of Biafra (IPOB), saying attaining a Republic of Biafra is not feasible.
Edeson's statement further noted that MASSOB can never allow her image, leadership or name to be dragged into, "a dirty mud of cheap propaganda of over 17 years of Biafra struggle."
"Though MASSOB acknowledged the regards and respect given to Comrade Uchenna Madu as a credible Igbo leader by Re-IPOB, we insist that Biafra is not negotiable or can be renounced, it's not personal or religious belief, faith or human establishment; Biafra is the very existence and future of our people.
"What is Re-IPOB negotiating, a group that comes up today and wants to negotiate Biafra immediately. Who is fooling himself? What have you done for Biafra or what headache has Re- IPOB done that will force FG to negotiate with them? Biafra struggle is not a business venture.
"MASSOB reaction is not because of external or internal pressure but for our dignity, pride, integrity, trust and confidence the people of Biafra bestowed on MASSOB.
"We also warn those delighted in creating confusion among Pro Biafra groups with falsehood and blackmailing to desist from it now or face the consequences and punishments of saboteurs. A stitch in time saves nine," the statement concluded.
READ ALSO: IPOB makes shocking revelation, advises Nigerian lawmakers
Meanwhile, IPOB has alleged that the Movement for the Emancipation of Niger Delta (MEND) now operates as the media and publicity arm of the Department of State Services (DSS).
The IPOB said MEND has been captured by President Muhammadu Buhari and converted to a media department for the top security agency.
In a statement signed by IPOB's spokespersons Emma Nmezu and Clifford Iroanya, the group said: "We also have intelligence information that as part of the deal accompanying the conversion, MEND or should we say the ever suicidal and mentally imbalanced Charles Okah was promised early release from prison where he is currently being held for his role as the infamous Gbomo Jomo of the tragic terrorist bombing of October 1, 2011 at Eagle Square Abuja."
The group also accused Nigerian security agencies of using Okah as a credible source of information for making arrests.