The recent attack by militants on an oil facility in Delta state, despite the ongoing military operation in the region has been viewed by some Nigerians as an affront to President Muhammadu Buhari.
Several Nigerians have reacted to the declaration of "Operation Crocodile Tears" in the Niger Delta region, by an Urhobo militant group, the Niger Delta Greenland Justice Movement (NDGJM) in the early hours of today, August 30.
The Urhobo militant group said the launch of its operation was in response to the ongoing military Operation Crocodile Smile being carried out by the Nigerian Army in the Niger Delta region.
READ ALSO: Revealed! Top 5 things God will do with Buhari
The group also promised an "eye for an eye; for every military atrocity carried out in the creeks and hinterland of the Niger Delta, by the Nigerian armed forces.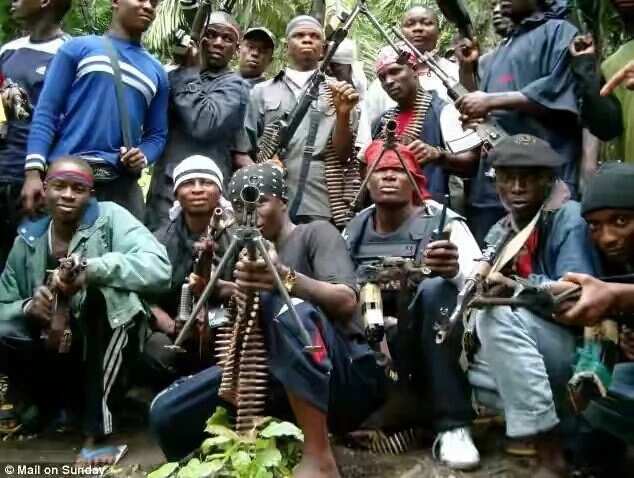 It said: "To this end, we are alerting all those working in the UQCC/UPS Erhomukokwarien in Ughelli, Eriemu Pigging Manifold in Agbarha, Otorogun Gas Plant, Olomoro Flow Station, Warri Refinery, Port Harcourt Refinery, Eleme, OB-OB and Obite gas plants in Omoku to evacuate because what is coming to those facilities are beyond what anybody has seen before.
"We do not want innocent blood being spilled, therefore, we advise all indigenes living in the vicinities of the facilities to relocate for the time being.
But mixed reactions have trailed the declaration of war on the military by the militants.
Some Nigerians have urged the group to retract its steps, warning that their actions could incur the wrath of the Nigerian army which could lead to suffering of people in the region.
READ ALSO: Car bomb kills five soldiers outside presidential office (PHOTO)
However, others urged the group to carry on their threats, claiming that the northern elites also did same to the Jonathan administration by frustrating him out of office.
See reactions gotten from Legit.ng news portal below:
Muhammad Sani: "Continue destroying ur environment. Your region will suffer the most. It will affect your allocation. eg beyalsa can't longer pay salary."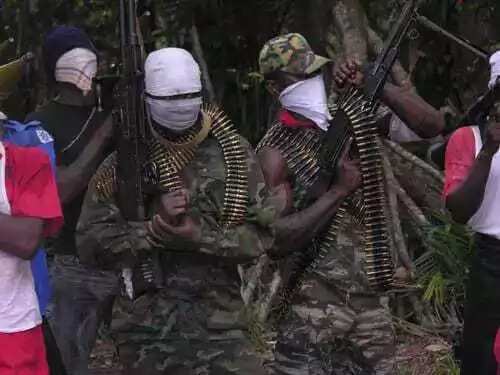 Ify Henry: "I love dis millitant dem wrk.carry go guys.during JONA regime,buhari vowed to make his govt ungovernable nd tried to sucecced a little.now de law of karma is against buhari.wht goes around comes around.do nt throw a stone into market bcs u neva can tell whom de stone may hit."
Mansur Nasiru: "The Nigerian army will surely smile but at the long run its their people that will shed the tears. I pity the inocent souls in the Niger delta
Becky Ese Fredrick: "Pmb and the northerners are bunch of failures...since dey head bent to milk Niger delta dry to make Abuja what it is,neglecting the region and REFUSING to practice true federalism where state are allow to control their resources...expect more of this...#Niger delta wants resource control period# not allocating oil well to atiku,ty danjuma,ibb,abdulsalam, and other northerners...neglecting the region to b slaves...we say no to injustice."
Emeka Sunday: "I pity Niger deltans and their traditional rulers who harbor and keep this criminals in their abode just because they are fighting a common cause that wants to see Nigeria on its knees! Jonathan must pay for this! Hague is actually monitoring the whole situation. Once you nail Jonathan, the perpetrators of this dastardly act will be fished out! Thumbs up to the Nigerian Army for their careful observance and vigilance as they protect lives and property! Bayelsans and Nigeri deltans who support militant must suffer in no distant time."
READ ALSO: Photonews: Outrage as BBOG activists are stopped from seeing Buhari (Photos)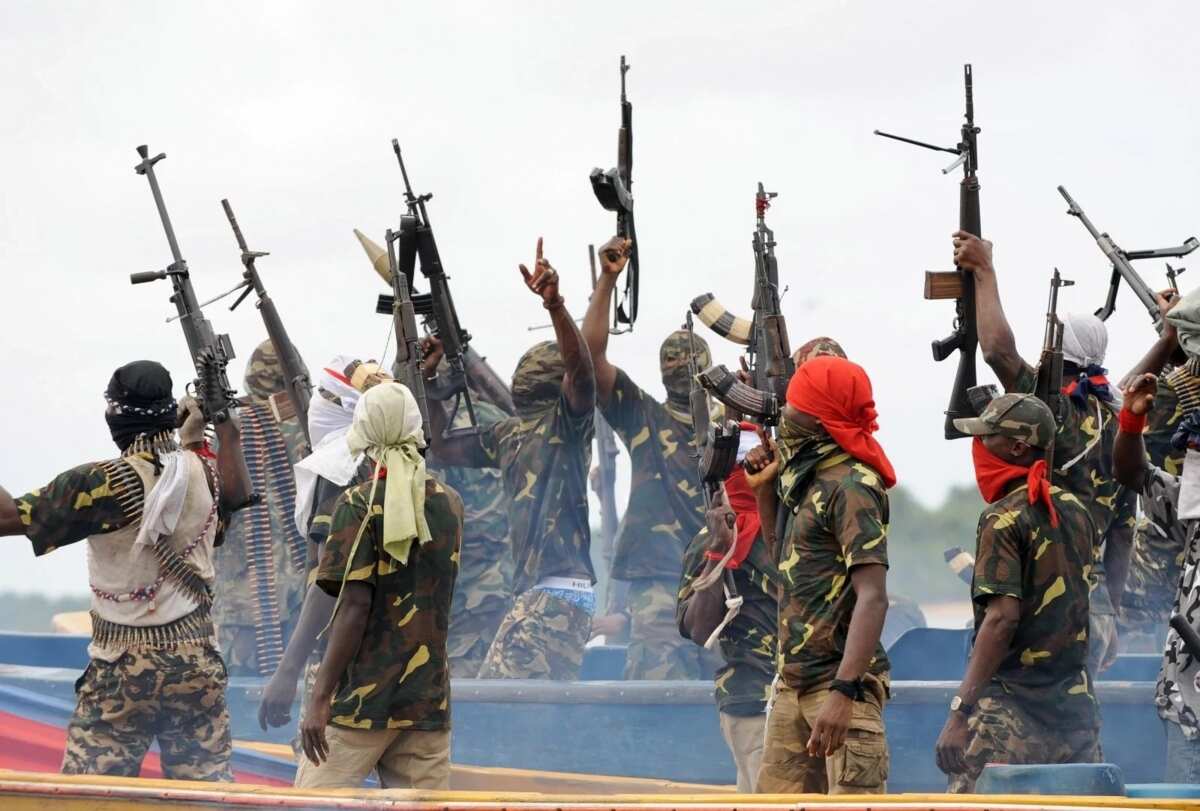 Oluwanishomi Olorunshola Ogungbiyi: "I just pity d people of Niger Delta wen war will b declare on dem,dose animal celebrating dem nw 4 bombing will cry 4 dem ,let c wat human right will say."
Iriogbe Joseph: "Nigeria military to launch operations crocodile smile and the Niger Delta militant launch operations crocodile tears me I will launch operation crocodile laugh."
Maurice JT Udoh: "Crocodile smile and crocodile tears, abeg make una no kill all d other crocodile poverty for water finish o."
Enejere Mc Paul: "Hmmm fear dey catch me for the future of our country. I know that there is no vaccine against mismanagement/incompetence. Most Naijas may have concluded that the CHANGE mantra was only 419.
'There is great fear in the land, most people are not sure where the country is headed, and what many Nigerians are asking is whether you feel us, your subjects, if you feel our plight at all. I see so many of my people walking with their heads dangling over their shrinking shoulders, being swept by hunger and poverty in the land of plenty. God are you there?
''My people are desperate for someone to believe in, Nigerians needs a Talk and Do Presido, no go-slow for the matter because many things don scatter. We certainly need someone who practically leads us through this pain with sincere action and not mere intents or words. I don talk my own, how we go do am?
Debekeme Egberi: "That's what I want to hear! Blow up everything! Since Buhari has decided to flood the land of Biafra with Boko haram foot soldiers."
Ndu Bernard Nze: "Crocodile smile Vs Crocodile tears. Let's see who blinks first. Ara gagba ndi ara."
Uyai-Abasi Udoudo: "Crocodile tears vs crocodile smiles. When two elephants fight, its the grass that suffers. I pity the inhabitants of the area."
Oyedika Charles Elezi: "Na so blow everything thunder fire buhari and his Hausas brothers d same tin dey did to Jonathan."
Akpenuchi Chukwu: "Crocodile don suffer... Soon U will hear operation crocodile dance. Only God will save us."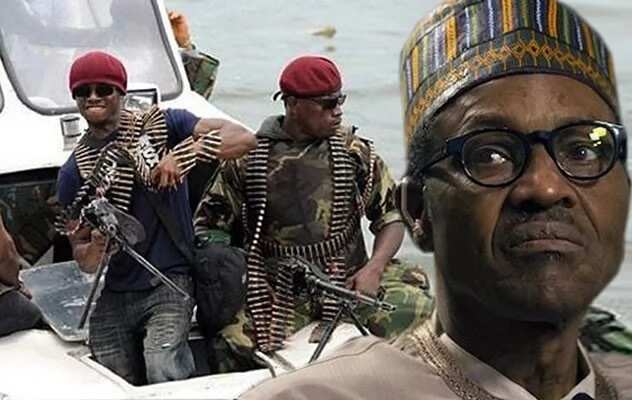 Wilberforce Captain: "Those urhobo militants group in delta state are blowing pipelines bcos they were excluded by d ijaw avengers for d dialogue team wth mr president. But my advice to them is dat let everyone of them should stand and not be panic when d military airstrike wll come on their heels."
Sandset Ajah Moses: "This people truly want to suck us dry, for more than three months now NDA have been blowing Pipe lines, till now some are still remaining, that means Nigerians all their life they have been surviving by our oil alone. That means naira will fall to #,1000 per Dollar. Because Nigeria has no other hope. They better treat Biafrans well now so that we can help them out of mercy tomorrow."
Meanwhile, the militants whose attacks have caused a huge dip in Nigeria's oil exports, forcing the economy into a big crisis, said last night that they were done with the hostilities.
The Niger Delta Avengers (NDA) broke the news in a letter posted on its website by its spokesman, Mudoch Agbinibo, and addressed to President Muhammadu Buhari. It also spoke of the need for regular dialogue to take place for the Nigerian union to survive.
Presidential spokesman Femi Adesina welcomed the cessation of hostilities by the Avengers as "a good development which is in the interest of the country and especially the Niger Delta people."