The demands for the release of the kidnapped Chibok girls have become more intense in the country. On April 14, 2014, 276 school girls with 58 rescued, were abducted in Chibok, Borno state, by Boko insurgents.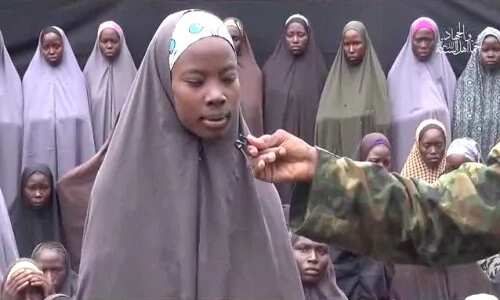 The abduction generated a global outrage, which gave the rise to the BringBackOurGirls group, demanding for the rescue of the girls.
Last week, some members of the group led by Obiageli Ezekwesili, a former minister of education marched to the Aso Villa in Abuja to inquire from the government steps it has taken to ensure the rescue these girls, the group was however barred from entering into the premises by police officers.
However, President Muhammadu Buhari had ensured that his administration will do all within its power to rescue the girls. He had also promised his preparedness to dialogue with the insurgents.
The president said the federal government is ready to exchange some detained members of the terrorist group in return for some of the abducted girls.
READ ALSO: President Buhari set to meet Boko Haram on Chibok girls issue
However, Legit.ng has compiled six important things President Buhari has said about the kidnapped girls since his administration.
1. The issue of Chibok girls has occupied our minds and because of the international attention it drew and the sympathy throughout the country and the world. The government is (looking into possibility of) negotiating with some of the Boko Haram leadership.
2. Let them bring all the girls and then, we will be prepared to negotiate; I will allow them to come back to Nigeria or to be absorbed in the community.
3. We have to be very careful, the concern we have for the Chibok girls, one only imagines if they got a daughter there between 14 and 18 and for more than one and a half year, a lot of the parents who have died would rather see the graves of their daughters rather than the condition they imagine they are in.
READ ALSO: Boko Haram releases new video of Chibok girls
4. This has drawn a lot of sympathy throughout the world; that is why this government is working very hard in negotiating and getting the balance of those who are alive.
5. It is a very sensitive development in the sense that first we have to establish, are they genuine leaders of the Boko Haram. That is number one. Number two, what are their terms, the first impression we had was not very encouraging.
6. We want those girls out and safe. The faster we can recover them and hand them over to their parents, the better for us.
Source: Legit.ng