27 Boko Haram killed in town between Nigeria and Cameroon
- The MJTF killed and arrested some terrorists in the border town between Nigeria and Cameroon
- No soldier was killed in the encounter
- The terrorists are finding it hard to operate in Nigeria
Troops of the Multinational Joint Task Force (MJTF) have killed 27 Boko Haram terrorists in the border town between Nigeria and Cameroon.
The Punch reports that this information was revealed by the commander of a regional army force on Thursday, August 18.
Although Nigeria has been making headway in its fight against terrorism, the insurgent have not been completely decimated with the latest encounter showing some of them still exist.
Apart from Nigeria, the MJTF also include Niger, Chad, Benin and Cameroon.
Bouba Dobekreo who is the commander of the task force revealed that 11 other terrorists were apprehended.
He said: "A Multinational Joint Task Force set up by Nigeria, Niger, Chad, Benin and Cameroon to fight Boko Haram across borders, ambushed a group of the terrorists on Wednesday near the town of Fotokol.
"It is located close to the border with Nigeria.
"No soldiers were killed during the clashes."
The terrorists who seem to be finding it difficult to operate successfully in Nigeria are choosing border towns as their targets.
Meanwhile, in what may be perceived as a supremacy battle, two factions of Boko Haram terrorists are waging war against each other.
Since the appointment of Abu Musab al-Barnawi as the new leader of Boko Haram by ISIS, there has been disquiet within the rank of the terrorists as Abubakar Shakau who has been the leader of the group insists he is still in charge.
READ ALSO: 5 new facts about Boko Haram you should know
In a video by the Wilayat Gharb Afriqiya which is recognises the leadership of Barnawi, the group showed its military strength by firing machine guns and a suicide bomber drives a vehicle into what is possibly the rank of Shakau's boys and explodes in the distance.
The group then shows off bodies of dead soldiers from the faction they now consider their enemy.
READ ALSO: Nigerian army reacts to new Boko Haram leadership
Shekau has insisted that his rival does not have what it takes to lead the terrorist group as "it is not possible for a Muslim to profess his faith without kicking against an infidel system".
In a statement he released, he claimed he was deceived.
All blessings be to Almighty Allah, and his His Prophet SAW. I am Imam Abubakar Shekau. This is the message to the world, to those who can understand Hausa and any other languages it can be translated for a clear understanding of the message, which is why we are sending this message to the world.
READ ALSO: Top facts about new Boko Haram leader revealed
The content of my message goes thus. We have heard news going round and attributed to people we had earlier pledge allegiance to. Even though we are not against them base on the message we heard in the world radio but we are still honour ideology.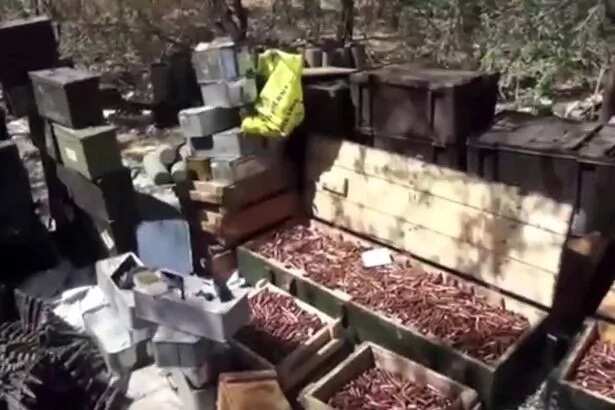 We know those we differ with, and I have written on this long ago. All we wrote have been documented with me, some eight pages and some nine pages stating their kind of ideology.
Because I stated it clear that I am against the principle where someone will dwell in the society with the infidels without making public his opposition or anger against infidels publicly as it is stated in the Quran. Anyone doing such can't be a real Muslim thick and thin.
This is what our ideology proved. And that is where I am, to them, a Muslim can dwell in the society and do his marketing compromising core foundations. I want the world to know that we are still holding our ideology and tied with the Quran, we will not derail and will not revolt but will continue to remain in the cause of Allah. Following Prophet SAW is compulsory for us, and we will follow it to the end.
This is our stand, and we are still in the cause of Jama'atu Ahl as-Sunnah li-Da'awati wal-Jihad and Allah will help us. May Allah strengthen us to remain in this cause. We are still members of Jama'atu Ahl as-Sunnah li-Da'awati wal-Jihad, no matter what they call us, we remain what we are. No matter what we have our basis in Quran.
No matter what they call us, what we aspire is to justify our ideology in the Quran which is ultimate because we have not derailed. We are on and in the future, we will not accept any emissary except the one we can attest he is sincere and truthful for Allah and His cause.
READ ALSO: Seems Shekau is finally dead, he will forever be in hell – Nigerians
In the first place, we sat and I was deceived, they said I should write my ideology to be taken if there is a mistake they will point out and bring back.  They now deceive me, and it is base on some authorities and today I found out that there is one who is following principles of infidel which they want me to follow, and Prophet has stopped us against such.
We are still in the cause of Allah and will never depart in the struggle to establish an Islamic caliphate and standing by Islam. We will continue to work for the cause of Allah no going back. Anyone that caused this, no problem, if it's possible may Allah show him the correct path and if it is not so may Allah protect us from his mischief."
Source: Legit.ng