Abuja, Nigeria: August 17, 2016 — Following months of partnership discussions, Arla Foods, maker of Dano milk and one of the world's largest dairy cooperatives, has entered into a strategic agreement with the Federal Government of Nigeria through the Ministry of Agriculture and Rural Development to provide enabling organisational structure and trainings that will facilitate the development of the dairy industry in Nigeria.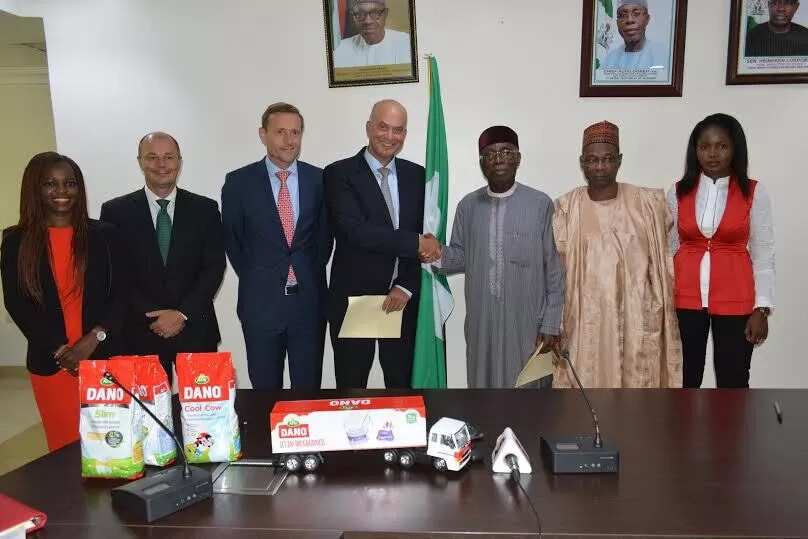 The two parties signed the Memorandum of Understanding (MoU) on Wednesday in Abuja in a move that reaffirms Arla's commitment to support the Nigerian government with the development of the local dairy sector in Nigeria.
Speaking at the signing ceremony, Nigeria's Minister of Agriculture and Rural Development, Chief Audu Ogbeh, said the MoU was a signage for Nigeria's critical need to develop the dairy industry, not just as a business but as a development program. The Minister welcomed objectives of the MoU, including support from EU, knowledge-transfer, partnership with farmers and technical training programs.
'What you're doing excites me a lot because Nigeria is at a critical time in its development. The population is growing extremely fast. We have a large number of children malnourished, almost 27 per cent. We have a school feeding program and dream of a day when every child should have sufficient meals per day. From the cattle breeding improvement program, we are looking at a near future when a family in the city outskirts can keep poverty away with 3 or 4 cows. The Nigerian dairy market is huge, with about 450 million consumers by 2050. Nigeria also has its eyes on feeding West, North and Central Africa. As soon as this MoU is signed, we expect you to go on with the joint ventures and partnerships,' the honourable minister said.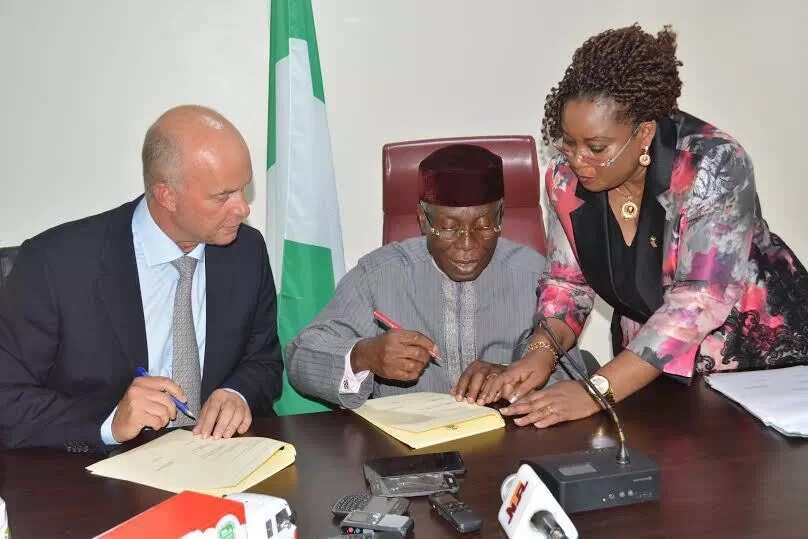 Also speaking, the Regional Office Director for Sub-Saharan Africa, Arla Foods, Mr. Steen Hadsbjerg, while expressing delight at the new development, said the partnership will open a new window of job opportunities, increase in wealth creation for farmers and expansion of investment opportunities.
"Nigeria is one of the biggest markets for dairy products in Africa. For Arla to succeed in Africa, we must succeed in Nigeria. The population is growing, and people are young, ambitious and increasingly well-educated. By consummating this partnership today, we have taken another step to ensure that Arla Foods not only become a household name in Nigeria, but also work to create employment, improve return on investment for farmers and expand investment opportunities," he said.
Steen Hadsbjerg also revealed that the partnership with the Federal Ministry Agriculture and Rural Development (FMARD) will promote and strengthen the emergence of a dairy cooperative system in Nigeria thereby giving farmers a strong voice and ensuring efficient distribution of knowledge.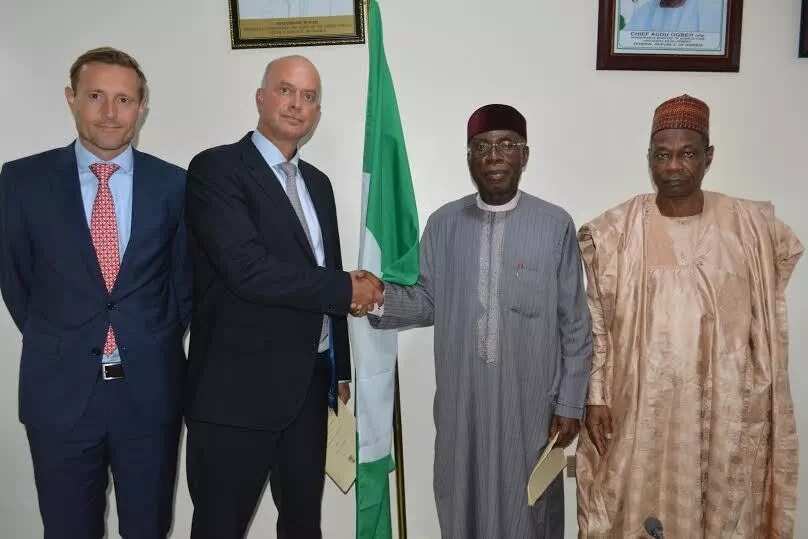 The MOU empowers Arla Foods to create incentives for nomadic herders to develop cooperative dairy businesses through the provision of workable organisational structure and training, as well as promoting and strengthening dairy cooperatives in Nigeria by improving their capabilities to be competitive on price and quality as well as gaining alarger share of the local dairy market. Other areas of improvement the partnership will focus upon include capabilities for qualitative product development and go-to- market abilities.
Arla Foods is currently in talks with a number of local farmer groups and universities like the Federal University of Agriculture, Abeokuta and the University of Ilorin for a partnership that will see it invest and provide the know-how and insights to help improve local dairy production in Nigeria.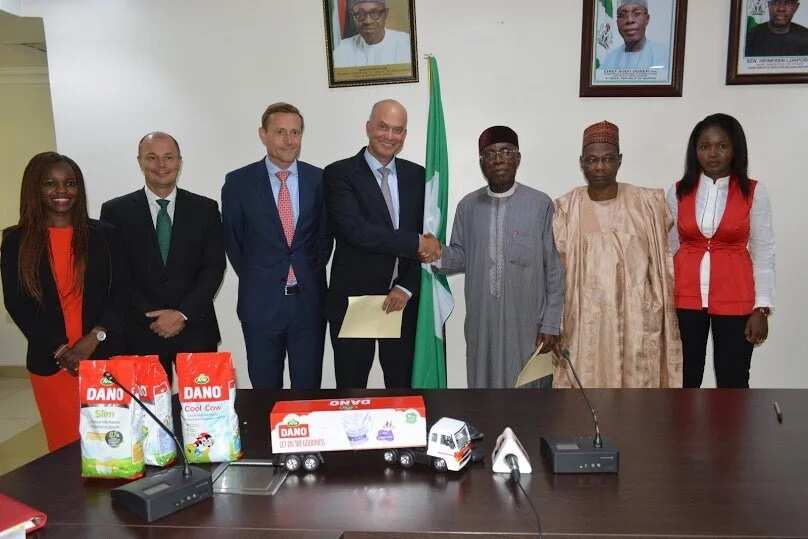 In general, the partnership agreement between Arla and the Ministry of Agriculture and Rural Development will see Arla work with partners in Nigeria to develop a sustainable dairy sector; use competencies on the cooperative model and farm management to increase yield per cow, support increased yield per cow through facilitation of genetic improvement program and feed improvement program, provide technical training to 200 professionals and smallholder dairy farmers every year to improve milk quality and product quality and partner with Ministry of Agriculture and farmers' organizations and other relevant stakeholders to promote and strengthen the dairy cooperative system in Nigeria thereby giving farmers a strong voice and ensuring efficient distribution of knowledge.
Other areas of Arla's support to the Nigerian dairy sector will involve a partnership with universities, local training providers and extension workers, support involvement of Danish and European businesses and knowledge in the FMARD proposed breeding and feeding programs. Arla will also be extending support by way of promotional activities geared toward dairy development in Nigeria such as forum for dairy businesses, government actors, NGOs and other stakeholders.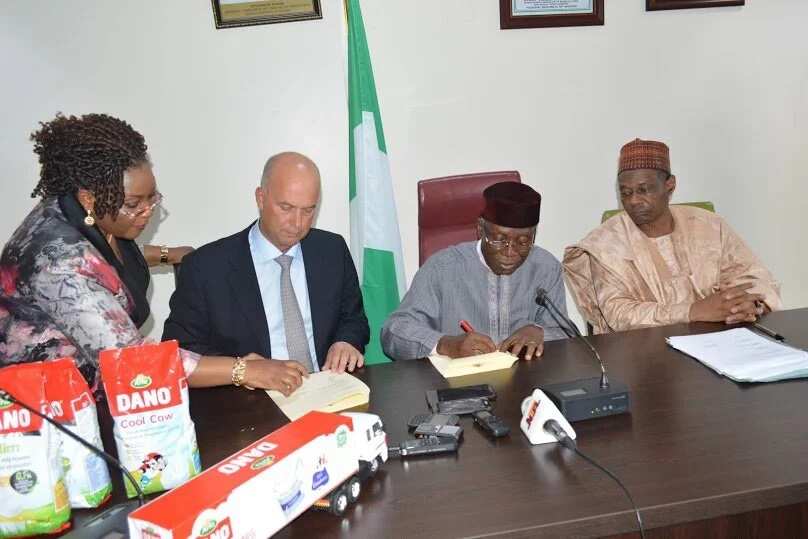 On its part, the Ministry of Agriculture is expected to provide infrastructure such as rural roads, earth dams, bore holes needed in the grazing reserves within operational areas and deploy such infrastructure through its Department of Animal Production and Husbandry Services. In collaboration with other stakeholders, government will take the lead in identification and registration of milk cooperative societies in operational areas and liaise with state governments to provide enabling environment for operations. Under the agreement, the Ministry of Agriculture is expected to support breed improvement activities, provide scope of work for personnel and field staff working in operation areas while helping to facilitate partnerships with other agencies to strengthen operations. The Ministry is expected to support pasture improvements in grazing reserves within areas of operation, attend necessary meetings to review progress compared to targets and support Arla in removing any administrative and bureaucratises obstacles that prevents Arla from delivering on objectives.
About Arla
Arla Foods is an international dairy company owned by 12.700 farmers from Denmark, Sweden, the UK, Germany, Belgium, Luxemburg and the Netherlands. Arla Foods is one of the strongest players in the international dairy arena, with a wide range of dairy products of highest quality. Well-known brands like Dano Milk, Lurpak ®  and Castello ®  belongs to the Arla family. Arla Foods is also the world's largest manufacturerof organic dairy products.
{SPONSORED}