- Prince Kanu, has said  the Indigenous People of Biafra (IPOB), Nnamdi Kanu never authorised anybody to speak about negotiations or Avengers
- He said there is a massive shake within the legal team of the IPOB leader
- The leader of the separatist group jointly with other IPOB members had sacked its lawyers for misleading general public on their relationship with the NDA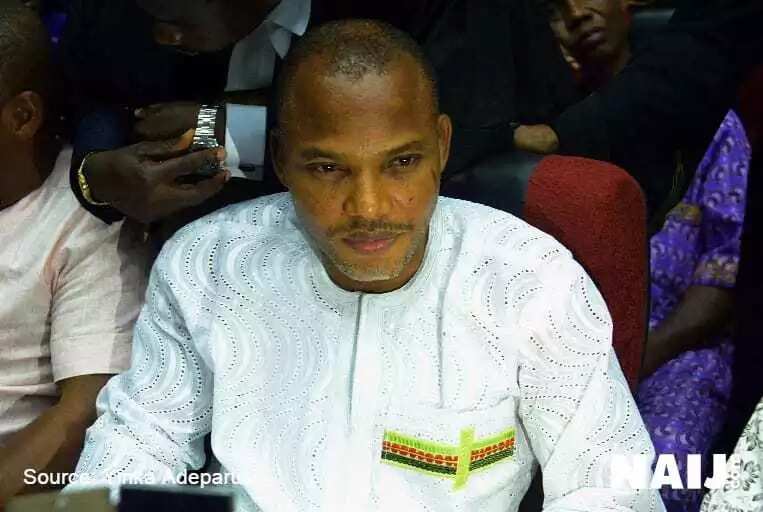 Prince Kanu, the younger brother to the leader of the Indigenous People of Biafra (IPOB), Nnamdi Kanu has said that his brother never authorised anybody to speak about negotiations or Avengers.
READ ALSO: Nnamdi Kanu has no ties with MEND, Avengers - Lawyers
This is coming hours after the leader of the separatist group jointly with other IPOB members sacked its lawyers for misleading the general public on their relationship with the Niger Delta Avengers (NDA).
Speaking exclusively to Legit.ng, Kanu's younger brother said: "I can assure you now that there a massive shake within the legal team and investigations have commenced as to ascertain what really happened."
The IPOB leadership wants the world to know that is either Biafra or nothing. IPOB worldwide is holding our  lawyers responsible for expressing opinion and views IPOB never  sanctioned."
He added that IPOB's leadership has nothing to do with the Movement for the Emancipation of the Niger Delta (MEND) and that the Avengers are dear to IPOB.
"The leadership of IPOB has nothing to do with MEND. Avengers on the other hand is dear to IPOB so anybody speaking against them remains IPOB enemy. It is clear to the world that the treasonable felony charge against my brother Mazi Nnamdi kanu was fabricated and lacks merit.
IPOB under the supreme leadership of Nnamdi Kanu will remain one with NDA in our quest to restore Biafra. If Nigeria wants to negotiate with Mazi Nnamdi kanu they should go to Kuje where they incarcerated him illegally.
The only thing that still keeps us together is blood oil which has come to an end," Prince said.
READ ALSO: Kanu hits back at FG says ECOWAS court can entertain his matter
The militant groups had earlier asked for the release of Kanu, as a condition among others for the return of peace in the Niger Delta region.
However, a progress report on the dialogue between the MEND and agents of the federal government said an arrangement was being worked out for Kanu's release from prison custody by the federal government if he renounced his Baifra agitation.