Nigerians accuse Buhari, APC of plotting against Jonathan
A section of Nigerians have accused President Muhammadu Buhari and the All Progressives Congress (APC) of being behind the report alleging that Goodluck Jonathan is one of the sponsors of the Niger Delta Avengers (NDA).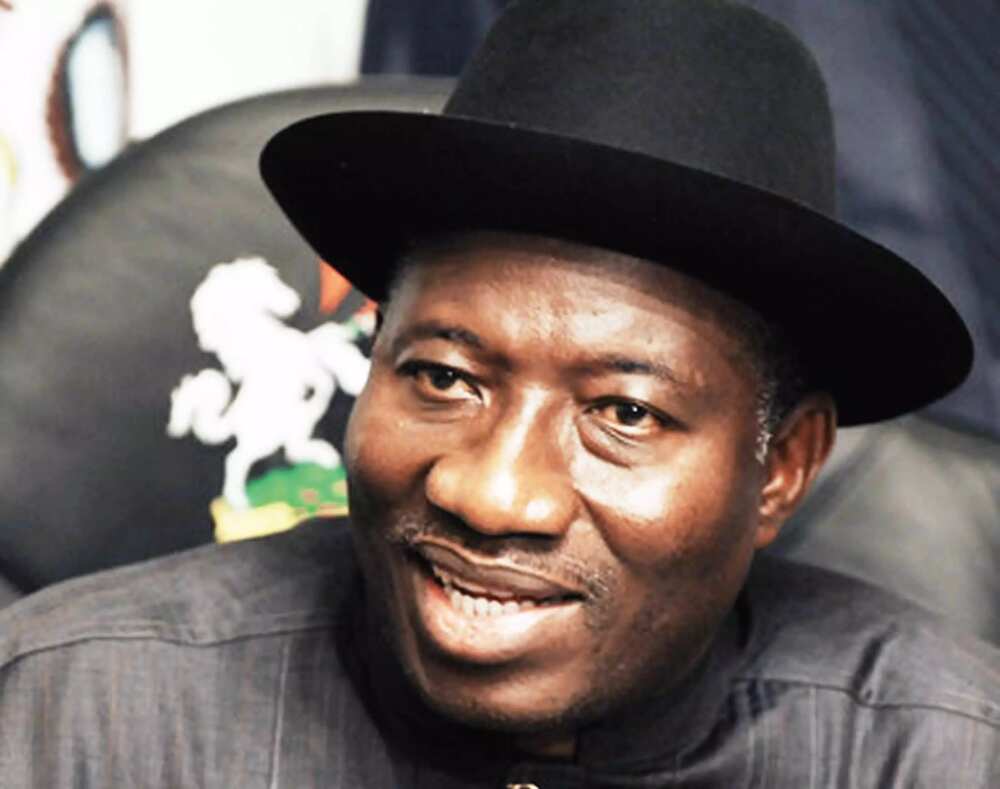 Jonathan's name and that of other south-south leaders were listed by a group, the Reformed Niger Delta Avengers (RNDA) – which split from the NDA as those backing the militants.
In a statement by its spokesperson, Cynthia Whyte, the RNDA also listed Governor Nyesom Wike of Rivers state and the Governor Seriake Dickson of Bayelsa state as sponsors of the NDA.
READ ALSO: Police arrests 2 militants in connection to kidnap of Oba Oseni
The group also identified Senator Godswill Akpabio, a former governor of Akwa Ibom state, ex-militant turned contractor, Government Ekpemupolo (alias Tompolo), Raymond Dokpesi, the founder of African Independent Television (AIT), the Indigenous Peoples of Biafra (IPOB), Kingsley Kuku, Kimi Angozi, and Patrick Akpobolokemi as other sponsors.
It claimed that the NDA's sympathizers included Edwin K. Clark, Tony Uranta, Daniel Alabrah, Ms. Annkio Briggs, and Olisa Metuh, a former spokesman of the Peoples Democratic Party (PDP).
But, Jonathan has denied being a sponsor of the Niger Delta Avengers (NDA).
The former president has alleged that the report linking him to Avengers was done by the Movement for the Emancipation of the Niger Delta (MEND) which is plotting to assassinate him.
In reaction to the allegations against Jonathan, a section of Nigerians have blamed the presidency for the report linking the former president and other south-south leaders to the Avengers.
They alleged that Buhari and the APC were trying to silence members of the opposition by alleging that they were sponsors of the NDA.
READ ALSO: Fast all in one -- UC Browser
Others questioned why the Buhari administration was yet to come up with a list of sponsors of Boko Haram insurgents after a long period of time.
Read reactions to the report on Jonathan below:
Emmanuel Igwe: "Buharia and his group should allow this man Jonathan to rest since he left office.Is he the only person that ruled nigeria,after all he has never stolen any nigeria.He save nigeria lives and properties by accepting defeat,what else did buharia want him to do again,or is it a crime to be a peaceful man.Buharia said that Jonathan didn't know how to rule that he's agent of change that will turn nigeria into paradise over night,why is he still blaming Jonathan uptill now.He sponsored boko haram and fulani terrorist for Jonathan during Jonathan time,tell me why is he complaining now.Buharia the food is on the table for you,eat it stop blaming Jonathan I beg.what militants are demanding is legitimate,release nnamdi kanu and reconstruct nigeria or split nigeria simple."
Chidimma: "Joy Buhari n APC members is behind this evil plot against jonathan n other PDP members named sponsorin NDA, buhari n APC is just busy lookin for what to do to make sure they jail jonathan n silent opposition party by all means because he know fully well that he have disappointed nigerians n by 2019 he will lose election. So he is serious sarching for what to do to bring shame to himself not jonathan because of the award of honour jonathan is receiving all over the world but i want to tell buhari n APC that whosoever God has bless nobody can curse him/her, so is better for them to drop all this evil plot then go n make peace with NDA n also look into the hardship n poverty nigerians that vote them into power are passing through everyday in nigeria because we nigerians are wise now in politics n nobody can deceive us again, so bringing all this evil accuse against jonathan n other will not work, he will only deceive hausa n fulani abokis but not educated nigerians beause we are watching him n APC. Period!"
Ochuko Clinton Ikekereghor: "Apc in action again.......pls sir don't let stupid apc out smart u dis time around jst shine ur eyes. they are all evil plotters......but I can assure u dat d spirit of God will see 2tu no doubts!"
Sunny Ogbugbu: "Those saying u are the sponsor of NDA are all fools and uncivilized elements.when caw took over Nigeria as a rule not a leader what do u expect from them. You are a great man and hereo of all time, posterity you left in this nation Nigeria will always protect you and ur families. Almighty God is in side."
Adenigba Alex: "Don't worry my president epitome of democracy ride the whole world know that you real state man am sure UN known that you are true a leader what do you expect failure to say ride on God is with you. Yes I remember when you are America nobody mention this just to come and relax at home issue of sponsor or no sponsor because you are their headace."
Basil Dk Dk: "I have one question who is the sponsor of bokoharam and flani let's first get that one done before we talk about NDA this country is about to Explode buhari and APC should be very very careful what they are doing now."
Paul Ushie: "God of vengeance ll work everytins 4 u, dia plans against ll nt work 4 dem,u really try for nigerians u re de best,people re lamenting for dis A.P.C power n de knew it fully well dat 2019 ll be worse for dem,GOD is ur strenght jonathan remain bless."
Promise Egbe: "Southeast should be wise, they should not allowed the FG to use there head not achieve their aim, Boko Haram are they not been sponsored by group of people? Those behind this should been mention, use ur head."
Jerry Ini: "Stupid people, Boko haram no get sponsor since o, even Buhari was speaking on behalf of boko haram but he was never labeled a sponsor.
Leave Goodluck alone o, na trouble una dey find o."
Immaculate Osimach: "Apc the scam, buhari the clueless duara dullard. When jonathan was in govt everybody was shouting for his head, even some so call men of God abandoned their gospel activities and jumped into apc boat of change calling him names. I expected that immidiately jonathan left nigeria would become london or china but no we have dropped down to baby country still struggling to crawl. All the keep saying is, jonathan this, jonathan that. They always have lies to back up their failures. My brother if you have not blamed jona today, please hurry now and do so."
Njoko Ifeanyim: "Including former president Goodluk Jonathan as one of the sponsors of NDA is an evidence of false information because GEJ was in position to put Nigeria into pandemonium but he refused."
Nwabuike Ben Ebenebe: "So fast to release list of sponsor, if dats d case den d country is already divided, while buhari is anchoring headsmen and leader of bokoharam along side Emir of KANU, sokoto, IBB and others I fink dia is nofin wrong wit dat, truth b told Nigeria is already divided."
Ugo Onuoha: "So easily to mention the names of people that are sponsoring Niger Delta Avengers, but too hard for them to mention names of Boko-haram sponsors."
Patrick Amarakuo: "Wow thats gud to hear.... Any other lies from APC that we were not told...... Anyway is verse versa as Buhari and the others northerners are the sponsors of Boko Haram............. Anyway wat goes around come around, they are even more beta than Buhari Boko Haram they dont kill innocent souls."
Prince C. Onyemaobi: "Buhari,Atiku,TY Danjuma, Abdulsalam, Yerima, Sambo (former Vice-president) and others are also the sponsors of Boko Haram. ...we all know them."
Wiseman Solomon: "I see nothing wrong with dat, northerns leaders were sponsors boko haram nobody say anyting about dat, so leave goodluck alone."
Meanwhile, Governor Nyesom Wike of Rivers state has said he is not involved with the Niger Delta Avengers (NDA) or any other militant groups as alleged in earlier reports.
In a statement by Simon Nwakudu, his media aide, Wike said the mention of his name was a distraction as he had been working to develop his state.
Source: Legit Nigeria