- The European Union has announced the release of 9 million (N3.18 billion) to Nigeria
- The money, the EU said will help in the humanitarian aid support for Nigerians displaced by Boko Haram activities in the northeast
- The money given to Nigeria is part of €12.5 million made available for the Lake Chad Basin - Niger and Cameroon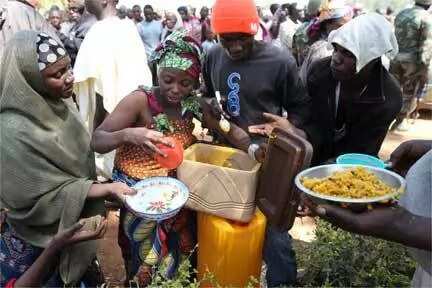 The European Union Commission on Friday, August 5, said announce the release of €9 million (N3.18 billion) to Nigeria as support for humanitarian activities in the north east.
A statement, the EU said an additional €12.5 million will be made available for humanitarian aid support to Nigeria, Niger and Cameroon as they face crisis in various insurgency hit regions.
"Today's additional emergency assistance will help vulnerable populations in the Lake Chad region. €9 million will be provided to support people in Nigeria, €2 million in Cameroon and €1.5 million in Niger" the statement said.
The EU commission the funding comes as a cushion for the support rendered to the communities ravaged by Boko Haram terrorists which has displaced million of people from these countries.
The EU commissioner for humanitarian aid and crisis management Christos Stylianides said he witnessed the plights of many displaced in the Lake Chad Basin last month.
READ ALSO: Are you traveling for Hajj? CBN orders banks to sell dollars to pilgrims at N197/$
"Millions have been displaced and the number of those struggling to find food is increasingly alarming," Stylianides said.
"The situation in Nigeria is especially dramatic. As always, children are hit the hardest and we must urgently intervene to stop their suffering.
"This additional EU funding will focus on emergency assistance, primarily in the areas of food and nutrition, water and sanitation, and health. All efforts should be made to ensure that humanitarian organisations can safely reach those who need urgent help." he said.
Today's announcement by the commission is an addition to €58 million previously allocated to the Lake Chad Basin crisis, bringing overall EU humanitarian aid to over €70 million for the region in 2016.
The European Union is a major humanitarian donor in the region, providing assistance to local, host and displaced populations in various humanitarian aid sectors in recent years.
A report by the Internal Displaced Monitoring Centre  (IDMC) and the Norwegian Refugee Council placed the number of displaced Nigerians at 3.3 million.
The report also said that these number of persons - the largest in Africa - were majorly displaced by conflicts.