- The new Boko Haram leader Al-Barnawi gives interview to the newspaper of the Islamic State 
- He claimed the West is trying to Christianize Africa and vowed to kill all Chrisians he could find
- Al-Barnawi described the group activities as war fought by Muslims against "apostates" and "crusaders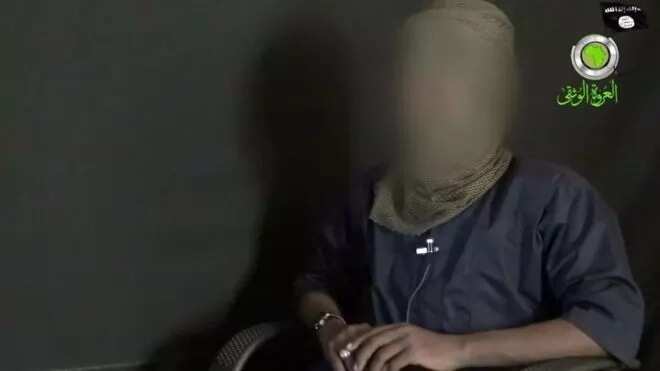 The IS "governor" for West Africa Province, Abu Musab al-Barnawi, has granted the interview to the Al-Naba newspaper discussing the Boko Haram war with Nigerian government.
Al-Barnawi, who is Boko Haram's former spokesman, has been announced as the Nigerian militant organization's new leader on August 3, Wednesday.
READ ALSO: Abubakar Shekau reacts to new Boko Haram leader
He replaced the Nigerian group's long-time leader Abubakar Shekau after much speculation.
SITE Intelligence Group's translated the interview in which Al-Barnawi threatened to kill Christians and bomb churches.
The new Boko Haram leader blamed the West for spreading Christianity to the African region and also said that charities are assisting them in doing that.
"They strongly seek to Christianize the society. ... They exploit the condition of those who are displaced under the raging war, providing them with food and shelter and then Christianizing their children," he said.
The terrorist further warned that the Boko Haram fighters would retaliate the West by "booby-trapping and blowing up every church that we are able to reach, and killing all of those [Christians] who we find from the citizens of the cross."
Al-Barnawi added that Boko Haram "remained a force to be reckoned with" and that it had been bringing in new recruits.
He titled the group's attack on West African states as a war fought by Muslims against "apostates" and "crusaders."
READ ALSO: ISIS picks new Boko Haram leader
Abubakar Shekau reacted to the news saying that terror group will not change its course of the establishment of an Islamic state in Nigeria. He has unveiled a recorded message with comments on the state of affairs in the sect.
The previous leader, Shekau, has constantly mocked Nigerian government with increasing attacks since more than 200 Nigerian schoolgirls were kidnapped in April 2014.
However, Boko Haram had lost majority of its territory it controlled 18 months ago to the Nigerian army as it claimed that sec has been completely defeated.
Source: Legit.ng