- The report said the casualty figure as well as those declared missing could still rise since the attacks are yet to end
- Lumsan Dilli, a representative of the area, said the communities presume those declared missing may have died
- The report said six men and three women were killed at Gada Biyu, while two men were killed at Akwa'a in Kaduna state
Gunmen believed to be herdsmen have attacked communities in Adamawa and Kaduna states killing at least 26 and injuring scores of other residents.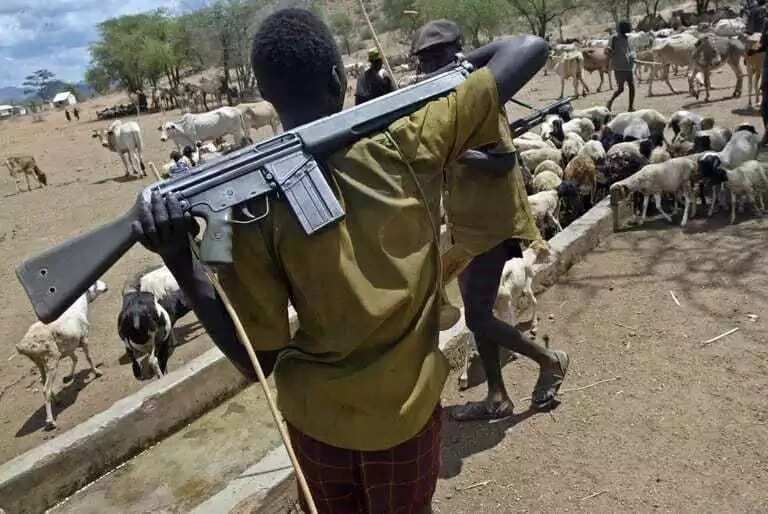 Many have also been declared missing in the two attacks reported by Vanguard.
The report said 15 persons died in an attack on Kodomun village and its environs within Demsa local government area of Adamawa state, while 11 people were slaughtered  in three villages around Godogo town, Jema'a local government area of Kaduna state.
The report said the casualty figure as well as those declared missing could still scale higher because the affected villages were still taking stock of the situation at the time of the report.
READ ALSO: Federal government plans to charge farmers for protection
It was learnt that the deputy governor of Adamawa state, Mr Martins Babale; Brigadier-General Benson Akiroluyo, who commands the 23rd armored brigade, Yola; and Mohammed Ghazzali, the police commissioner in the state, paid a visit to the communities on Tuesday, August 2, 2016, to assess the situation.
They also visited the paramount ruler of Batta, Hamman Batta, Chief Alhamdu Teneke, to commiserate with him over what happened.
The member representing Demsa Constituency in the state House of Assembly, Mr Lumsan Dilli, disclosed that the casualty figure could be higher.
He said many of those declared missing had been presumed dead while the migrating herdsmen have continued to kill, maim and burn down villages as they moved towards their destinations.
He appealed for reinforcement of security in the affected villages and others prone to attacks.
In his view, chairman of Demsa local government council, Mrs Wale Fwa, revealed that a newly elected councillor for the area, Mr Hani Habila, was among victims of the attack while over 40,000 people had been rendered homeless.
In Kaduna state, the herdsmen attacked three villages around Godogo town, in Jema'a local government area.
READ ALSO: How Ambode can tackle criminals in Lagos - Egberongbe
Apart from the 11 that died, many were injured, many have gone missing while houses have been burnt.
The report said six men and three women were killed at Gada Biyu, while two men were killed at Akwa'a.
"Herdsmen invaded Gada Biyu, 2km from Godogodo early Monday morning, started shooting and burning down houses. People fled in different directions.
"However, the police were quick to arrive and the invaders fled into the bushes.
"When they left, four corpses were discovered. Today (yesterday), after combing the bushes, five more dead bodies were found, among them were three women.
"When the killers escaped from Gada Biyu, they resurfaced at Akua'a, yesterday, morning and killed two people. But they did not burn any house there. The Police arrived on time again, and they ran away.
"But, yesterday afternoon, they appeared at Anguwan Anjo and started shooting, but by this time people had fled the village, and the police also arrived promptly.
"However, about an hour ago, the police, who have not had any rest, went to get some food in town. Now, I am sure if you listen very well you will hear the sound of heavy gun fire. They are shooting from afar.
READ ALSO: Panic, as soldiers kill one during protest in Plateau
"We believe that the motive of the attackers is to displace us and take over our lands. In Anguwan Anjo, our surprise is that the Hausa settlers there did not run away. There is a river there full of fish and we fish with them.
"Also, since we heard that our villages have become part of Sanga Grazing Reserves, we have not known peace," a source was quoted as saying while the police spokesperson in the state, ASP Aliyu Usman, said there were no details of the incident yet.
As the country continues to grapple with the activities of these herdsmen, the Nigeria Anglican Communion recently warned that the rising spate of attacks by herdsmen on farming communities across the country poses risks to Nigeria's desire to diversify its economy through agriculture.