Jefferson Skinner is a Hollywood VFX veteran celebrating almost 25 years in the industry. He has worked with some of the best digital FX and animation houses throughout the world.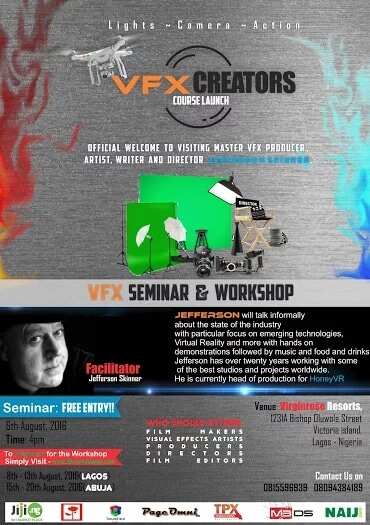 Multi-talented, Jefferson started his career as a puppeteer and traditional animator as computer were not commonplace. He produced and directed short films, commercials and music videos but eventually was drawn into the newly formed field of computer graphics working as a 3D artist and 2D compositor in countless A list films in L.A., London and Sydney Australia.
Jeff went on to write and direct children's animation before moving to Seattle where he founded Victory Studio's VFX department where he developed digital animation for ultra large JUMBOTRON screens as seen at Football stadiums across America doing Visual effects and animations. A chance encounter with a revival of 1950's CINERAMA 3 screen presentations swayed him to further explore new immersive formats, leading him to work with planetariums where he created 360 degree productions - ten years ahead of the recent 360 VR trends.
For the last few years Jefferson has been championing innovative 4K stereoscopic 360 VR production and is currently Head of Production for HoneyVR where he is working with artist worldwide creating cutting edge immersive 360 experiences.
Having watched the industry grow from afar, Jefferson is delighted to be finally coming to Nigeria and is eager to mingle with its creative best and to share his knowledge in Visual FX.
Jeff launched his virtual reality app on major VR platforms such as: Oculus, Samsung Gear, htc Vive, Sony, android and iOS.
Register Now – www.3dworkshopng.com or call 0813 559 6939, 08094384189
3D DESIGN & TECHNOLOGY EMPOWERMENT WORKSHOP
Lagos – 8th – 13th August – VIRGINROSE RESORTS, 1231A, Bishop Oluwole Street, Victoria Island, Lagos
Abuja – 15th – 20th August STELLA MARIS COLLEGE, Life Camp, Gwarimpa, Abuja.
What are the requirements?
Laptop Computer (2GB-4GB RAM Minimum)
Who Should Attend?
- Film Makers, Directors, Producers.
- Beginners looking to explore 3D as a career
- Intermediate users looking to enhance their skills to professional level
- Students, Engineers, Architects, Interior Decorators, Film Editor, VFX Artist, Advertising
- Hobbyists interested in the 3D field
Fees:
N 120,000 (12-17years of Age) STUDENT DISCOUNT
N 150,000 (18 and above)
*You get an AUTODESK Certificate after completion of workshop project.
*10 Best students get scholarship to M3DS Studio Macedonia
EMPOWER YOUR FUTURE WITH 21ST CENTURY SKILLS.
[Sponsored]