- The All Progressives Congress in Ekiti says Governor Fayose has a subsisting fraud case pending at the Federal High Court in Ado Ekiti
- The state APC spokesperson, Olatunbosun, says the governor has been misleading the public for long about the status of the case
- Challenges the governor to provide the court's enrollment order discharging him on the poultry project case to convince the public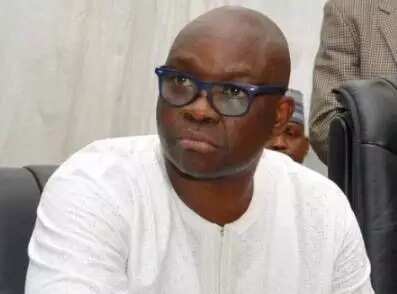 The All Progressives Congress in Ekiti state has dismissed claims by Governor Ayo Fayose that he has been discharged and acquitted by the Federal High Court over an alleged N1.3bn poultry project.
READ ALSO: 2018: Fayose reveals what he'll do after his tenure expires
According to The Punch, the state publicity secretary of the party, Taiwo Olatunbosun, in a statement on Thursday, July 21, said the fraud case instituted against Fayose by the Economic and Financial Crimes Commission (EFCC) in 2005 is still pending at the Federal High Court in Ado Ekiti.
Olatunbosun said the governor has been misleading the public for long about the status of the case, adding that the case was never dismissed, but was only transferred from Lagos to the Ado Ekiti division of the court for jurisdiction.
The state APC spokesperson challenged the governor to provide the court's enrollment order discharging him on the poultry project case to convince the public.
He said: "It is regrettable that Fayose has made lies and falsehood a major plank of the state policy of his government.
"There is no iota of truth in Fayose's claim of acquittal as no court has delivered judgment on the matter, which is still pending before the Federal High Court, Ado-Ekiti.
READ ALSO: Fayose reveals why Ekiti is owing workers' salaries
"The case was last heard by Mr Justice Adamu Hobon of the Federal High Court, Ado-Ekiti, where EFCC gave a blow-by-blow incontrovertible evidence of how Fayose used Biological Concepts Limited owned by his friend, Gbenga James, to defraud Ekiti State of N1.3bn to build houses and purchase a car for his mother.
"After that sitting, what Fayose did was to approach the Supreme Court for an interlocutory injunction to frustrate the trial. This is not the same thing as being discharged and acquitted over a matter that judgment is yet to be given."
Olatunbosun said that the matter had reached the stage of exchange of addresses to be followed by judgment shortly before Fayose emerged as the Governor elect in June 2014.
Recall that Governor Ayo Fayose was impeached by the Ekiti state house of Assembly in 2006 over allegations that he diverted the state resources under the guise of establishing a phony poultry project for the state.