- Boko Haram struck in Borno a day after the state celebrated a peaceful Sallah
- One of the attackers blew himself up after being unable to enter a mosque
- A second bomber killed himself and sixother person in another mosque
A Boko Haram suicide bomber has killed himself after he was prevented from gaining entry into a mosque in the Damboa area of Borno state.
In a statement issued by Colonel Sani Kukasheka Usman who is the spokesperson of the army, he said the incident happened today, Friday, July 8.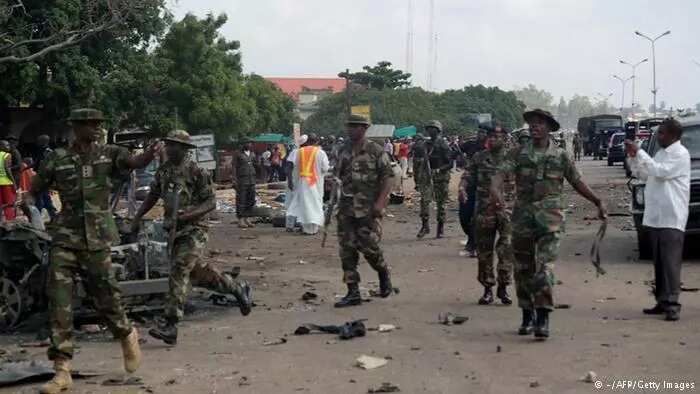 According to him, the terrorist was unable to enter Damboa Central Mosque but due to the heavy security, he was unable to and ended up blowing himself up.
READ ALSO: Nigerian air force jet strikes Boko Haram members
However, a second Boko Haram attacker gained entry into a smaller mosque and detonated a his bomb killing himself and six other worshipers.
Read full statement below:
"At the early hours of today, precisely at about 5.15am, two Boko Haram terrorists' suicide bombers attacked Damboa. The first suicide bomber targeted Damboa Central Mosque but due to stringent security measures, he could not gain entry. Obviously frustrated, he exploded and died near the Central mosque.
"However, the second bomber veered off and gained entry into another smaller mosque and detonated the bomb killing himself and 6 other worshippers and injuring one other person. The wounded has been evacuated to a hospital while efforts are on to clear the rubbles. Troops and other security agencies have been mobilized to the area.
"In a related development, suspected elements of Boko Haram terrorists in a survival bid attacked Gaskeri village ahead of Dalori yesterday evening, where  they killed 3 civilian vigilantes and looted foodstuffs. Troops have been mobilized and they are on the suspected terrorists' trail.
READ ALSO: Dasuki indicts Jonathan in $15b arms deal
"Similarly, as part of the efforts to keep Maiduguri-Dikwa-Gamboru Ngala road open and safe, troops of 3 Battalion, 22 Brigade yesterday escorted 4 trailers  and 44 other vehicles from Dikwa to Gamboru Ngala yesterday. The escort duties would continue.
"Troops of 3 Battalion ambushed Boko Haram terrorists at Gajibo crossing point and recovered  one AK-47 rifle loaded with magazine, a transistor radio and a knife  on 6th July 2016.".
This attack is coming a day after Governor Kashim Shettima of Borno celebrated with the chief of army staff, Maj-Gen. Yusuf Tukur Buratai celebrated a peaceful Sallah celebration in the state.