- The wives of the suspected Boko Haram members lamented the arrest of their husbands
- Women said they are not a part of the deadly sect and appealed to police to release their men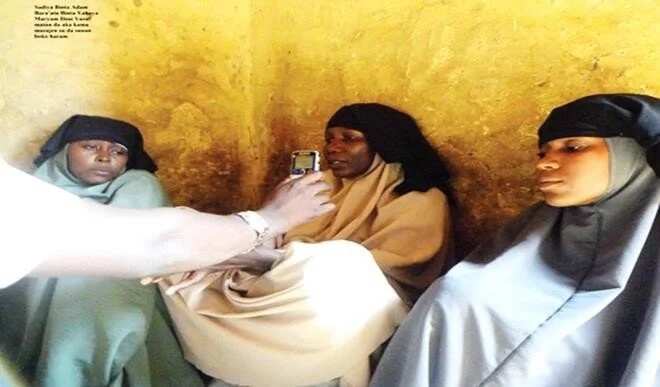 The family members of the ten arrested Boko Haram suspects has accused police officers of arresting their relatives who have no links with the deadly sect.
The family said that they are Muslims who were sacked by the Niger state government in 2009.
Daily Trust reports that Muhammad D. Shehu, the police officer, has said that the suspects were in Darul Islam in Niger state and when they were sacked, they moved to Sambisa forest before moving to Zaria.
READ ALSO: Police nabbed ten Boko Haram terrorists in Zaria
Malik Bn Muhammad Bn Adam, a 20-year-old son of one of the arrested suspects, said they were not members of Boko Haram.
He stated that the families were part of those that were relocated from the Darul Islam settlement in Niger state.
He said: "When we were sacked, you know that the government has asked every family to mention his place of origin. We are indigenes of Zaria; hence we were allowed to settle here. We bought a land and built this house, and as you can see there is nothing to suggest that we are Boko Haram. We have been living year for the past seven years.
"Our neighbours here were the ones that reported to the police, largely because we don't interfere in anybody's business. 
"We usually mind our own business and the neighbours here are not comfortable with that. We are Muslims that follow the teachings of the Qur'an and Sunna of the Prophet (SAW). We go to Western schools and government hospitals."
"After the search, they went back with them to Kaduna. Our husbands were arrested on Wednesday, June 22, 2016 about 8:20pm after the Isha'i prayers. After they had finished their prayers, armed policemen surrounded the mosque and arrested eight persons. The following day, two persons went to Zaria police headquarters to confirm why the eight persons were arrested; the two of them were also detained.
READ ALSO: Boko Haram: Nigerian troops clear six villages
"We are calling on the authorities concerned to release our husbands and sons, because we are not members of Boko Haram. Anybody that wants to see or monitor our activities, he is free to do so," Maryam Bintu Yunus one of the wives of the arrested men narrated.
The Defence Headquarters earlier said that Boko Haram members are fleeing Sambisa Forest disguised as hunters.
Source: Legit.ng