'The Aisha Buhari mentioned in scandal is not PMB's wife'
- Lamorde has clarified the issue of Aisha Buhari being named in bribery scandal
- The former EFCC boss said the person mentioned was not the president's wife
- He said Governor Fayose should know better than to claim the person was the president's wife
Ibrahim Lamorde who is a former chairman of the Economic and Financial Crimes Commission (EFCC) has clarified that the Aisha Buhari mentioned in the bribery scandal involving a U.S. congressman, Williams Jefferson is not President Muhammadu Buhari's wife.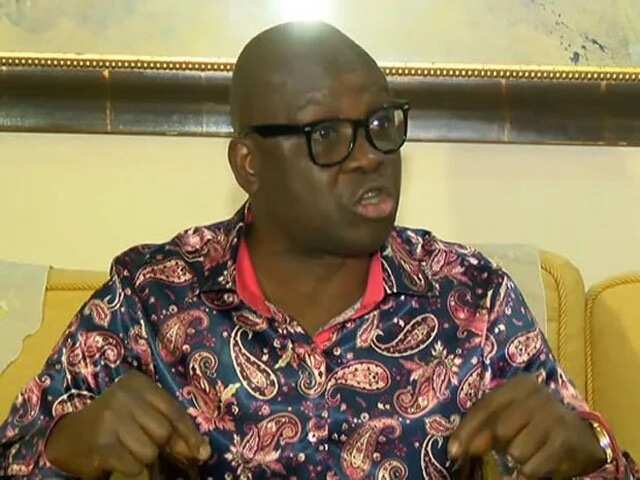 The EFCC had frozen the personal account of Governor Ayodele Fayose and in reaction; the governor claimed the president was not a saint either.
In a statement signed by his Chief Press Secretary, Idowu Adelusi, Fayose said President Buhari was far from being a clean man.
READ ALSO: Fayose exposes Aisha Buhari's role in Jefferson bribery scandal
 "Even the President cannot claim to be an angel," the governor said, in reaction to the freezing of his Zenith Bank account.
"The estate he built in Abuja is known to us. His wife was indicted over the Halliburton Scandal (sic). When that American, Jefferson, was being sentenced, the President's wife was mentioned as having wired $170,000 to Jefferson. Her name was on page 25 of the sentencing of Jefferson. We can serialize the judgment for people to see and read."
The governor's Special Assistant on New Media, Lere Olayinka, later circulated links to and copies of the court document detailing Mrs Buhari's mention in the scandal.
"Government Exhibits 36-87 (6/26/02 $170,000 wire transfer from account in Nigeria in the name of Aisha Buhari to an account in the name of The ANJ Group, LLC, identifying "William Jefferson" as Beneficiary)," the US Government Sentencing Memorandum said on page 22.
Premium Times however reports that Lamorde said he was the head of operations during the time and can authoritatively say the Aisha Buhari mentioned was not related to the president's family.
"I can tell you authoritatively that the Aisha Buhari named in that case is not President Buhari's wife. It is another Aisha Buhari entirely.
"I was the director of operations at the EFCC at the time so I know about the case very well. I can tell you that it is not her (President Buhari's wife). That much we established."
READ ALSO: Fayose under attack for blasting Buhari
Mr. Lamorde was the director of operation at the EFCC at the time the US asked Nigeria to investigate the people mentioned and he also coordinated that investigation.
"It is unfair to link the President's wife with that case. She was definitely not the one involved, and Fayose and other Nigerians should know this." 
Source: Legit