- Professor Sagay has described officials of the National Assembly as self-centered people
- He said the agitation for life pension from the officers showed they were only concerned about themselves in their capacity
- He cited Senator Bukola Saraki as an example of someone who was receiving pension as a former governor but was still interested in getting more
Professor Itse Sagay who is the chairman of the Presidential Advisory Committee against Corruption has rejected the proposed life pension and immunity for principal officers of the National Assembly.
The immunity and life pension for the presiding officers were proposed by some senators at a retreat organised by the Senate Ad Hoc Committee on Constitution Review in Lagos on Saturday, June 19.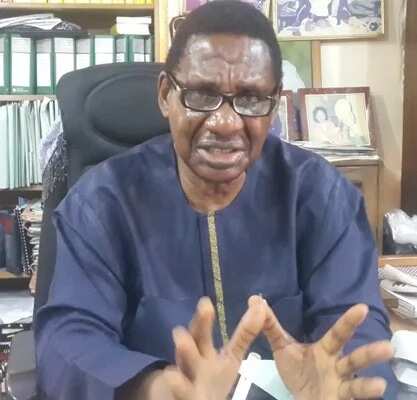 READ ALSO: TUC slams Senate, Reps over pension bill
It was proposed that the Senate president, deputy Senate president, Speaker of the House of Representatives and deputy Speaker of House of Representatives should enjoy life pension and immunity.
The Punch reports that Sagay who spoke on Monday, June 21 described the proposal as a testament to the fact that the officers only sought to promote their personal interests.
He said they received salaries monthly and wondered why they still needed to cement life pension for themselves.
"Saraki is a former governor. Is he not earning pension in Kwara already? The proposal is annoying, immoral and outrageous; it is the height of insensitivity. These demands show that they don't fear Nigerians.
"Those pushing for the demands should have asked how the public would react before presenting the demands. I will ask the President to totally disregard the bill. The president should veto such bill if it ever gets to his desk."
Sagay described the immunity being sought after by the principal officers as planning for a crime and demanding immunity in advance to cover it up.
"Many are still questioning the immunity granted to the president and the governors and then some are proposing immunity for senators. Should all Nigerians be asking for immunity then? I am so shocked that some could be dreaming of such outrageous and annoying idea, it is nonsensical."
READ ALSO: TUC slams Senate, Reps over pension bill
Senator Shehu Sani said he was opposed to the immunity but he was not in support of the immunity but was not against the one proposed for the president and vice-president.
"I am personally opposed to life pension for legislators, governors or their deputies or immunity for public office-holders."